USC PrideFest celebration stages a sizzling comeback
The first live LGBTQ+ History Month festival since 2019 features drag performers and a safe space for all.
As PrideFest kicked off on Thursday at USC's McCarthy Quad, drag performer Vivian Storm boldly announced that her goal during the hot afternoon was to "just gay up the world a little bit more and bring some joy in people's lives."
Storm did just that by performing several numbers as lead singer of the drag group United Queendom before wading into the crowd and enticing at least some of the hundreds of students, faculty and staff to emerge from the shade to join her in dancing in a grassy area in front of the stage.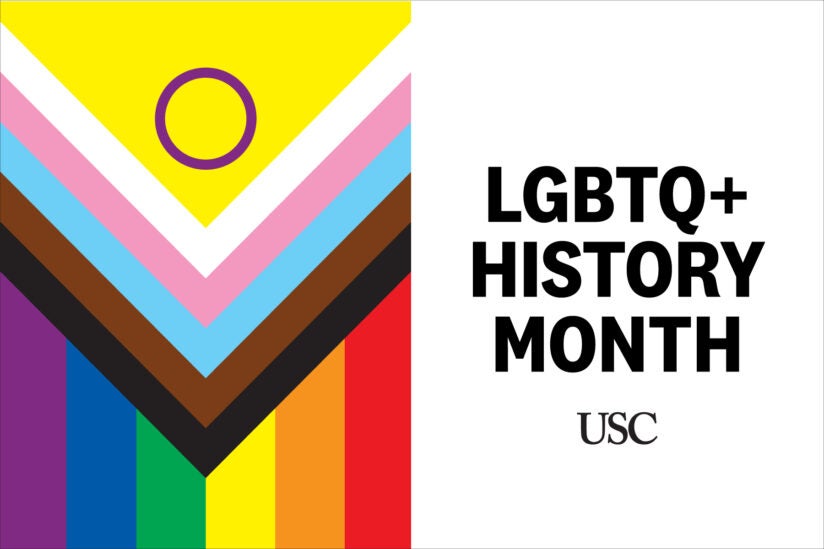 "I know it's hot, and I appreciate you all getting down with me a little bit," Storm said to the crowd. "You all showed up, and I appreciate that."
PrideFest, held annually during LGBTQ+ History Month, was canceled in 2020 and 2021 because of the COVID-19 pandemic. This year, organizers, including QuASA (Queer and Ally Student Assembly) and USC's LGBTQ+ Student Center, promised a bigger-than-ever live event. The celebration featured drag performers, food, giveaways, photo booths, a gender-affirming clothing swap and a community fair with booths representing various student and nonprofit organizations.
USC Viterbi School of Engineering graduate student YZ Pan enjoyed the music and food and meeting other LGBTQ+ students and allies. He described the event as "greatly meaningful," and said such events could ease feelings of otherness for LGBTQ+ individuals on campus.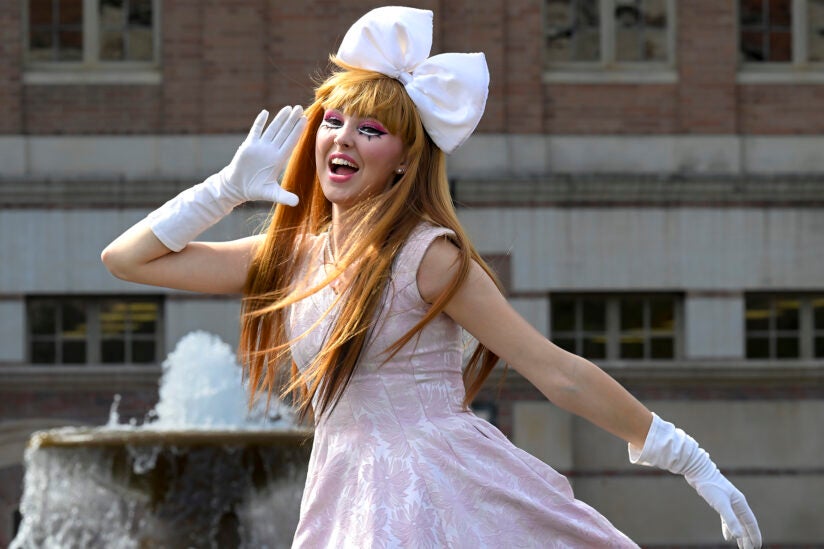 "We don't have that many spaces to get the people together and feel like we belong to the same community," Pan said. "I believe that every LGBT individual at some time of their life must feel super doubtful and lonely. It's important to be with the bigger community so we know that we belong."
Another attendee, USC Dornsife College of Letters, Arts and Sciences sophomore Giselle Galindo, admitted that her favorite part was the flavored shave ice.
"I love the free dessert," she said, laughing. "Everyone seems very relaxed and comfortable in a nice, welcoming environment. I like the music, the culture, the dancing and the energy."
In addition to United Queendom, performers included USC students Ra Oblivion, Daisy Darling and Willconique. DJ Wall-E spun tunes between live performances.
"This is on a larger scale than anything we've done before," PrideFest organizer Shane Dimapanat said. "We wanted to promote solidarity between various people, especially within the queer community."
PrideFest: creating a safe space
Dimapanat, who is on the executive board of QuASA, said he wanted LGBTQ+ students — whether or not they are publicly out — to consider PrideFest a safe space.
"It really pays off to get people together like this and remember that we're OK as people," the USC Annenberg School for Communication and Journalism sophomore said. "It seems like the more that we gain visibility, the more we have to contend with."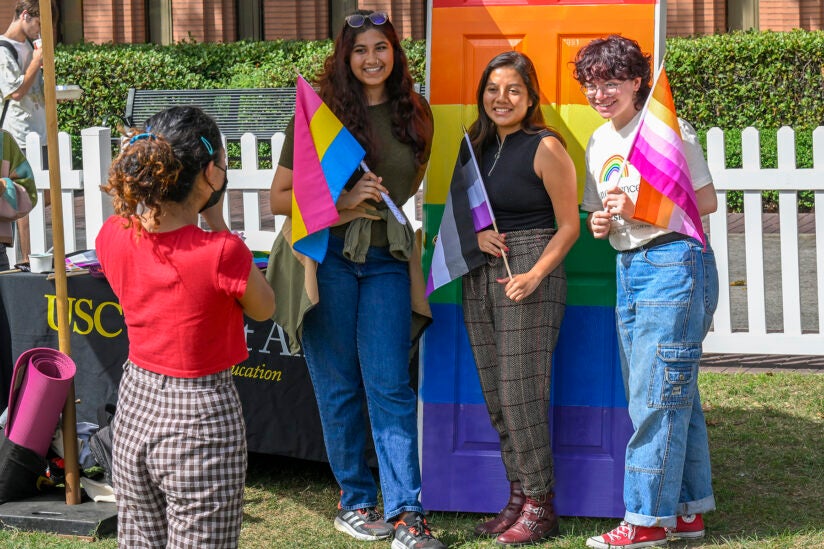 Dimapanat noted that trans people are getting targeted with legislation and that the overturning of Roe v. Wade by the U.S. Supreme Court has led to fears that same-sex marriage is in danger.
"Nonbinary people are also getting more and more visibility in media, and we find that there's more violence against us, whether it be symbolic, metaphorical or physical," he said.
Before addressing the crowd, USC President Carol L. Folt walked over to hug Storm, who had jokingly said that the two had gone to high school together and that Folt had taught her everything she knows about dancing.
Folt praised Dimapanat and the organizers in her remarks to the crowd and echoed his concern about the slew of anti-LGBTQ+ bills that lawmakers have introduced in statehouses across the country.
"None of these are OK," Folt said. "Every one of them is going to take a community to work against them. But I believe that together we do the best job fighting that discrimination, supporting our community and building that sense of belonging."
Tribute to a fearless optimist during PrideFest
Folt also paid tribute to USC psychology and gerontology Professor Gerald Davison, who publicly spoke out against the practice of conversion therapy on gay men 50 years ago at a convention of the Association for Advancement of Behavioral Therapies in New York City. Davison continues to argue against conversion therapies in scholarly publications, research and teachings.
"His sort of fearless thinking, the way he took it forward, helped spark a revolution that we're still seeing actively is needed today," Folt said. "I believe that together we will really continue to push forward. And I think that we can adopt the optimism and the sense of inclusion of people like Professor Davison."