Professor's project takes on climate change with clean technology
The Sustainable Earth Decathlon showcases young innovators with solutions to environmental issues
The Sustainable Earth Decathlon (SED), a showcase of clean technology innovations created by young people from ages 13 to 26, is the brainchild of a USC faculty member who sees a clear link between human and planetary health.
Along the lines of the American Academy of Social Work & Social Welfare's Grand Challenge of creating social responses to a changing environment, USC School of Social Work Adjunct Assistant Professor R. Bong Vergara created SED as a project-based learning opportunity for youth, especially those from climate-vulnerable communities, to engage in science, technology, engineering, arts and mathematics activities.
"I want to build young people's sense-of-self belief so they can become innovators and produce solutions to wicked problems like climate change," Vergara said.
This year's SED was held April 14 and 15 at LA Cleantech Incubator in Los Angeles. The event, which featured a live fast pitch, offered cash prizes to innovators who have novel solutions to local manifestations of climate change and its human impacts.
Participants, who competed on either the high school or college-age tracks, were asked to solve one specific problem in their local communities caused or made worse by climate change or other environmental issue. Entries came from many disciplines, including social work, the arts, design, medicine and science, and could take any form, from products and services to startups.
This year's grand prize went to a group from California State University, San Marcos, for Cleanweb, an e-commerce site that sells carbon credits along with lifestyle products. Runner-up prizes went to a mobile app that helps people transition to sustainable landscaping using augmented visualization and a project to combat invasive plants spurred by warmer weather through behavior change. All three winners are invited to attend an investors meeting to help them secure further funding this fall.
An aha moment
SED is an offshoot of Vergara's nonprofit organization, Conscious Youth Promoting Health & Environmental Readiness (CYPHER), which inspires young people around the world to design innovations at the nexus of food, energy and water systems to create climate resilience in their own communities.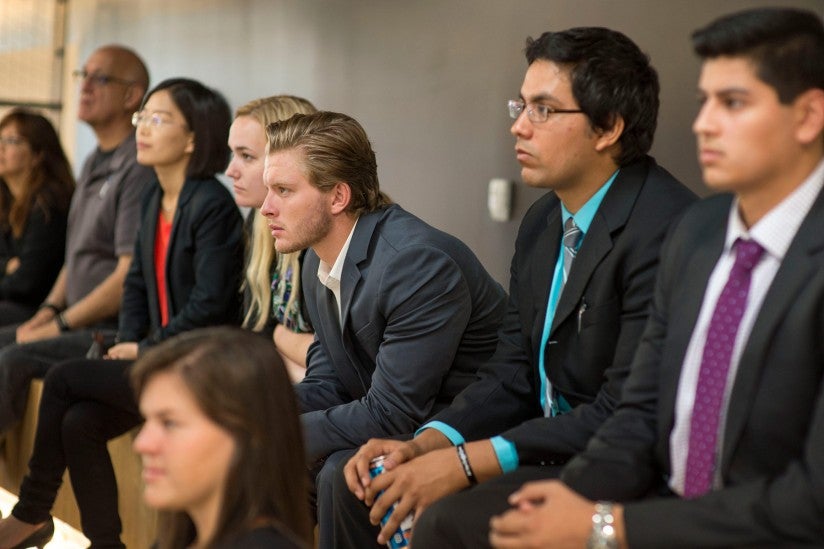 CYPHER was established in 2009 after a series of super typhoons hit the Philippines. Vergara, who was born and raised there, reached out to Facebook friends to gather supplies to send to the Philippines.
"That experience showed me a glimmer of opportunity," he said. "If one ordinary guy can use a Facebook account to think creatively and get 35 boxes of supplies to impact three provinces, what would happen if I formalized something so it's not just charity but an enabler to get people to come up with their own solutions?"
Youth empowerment
The first SED event was held in 2014. Since then, CYPHER and SED have received interest from universities, including those as far away as the Shanghai Institute of Technology in China, for-profit companies such as Honeywell and Tesla, and governmental agencies, including the U.S. Environmental Protection Agency and the Los Angeles County Metropolitan Transportation Authority.
"Even after just the first event, we saw that resource-poor communities could have the most responsive clean-tech ideas. Communities that have direct personal experiences will problem solve," he said. "For example, we were blown away by the mobile and Web-based apps Oxnard College students developed to help farmers conserve water, and that had a lot to do with witnessing produce rotting and farms closing down in their community. [If they] only had more resources, it would have resulted in social adoption with immediate impact."
He even has a group of USC School of Social Work students volunteering their time to assist CYPHER with grant writing, donor relations and marketing.
MSW student Monica Nunez, who manages CYPHER's social media efforts, has a personal connection to the organization's mission. She's a first-generation student whose parents were farm workers. They now have serious medical conditions as a result.
It was rewarding to see students at the first SED advocate for themselves and try to solve health disparities.

Monica Nunez
"It was rewarding to see students at the first SED advocate for themselves and try to solve health disparities. They come from disenfranchised communities, and I can relate to them," she said. "They're so young, and it's really beautiful to see that they care."
Part-time student Eugene Suh helps CYPHER with event promotion. He said doing so has made him bolder and more of a leader, especially when it comes to his social work career.
"Part of the NASW Code of Ethics says to advance awareness of education while helping people at the same time. It's our duty to be aware and up-to-date with technology and how it can help people," he said.
An eye toward the future
For next year's SED, CYPHER plans to incorporate a robotics challenge with Cagebot, a German company that has created a robot made of interchangeable pieces that require little technical expertise to build and operate. The idea is to make this technology more accessible so more people — youth in particular — will have the tools to make their innovations come to life.
"I'd like for the social work profession to be more muscular in its actions," Vergara said. "I would hate for us to just stop at defining the problems. I would love for us to find the solutions, those that engage this new cognitive information age that makes use of technology."