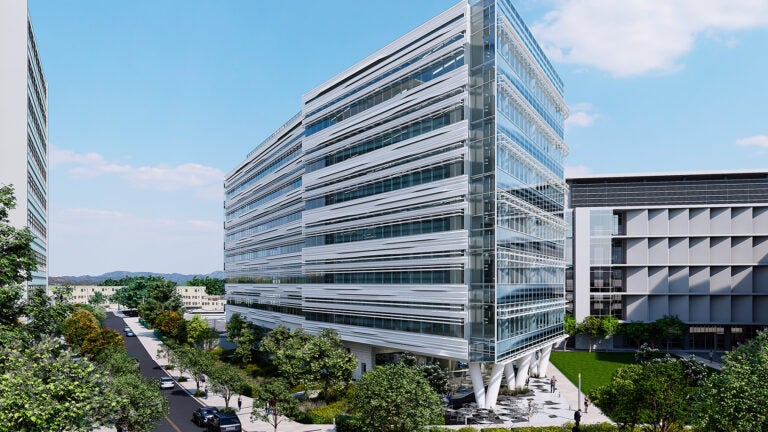 Proposed building offers a blueprint for improving community health
The Discovery and Translational Hub, a seven-story building proposed for the USC Health Sciences Campus, seeks to unite interdisciplinary research teams to fast-track discoveries and address the health concerns of adjacent communities.
In medicine, the process of turning a laboratory discovery into a new drug or treatment can be long and complex. It can take years — even decades — for ideas born in a research lab to be developed into medicines and procedures that directly help patients in hospitals and clinics.
And it can be longer still before the most cutting-edge therapies become accessible to those in medically underserved communities.
But a new building proposed by USC has the potential to become a catalyst for a novel approach to research and development — one that promises to not only accelerate the pace of medical breakthroughs but also boost health equity.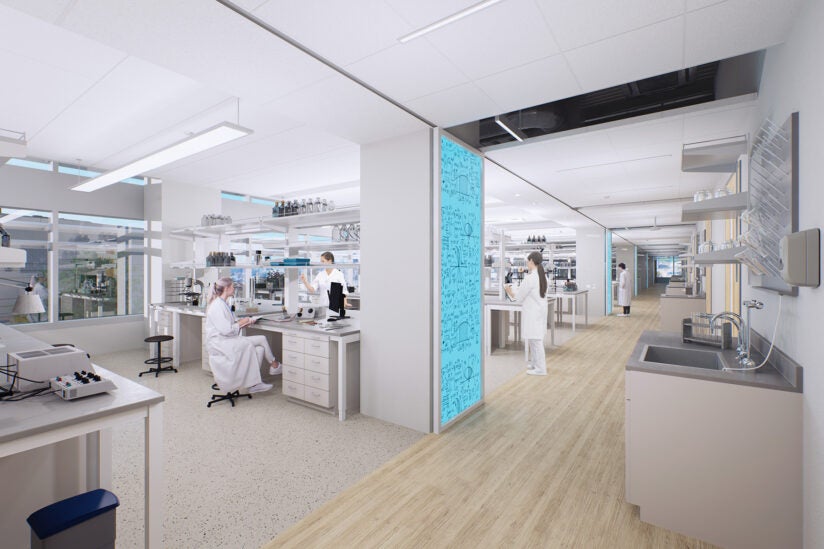 The seven-story, 202,000-square-foot building, called the Discovery and Translational Hub (DTH), is planned for a central location at the USC Health Sciences Campus. USC has submitted an application for the building's approval to the city of Los Angeles. The project will be up for preliminary approval at the city Planning Commission meeting on Oct. 12, before being considered by the City Council on a date to be determined.
The opportunity for scientific and community collaboration is baked into the hub's design.
The first floor of the building would enable members of USC's neighboring communities to participate in clinical trials addressing their most pressing health issues. On the upper floors, collaborative lab spaces would allow biologists studying cells and tissues to work alongside computational scientists doing large-scale data analysis. These multimodal teams would join forces with health care providers at the adjacent Keck Hospital of USC to translate research findings to clinical contexts.
Steven Shapiro, senior vice president for health affairs who oversees Keck Medicine of USC and the Keck School of Medicine of USC, explained that these research partners can "cross-fertilize" each other's understanding of disease. Their proximity at the Discovery and Translational Hub and the use of powerful new tools such as artificial intelligence would enable USC scientists to use big data to gain new insights, develop novel hypotheses and quickly test them to "bring potential therapeutic opportunities to patients more rapidly than ever," Shapiro said.
We're going to be making advances that will help our communities live healthier lives.

Tom Buchanan, Keck School of Medicine
The treatments developed at the Discovery and Translational Hub won't just be available faster, they'll also be more precisely matched to the unique needs of surrounding communities. Community input would help determine which diseases become research priorities.
"The DTH is focused on themes of interdisciplinary and team science to address real-world health problems that are informed by our community health priorities," said Tom Buchanan, a professor at the Keck School of Medicine, vice dean for research and director of the Southern California Clinical and Translational Science Institute (SC CTSI). Buchanan worked with Steve Kay, USC Provost Professor and director of the USC Michelson Center for Convergent Bioscience, to spearhead the hub's conception. "We're going to be making advances that will help our communities live healthier lives," Buchanan said.
Targeted therapeutics
A major thrust of the work proposed for the hub would be creating innovation in precision medicine, which tailors disease prevention and treatment to each individual's genetics, environment and lifestyle. Teasing out why some populations are at higher risk than others for certain diseases can aid the development of culturally specific treatments and prevention methods.
"Clinical trials have historically been conducted with Caucasian populations," said Michele Kipke, a professor of pediatrics at Keck School of Medicine and associate vice president for strategic health initiatives, who oversees community engagement programs at SC CTSI. "It's so important that we engage underrepresented populations in these clinical trials [at the Discovery and Translational Hub] because that is how to ensure that we develop targeted treatments and deliver personalized care to all."
For the past two years, SC CTSI and USC University Relations have partnered to hold more than 100 meetings with community stakeholders in the Health Sciences Campus' neighboring Eastside communities of Boyle Heights, Lincoln Heights and El Sereno, as well as in the South Los Angeles community adjacent to USC's University Park Campus. At schools, churches, nonprofits and chambers of commerce, the two teams have talked to residents to explain the proposed hub project, invite feedback on its planning and listen to the community's top health concerns.
Time and again, residents have reported that diabetes, cancer and Alzheimer's disease top their list of concerns. Accordingly, Buchanan said, "We're going to be hiring talent to expand our abilities to do research in those areas."
The conversation between USC and the community about the Discovery and Translational Hub's development would be ongoing.
Community commitment
Providing service to surrounding communities is nothing new for the Health Sciences Campus. It currently offers more than 100 community programs to youth and families that support job training, workforce development and college readiness.
"What's new is the opportunity to actively and purposefully engage with USC researchers on improving the health of the community [and] also on how community impact can help improve long-term medical care," said David Galaviz, USC's associate vice president for government and community relations.
It's going to be right in our backyard.

Rosie Rodriguez, East Los Angeles College student
Rosie Rodriguez, a student at East Los Angeles College who recently completed an internship at USC University Relations, has been involved with several of the community meetings. She noted that fellow community members expressed interest in participating in clinical trials for their health concerns. In the past, research held outside the immediate area has been difficult for them to access, as many local residents rely on public transport and cannot afford to travel far.
The Discovery and Translational Hub would be a game-changer: "It's going to be right in our backyard," said Rodriguez.
That's just one of the many examples of support that the community has voiced for the hub. To date, USC has received nearly 50 public commitments from community leaders, including letters of support and public testimony.
Breaking new ground
The hub would leverage the most advanced technological tools and forward-thinking approaches to tackle health care challenges, putting innovative therapies within the community's reach. This would include everything from regenerative medicine, which aims to restore lost functions such as vision or memory; to synthetic biology, which has the potential to reprogram cells or create whole new organs; to wearable technologies that allow health care to be delivered remotely to patients' homes.
"This is just such an exciting time in biomedical research," Shapiro said. "We're really on the verge of understanding the molecular basis of disease, leading to new cures."
Pushing the boundaries of medicine at the hub would involve not only the researchers at the Health Sciences Campus, but also scientists in the USC Dornsife College of Letters, Arts and Sciences and the USC Viterbi School of Engineering.
In developing plans for the Discovery and Translational Hub, Buchanan said, "We've really spent a lot of time bringing the whole Trojan Family that's focused on health, especially health at the discovery and translational level, to the table."