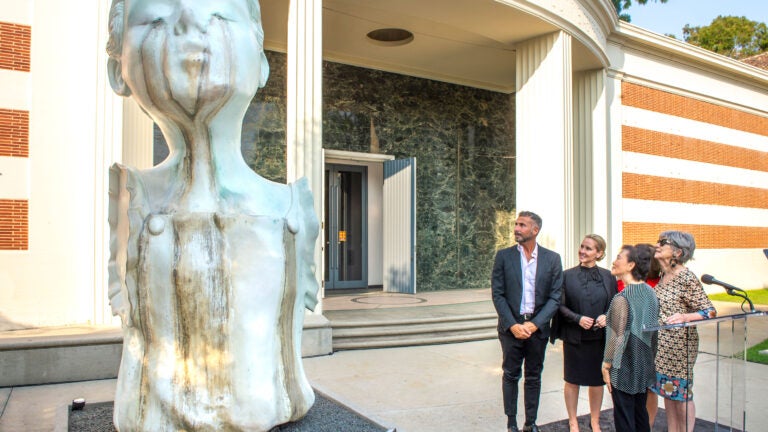 USC celebrates a new era of public art with sculpture unveiling
The installation of a 13-foot-tall bronze piece by USC faculty member Enrique Martínez Celaya heralds a re-imagining of the arts at the university.
After a careful journey through the streets of Los Angeles and six hours of cautious maneuvering, USC's newest piece of public art — a one-ton sculpture by Enrique Martínez Celaya — settled into its home outside the USC Fisher Museum of Art.
"The Well," a bronze sculpture unveiled in a ceremony Aug. 24, is the latest example of the university's commitment to art in public spaces. USC President Carol L. Folt and other university leaders attended the event.
We're here to put arts out first and we're here to lead with our values.

Bethany Montagano
"Public art is a way of engaging all of our community in an aesthetic journey together — those who frequent museums and those who are just passing by on Exposition Boulevard's iconic Museum Row," said Selma Holo, executive director of USC Museums and Galleries. "The USC Fisher Museum of Art was the first museum in the city of Los Angeles, so we have engaged in public art before, but we feel a new energy under President Folt encouraging us to be even more energetic in this area of collecting and display."
Other prominent examples of public art at USC include a new mural that will adorn the walls of the USC Center for Black Cultural and Student Affairs (CBCSA) and a mixed-media painting that now hangs in the Ronald Tutor Campus Center.
Holo said the CBCSA mural represents an inclusive and accessible vision for art and provides an entry point to reach broader audiences throughout our community. Its design commemorates Black History Month and expresses empowerment and Black excellence at USC.
USC visitors now can also see a piece from artist Lien Truong in the center of the University Park Campus. Titled "The toxic cleanse of warm rain," the work — which measures 7 feet by 6 feet — was recently installed in the Ronald Tutor Campus Center's lobby.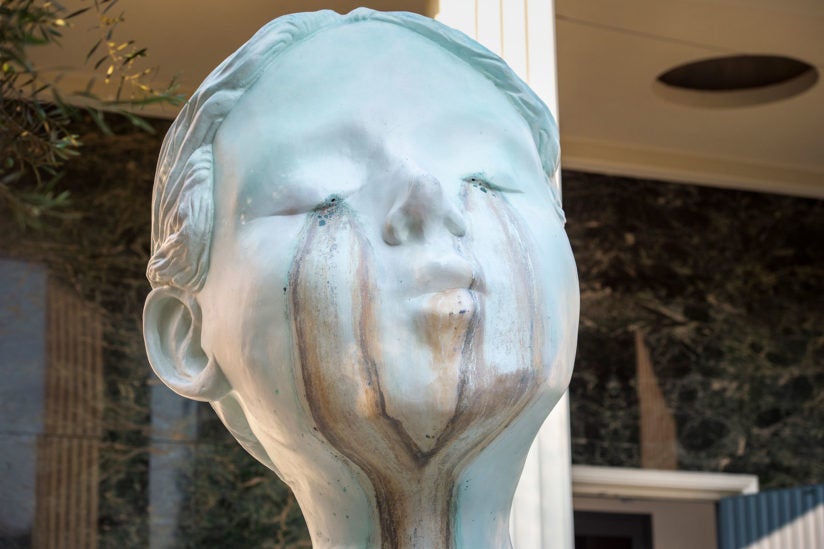 But "The Well," the newest addition to the USC University Park Campus, is perhaps even more prominent as it rises outside USC Fisher. Bethany Montagano says the sculpture serves as a highly visible springboard for USC's renewed emphasis on public art.
"It represents a new era for USC departments working together and schools working together to bring the arts forward into the next phase," said Montagano, interim director of USC Museums and Galleries. "It's a great thing to be able to illuminate through a workable art and sculpture that we're here to work together, we're here to put arts out first and we're here to lead with our values."
The effort will coalesce through an arts initiative spearheaded by USC Trustees David Bohnett and Kathy Leventhal.
"I see art playing a bigger and bigger role at USC under our new president," Holo said. "She appreciates the human dimensions that art engages and is a big supporter."
Massive sculpture installation marks renewed focus on accessible art at USC
The nearly 13-foot-tall bronze sculpture by Martínez Celaya, a Cuban-born artist and USC faculty member, now stands at the entrance to the museum along Exposition Boulevard. The artist and writer, who holds an advanced degree in physics, is the Provost Professor of Humanities and Arts and holds joint appointments at the USC Dornsife College of Letters, Arts and Sciences and the USC Roski School of Art and Design.
"Enrique Martínez Celaya is a modern Renaissance man, and he brings his creativity, enthusiasms and concerns to his teaching, his writing and his art," said USC Provost Charles F. Zukoski. "His international presence is derived from the breadth of his interests and their expression in his art. Our understanding of the world around us is vastly expanded by engaging with his creative works."
"The Well" is part of a collection that Martínez Celaya began producing in 2011 called The Tears of Things. The works revolve around the concept of cleansing and revealing what is inside while exploring displacement, exile and art's capacity to uncover or create meaning — a theme emphasized in the tear-streaked sculpture.
"Even though the girl is crying, I look at this piece as a very sort of positive piece," Martínez Celaya said. "Everything that we go through, as painful as it is, it's an opportunity to reconsider what's important."
He described the installment of the sculpture at USC as an effort by the community and for the community.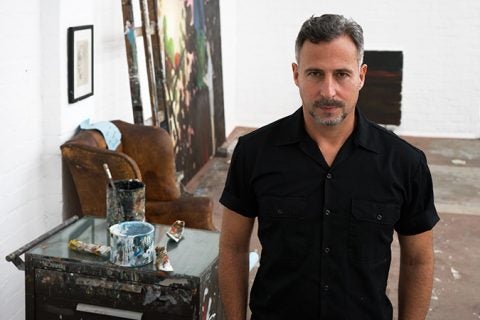 "This would not have happened without the work of a lot of people," Martínez Celaya said. "This was a communal effort, including my assistants and USC facilities workers. And of course, this would not have happened without Selma and her belief in my art."
Another critical factor: the long-time USC donor and art collector who gifted the sculpture to the museum.
"I was planning to do a major exhibition for the artist at USC Fisher this spring when one of our beloved major donors, Mei-Lee Ney, offered to give this important piece to the museum," Holo said. "It was a glorious surprise."
Careful installation of new artwork represents milestone for USC artist
But the sculpture's journey to USC wasn't an easy one.
Just days before the official unveiling, the sculpture had to make its way east from the artist's studio in Culver City to the University Park Campus, some seven miles away.
"The sculpture came in on a flatbed truck, and there's not an intuitive path to get here," Montagano said. "We had a couple of trial and errors to getting the sculpture off the forklift and hold it steady enough to move it."
The sculpture is top-heavy and fragile and weighs more than a ton. Each maneuver from the flatbed truck and forklift to the base outside the museum left the artist feeling understandably nervous.
"I was really concerned," Martínez Celaya said. "We had a plan, but with every tilt, move or strapping, the shell of the bronze could be damaged at any point, and so I was concerned until the very end."
It took more than six hours to install the massive piece, but once in place, it marked the first stage in a momentous milestone. Martínez Celaya will open his exhibition Sea, Sky, and Land: Towards a Map of Everything at the museum next spring. The show brings together about 30 large-format paintings and sculptures from 2005 to the present drawn primarily from Southern California collections.
"Our exhibition will be the first museum exhibition for the artist in Los Angeles," Holo said. "'The Well' sculpture represents a seeker, and that it is located in front of Fisher, at this time, speaks to the resilience of our university community — there has been suffering in our community but there is recovery.
"This sculpture joins other major pieces of public art and makes the area it's located into a real sculpture garden — a destination for contemplation and joy."
More public art than ever on offer across USC University Park Campus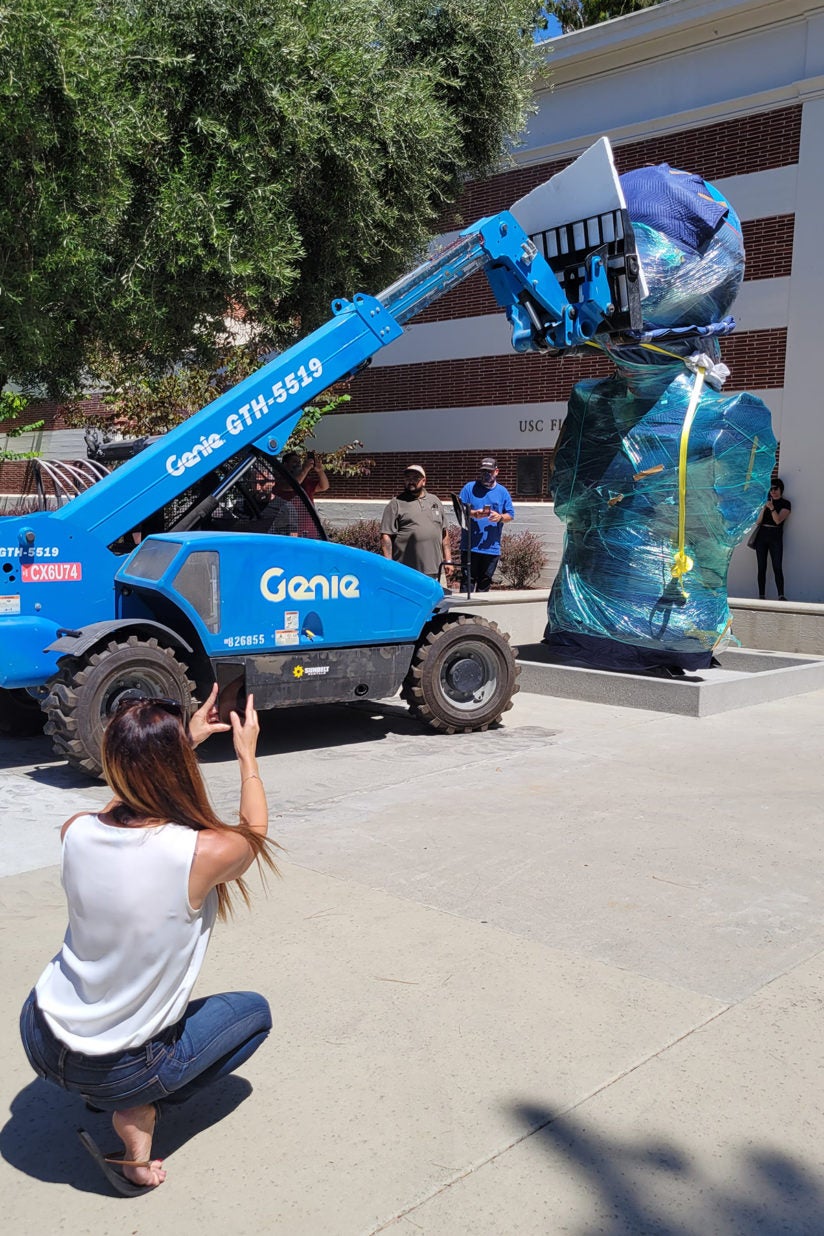 Holo pointed to other notable public artworks featured in the Harris Hall Sculpture Garden, including "Blacklist" by Jenny Holzer, "Not Marble Nor Gilded Monument" by Charles Arnoldi and "Crouching Bather" by Antoine Bourdelle.
Kay Allen, associate director at USC Fisher Museum of Art, said these pieces and others are all part of the museum's mission to share art and inspiration with the public.
"Over the last 41 years of Selma's tenure here as director, we've had such a variety of exhibitions, from our Old Master's Collection to the very contemporary types of shows to printmaking and photography," she said. "Fisher Museum has become known for having all types of exhibitions."
While waiting for Martínez Celaya's spring show, Montagano encouraged USC students and faculty and staff members to stop by the USC Fisher Museum and view the new sculpture that, like any good artwork, creates commentary and reflection on current times.
"'The Well' represents pain and sorrow and starting anew, a phoenix rising from the ashes," Montagano said. "I think it's the perfect metaphor to start the school year and give everyone hope, that we are starting a new phase, we're turning the page — this is the new chapter."