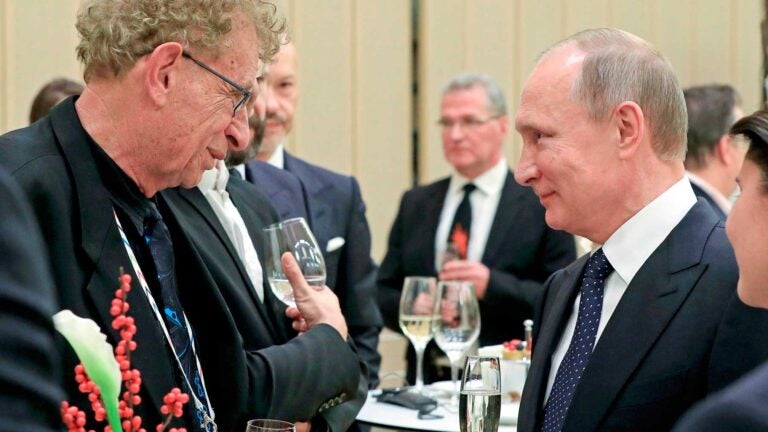 Q&A with pianist Daniel Pollack: A return to Russia as arts ambassador
The USC Thornton faculty member earned acclaim as a young American performing a Tchaikovsky concerto on the Russian stage
When acclaimed pianist Daniel Pollack flew to Russia in December, it was a sort of homecoming. The longtime faculty member at the USC Thornton School of Music views himself as a "musical grandchild of the great Russian musical heritage." After all, Pollack earned his fame as a 23-year-old American on the Moscow stage. His 1958 performance of Tchaikovsky's Piano Concerto No. 1 garnered him a cherished competition prize alongside American star-to-be Van Cliburn — and endeared him to the Russian people in a musical love affair that continues today.
In December, just in time for the 175th anniversary of Tchaikovsky's birth, Pollack served as an honorary ambassador of culture at the St. Petersburg International Cultural Forum, where he spoke about the future of the arts and gave a sold-out recital to close the event. In a recent interview, Pollack reflected on Russia and the role of music and culture in bringing together the United States and Russia during times of strained relations.
You first went to Russia in 1958 for your legendary performance at the Tchaikovsky competition. Seventeen tour visits followed. What are the most dramatic changes you saw in the country when you were there recently?
I love the Russian people — their heart and their soul. Today the Russia I love is there, but you have to look for it. In the drab days of my first visit in 1958, everything was kind of dark and dingy in the dress of the people and their mood. There is still a lot of difficulty in the people today. The rich are super rich, somewhat like in our country, and the middle class is struggling. But I see a vast improvement over the years. I have a lot of friends in Russia today, not just musicians, but people in many walks of life. Thanks to social media and cultural exchanges, we know a lot more about each other. Maybe not enough still, but more.
How can music bridge the serious political and philosophical divides between Russia and the United States?
This has been happening for decades. When I was in Russia playing at the first Tchaikovsky competition in 1958, I was doing more than performing — I was an ambassador between the two countries. Those of us who have had the privilege of bridging these barriers are ahead of the diplomatic exchanges. My language is music and music is an international language. I don't have to speak Russian when I perform to reach the audience. It's about human-to-human contact. It's a troika — it's the composer, it's the performer and it's the audience.
You met Russian President Vladimir Putin at the forum. How did that come about?
I was selected to meet with him and other dignitaries at the forum. Putin spoke to the group about the importance of cultural exchanges. And then he went around the room and clinked glasses with everybody. He came up to me and said, in English, "Tell me about yourself." I told him my parents were born here, that I was a prize winner in the first Tchaikovsky competition, that my piano teacher from Juilliard was born here and that I toured in Russia. His answer was, "Then welcome back to your second home." That's all he said, but in that was a world of expression.
Talk about your role and experiences at the St. Petersburg International Cultural Forum in December.
This was the fifth international forum and it was the first time they awarded the honorary cultural ambassador to me, not just for the forum but also for the Russian Federation. One of the main themes of my speech was: How do we build audiences for the arts in today's world? We build wonderful performing arts centers in the United States and all over the world, and now, how do we get audiences to come? This is a world crisis in the arts.
We live in a time that does not particularly value live music as an art form, yet I feel strongly that it is up to the performer to galvanize an audience — and engage even the most musically uneducated audience with emotional content, leaving them changed. Some may say this is not possible, but I have witnessed the long line of people staying up all night for a Vladimir Horowitz concert hoping to get a ticket when the box office opens in the morning. I know — I was there.
Music provides us with solace and strength. Perhaps after listening to Brahms' Requiem, alongside other human beings, we re-enter the world more prepared to engage with compassion.
This interview has been edited for style and length.