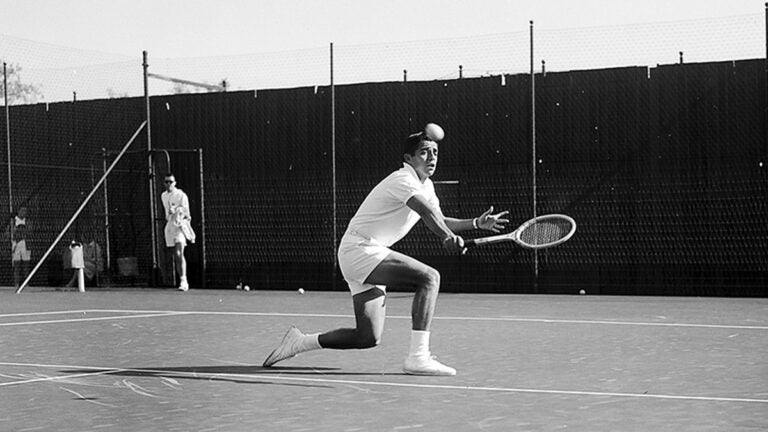 Family keeps USC tennis legend Rafael Osuna's story alive
Book on the life and career of "the best tennis player you never knew" is donated to USC Libraries during Latinx Heritage Month.
The family of USC tennis great Rafael Osuna wants to make sure the accomplishments of a man once described by CNN as "the best tennis player you never knew" are never forgotten.
To help maintain his legacy, they returned to the USC tennis courts on Oct. 12 to present two copies of the book Rafael Osuna, Sonata en Set Mayor to USC Libraries Archivist Claude Zachary, who said the books will soon be available to be viewed by the public.
An intimate presentation and reception — organized by the USC Latino Alumni Association and USC Athletics — took place at the David X. Marks Tennis Stadium shortly after Osuna's story was shared during the closing event of USC's Latinx Heritage Month. The family also presented copies of the book to USC Director of Athletics Mike Bohn and to current men's tennis coach Brett Masi.
"Players like Osuna are the reason that this is the best place in the country to not only play tennis, but to coach college tennis," Masi said at the presentation. "We can't wait to find our next Rafael Osuna, and hopefully it's sooner rather than later."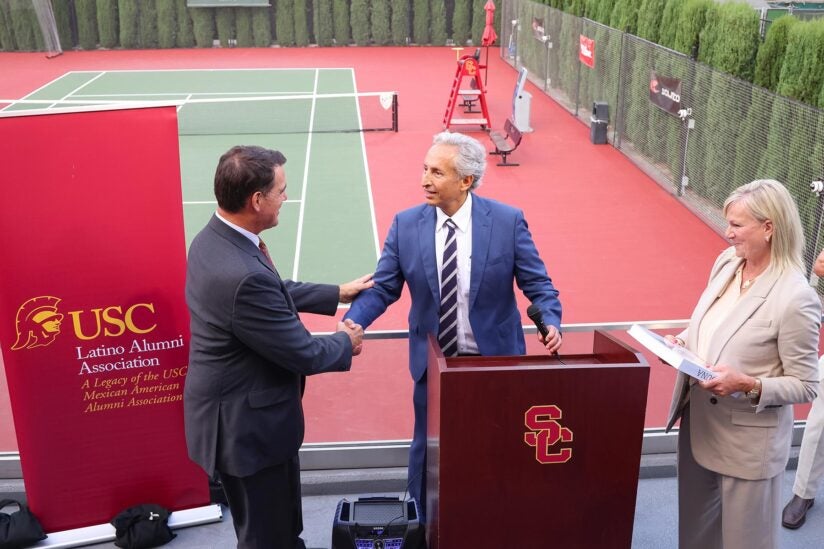 Masi described Osuna as "one of our greatest Trojans." Osuna had already won the Wimbledon men's doubles title with future Trojan teammate Dennis Ralston in 1960 before either had played their first match for USC. The pair kept their college commitment and went on to be part of the USC men's tennis team, which won NCAA team championships in 1962 and 1963. Osuna also won the NCAA singles title in 1962 and the NCAA doubles title in 1961-62 with Ramsey Earnhart and in 1963 with Ralston.
Legendary USC men's tennis head coach George Toley awarded Osuna — a citizen of Mexico — a full scholarship to attend USC after quickly identifying him as a major talent.
USC's long and proud legacy of Latino tennis players
"We are so proud and honored to call Rafael one of our own," Masi said. "We have a long and proud legacy of Latino tennis players that have blessed these very courts at USC, but Rafael was one of the most memorable ones. In my opinion, his biggest impact, with the help of the late, great Coach Toley, was that he helped pave the way for many more outstanding Latino Trojan players for years to come."
In 1962 and while still at USC, Osuna led the Mexican Davis Cup Team to its only Davis Cup final to date. That same year, he won the doubles title at the U.S. Championships (now known as the U.S. Open). In 1963, he won the U.S. Championships in singles, a second men's doubles crown at Wimbledon, and earned the International Tennis Federation's world number-one ranking. That same year, he graduated from what is now the USC Marshall School of Business with a degree in business administration.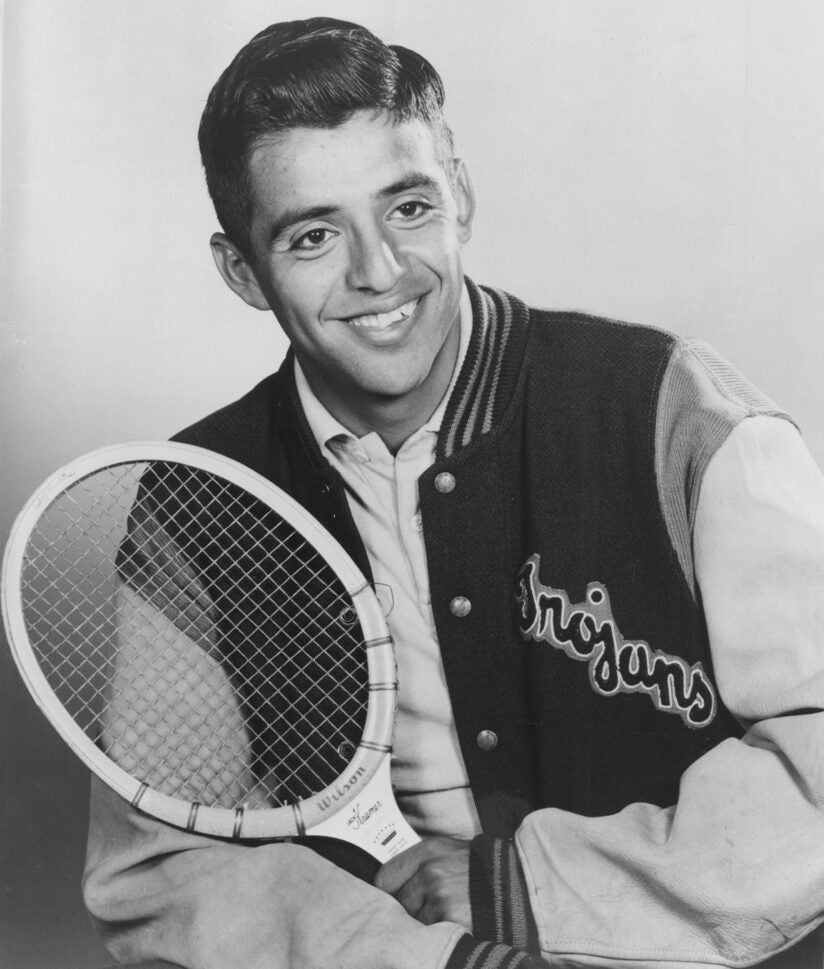 Only 3,000 copies of the book, first published in 1990, have ever been produced. Elena Osuna de Belmar, Osuna's sister, wrote the book after painstakingly collecting global news clippings about her brother throughout his career. Since Osuna didn't bother keeping articles written about his matches, his sister would have his girlfriends send her the clippings from whatever country he was playing in, according to Osuna's nephew Rafael Belmar Osuna.
"This is a book that my mom worked on for more than five years," said the nephew, who played for the USC men's tennis team during the 1983-85 seasons. "It's a collector's item. The book that we're presenting represents the main elements of each stage in his life."
Rafael Osuna: a life cut short
Osuna was only 30 years old when he was killed in a plane crash near Monterrey, Mexico, in 1969. A year earlier, he had competed in the Olympic Games in Mexico City, when tennis was an exhibition event, and won the doubles gold medal. In 1979, he became the first Mexican player to be inducted into the International Tennis Hall of Fame.
Stefan Dostanic, a senior who was Pac-12 Singles Player of the Year last season, was among the current tennis players who attended the event. Dostanic told the crowd he hadn't known much about Osuna previously and was grateful for the opportunity to hear about his story.
"I think that it's very important to understand what he was able to do for our program," he said. "I learned a lot. Honestly, I just think it's so incredible."
Also in attendance was former tennis pro Tom Edlefsen, a member of three NCAA championship-winning teams at USC, who beamed with pride as speakers paid tribute to his never-forgotten teammate.
"He was my teammate, and I lived with him for a year," Edlefsen said of Osuna. "He was a very special person aside from the tennis, and so I'm honored to be able to pay tribute to him back where it all started."