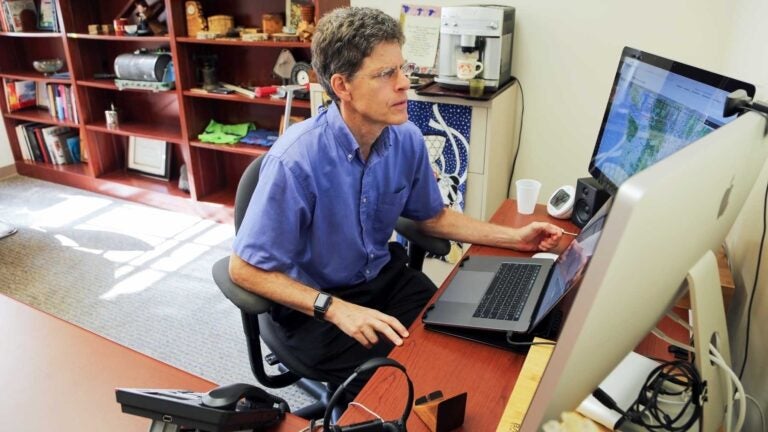 Renowned seismologist joins USC to lead Southern California Earthquake Center
With three decades of experience studying Earth science, John Vidale's research focuses on anything related to seismic waves and earthquakes
John Vidale first took an interest in geology as a junior in college. He began as a physics major — a subject he had adored throughout high school — but was frustrated by how ethereal his coursework was in college. So he enrolled in a geology class. The subject excited him because it was grounded in what he could see and touch.
"I could go look at rocks," Vidale said. "I could evaluate things that are deep under my feet. I could look at the Earth's history through geology. That was very appealing."
His senior year in college, Vidale took 11 geology classes, adding geology as another major alongside physics and a minor in economics. In particular, he was fascinated by the study of seismic waves — surges of energy traveling through the Earth.
"In geology, the tool with the highest resolution is seismology," Vidale said. "Like taking an X-ray of the Earth, I can see exactly what's going on and where."
With three decades of experience studying Earth science, Vidale's research focuses on anything related to seismic waves, from nuclear explosions to landslides to glaciers, and of course, earthquakes.
Vidale is now taking on a new role involving the study of earthquakes as the director of the Southern California Earthquake Center (SCEC) based at the USC Dornsife College of Letters, Arts and Sciences. He will also serve as Dean's Professor of Earth Sciences at USC Dornsife.
Looking for shakier ground
Vidale was drawn to SCEC for many reasons, but perhaps above all was its location. Coming from the Pacific Northwest, where he lived prior to leading SCEC, one could experience earthquakes, volcanoes, landslides and tsunamis, but the appeal for him was to be in the thick of it where there is a high rate of earthquakes — Southern California.
Southern California is the heart of the science of seismology.

John Vidale
"To learn about earthquakes, we have to have earthquakes," Vidale said. "Southern California is the heart of the science of seismology."
Vidale, who this year was elected into the National Academy of Sciences, brings with him significant expertise. He is a member of the National Earthquake Prediction Evaluation Council and most recently served as director of the Pacific Northwest Seismic Network at the University of Washington in Seattle, where he was also a professor. There, he was instrumental in developing the ShakeAlert Earthquake Early Warning System, which seeks to warn government agencies about earthquakes along the West Coast of the U.S. Previously, he taught at UCLA, where he served as director of the Institute of Geophysics and Planetary Physics. He was also a researcher at the U.S. Geological Survey in Menlo Park, Calif., and the University of California, Santa Cruz.
He earned his undergraduate degree from Yale University, and a PhD in seismology from Caltech.
Vidale is a tremendous asset for everyone who lives in earthquake-prone Southern California, and a great addition to USC Dornsife's faculty, said Stephen Bradforth, divisional dean for natural sciences and mathematics.
"John Vidale provides deep expertise in earthquake science and leadership in earthquake early warning systems that position him to carry on the success and growth of SCEC," he said.
A solid foundation
SCEC was most recently led by Thomas Jordan, University Professor, William M. Keck Foundation Chair in Geological Sciences and professor of Earth sciences.
Jordan served as director of SCEC for 15 years, overseeing enormous strides in earthquake science. He established the international Collaboratory for the Study of Earthquake Predictability and, since 2006, has been the lead SCEC investigator on projects to create and improve the Uniform California Earthquake Rupture Forecast. He is a member of the California Earthquake Prediction Evaluation Council and the board of directors of the Seismological Society of America, and was appointed by the Italian government to chair the International Commission on Earthquake Forecasting for Civil Protection.
His current research is focused on models of earthquake processes, earthquake forecasting, continental dynamics, full-3D waveform tomography and seismology. He continues to play a major role in the path-breaking research taking place at SCEC.
"Like basketball's Michael Jordan, Tom Jordan is an iconic leader. He has pushed earthquake system science at SCEC to international prominence through his scientific acumen, creativity and leadership," Bradforth said. "USC Dornsife continues to benefit greatly in Tom's mentoring of the new generation of geophysics faculty coming to Earth sciences and his continuing thought leadership in global earthquake science."