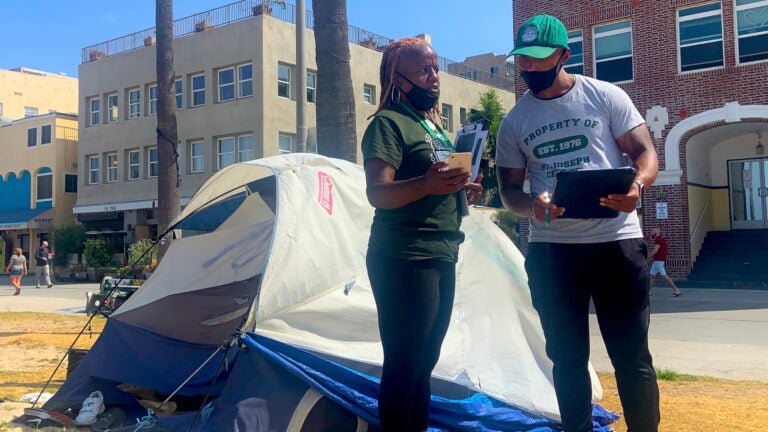 Report: L.A. homelessness program found housing for nearly all clients
USC Price's Homelessness Policy Research Institute examined the encampment outreach effort in Venice Beach.
A recent homelessness outreach effort in Los Angeles moved 93% of its clients into permanent housing — far above the normal rate than standard outreach programs. That's according to a new report from the USC Price School of Public Policy's Homelessness Policy Research Institute.
The report examined the Ocean Front Walk Encampment to Homes Project, which was led by the nonprofit St. Joseph Center and engaged one of the city's largest encampments in 2021. The project was a high-profile outreach effort that faced a lot of media attention and public scrutiny.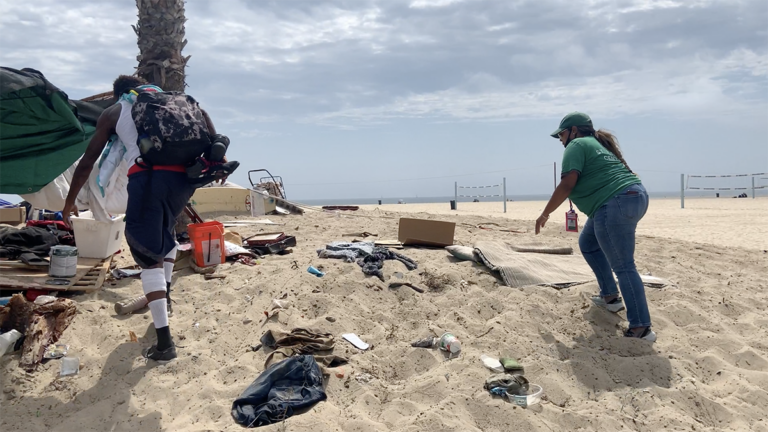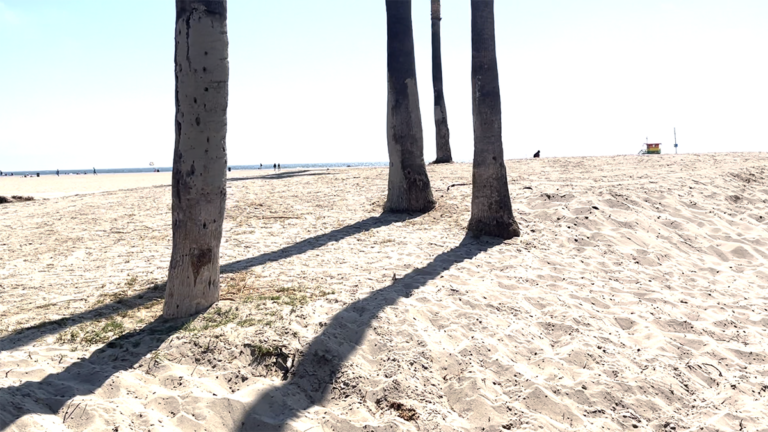 The findings show the program's ability to immediately offer housing and spend more time with clients to gain their trust helped house more people and provide other services, such as transportation, health care and employment assistance. The report also credits St. Joseph Center for mapping out and dividing the sprawling encampment into zones to maximize staffers' time and better manage the complex outreach operation.
The Homelessness Policy Research Institute's report also identified areas of improvement as nonprofits and government agencies grapple with L.A.'s homelessness crisis. (The 2023 homesless count reports an estimated 75,518 unhoused people in Los Angeles County.) Future outreach efforts should prepare for a high number of people with mental health needs and heightened levels of public scrutiny, according to the report.
The Ocean Front Walk project used an emerging outreach model, Encampment to Home, which offers dedicated housing slots for encampment residents. But unlike similar efforts, the Ocean Front Walk project secured a large portfolio of housing options before engaging with encampment residents. That allowed staff to quickly move 99% (212) of clients off the street and into motel rooms, shelters and other housing sites. Ninety-three percent were enrolled in permanent housing, according to the report.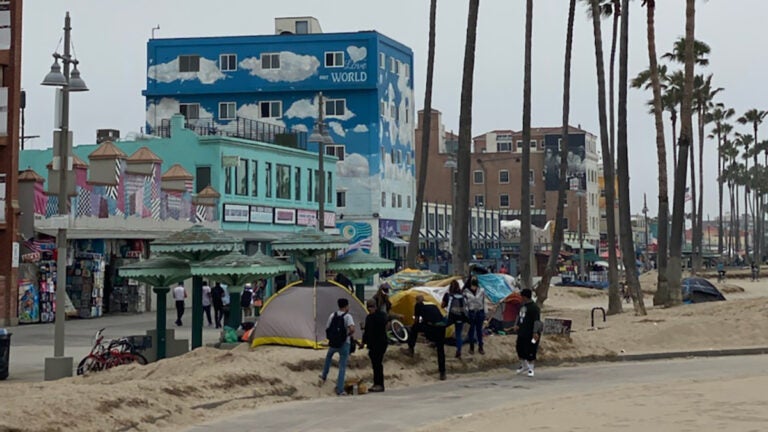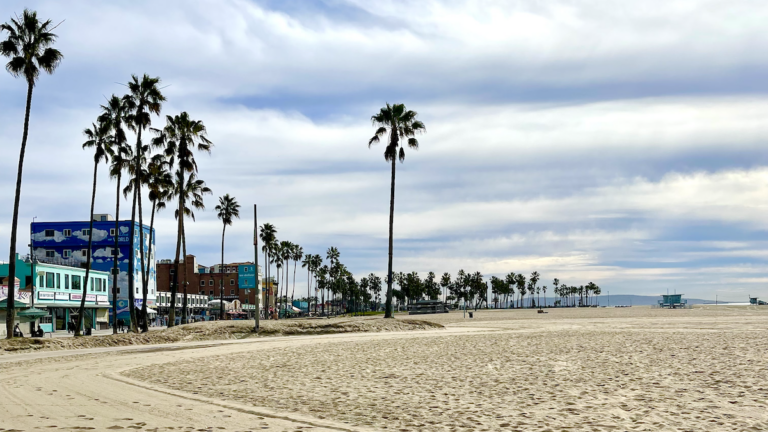 By comparison, around 34% of all clients engaged by St. Joseph Center in fiscal year 2021 were permanently housed, while the Los Angeles Homeless Services Authority connected 24% to some form of housing during the first part of 2021, the report said.
While the Ocean Front Walk project's high rate of housing success provides promise that Encampment to Home models can work, they will only do so if they have sufficient housing slots in-hand, said Nick Weinmeister, Homelessness Policy Research Institute project specialist and co-author of the report.
"There's been a large push and funding made available for local jurisdictions to utilize this exact encampment resolution approach," Weinmeister said. "The ability to perform as well as they did in getting people connected to housing, specifically permanent housing, I think it makes it even more valid."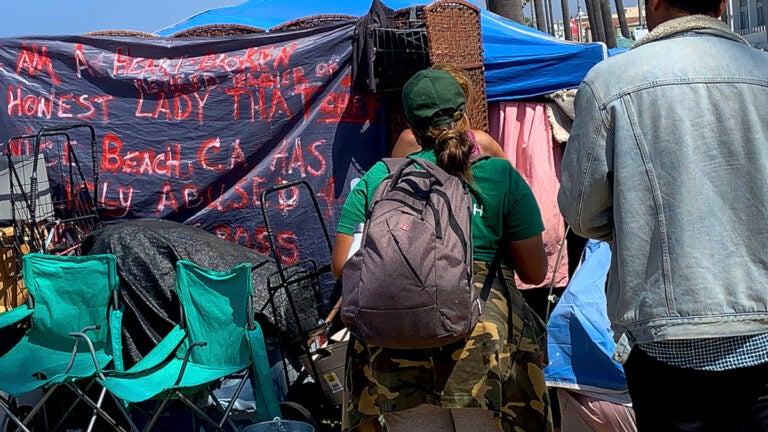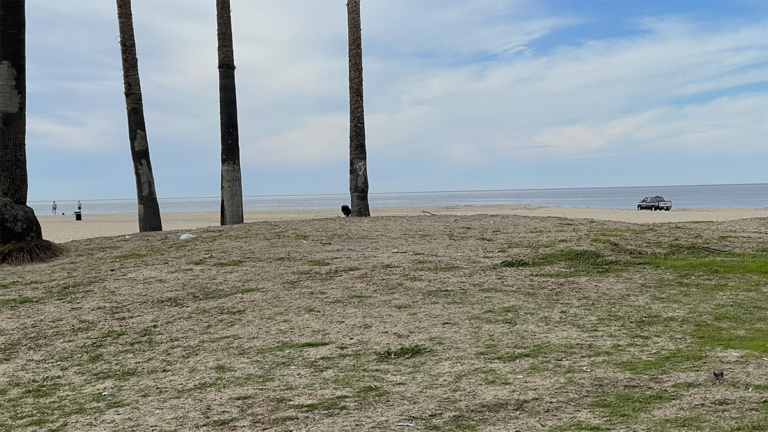 To examine the Ocean Front Walk program, Homelessness Policy Research Institute researchers analyzed demographic and housing referral data provided by St. Joseph Center and interviewed seven staffers who worked on the project.
"This research can help shape our work in multiple ways," said LaTonya Smith, interim president and CEO of St. Joseph Center. "It takes an overall glance at the work we do, provides observation, and allows us, as the practitioner, to reflect on ways that we can grow our work."
One finding from the report that stands out to Smith is the lack of compatibility among some occupants in interim housing, which is a temporary shelter used to quickly get people off the streets.
"Some of the lessons we've learned is that there needs to be a better assessment of compatibility from the beginning, especially if this is a variable as to why some clients have chosen to leave shelter," Smith said. "We need to do what we can to ensure that all clients feel safe, whatever that means for them."
Interviews with staff revealed the need for more comprehensive mental health services for clients, the report said. Mental health was often a barrier when trying to enroll and help people experiencing homelessness.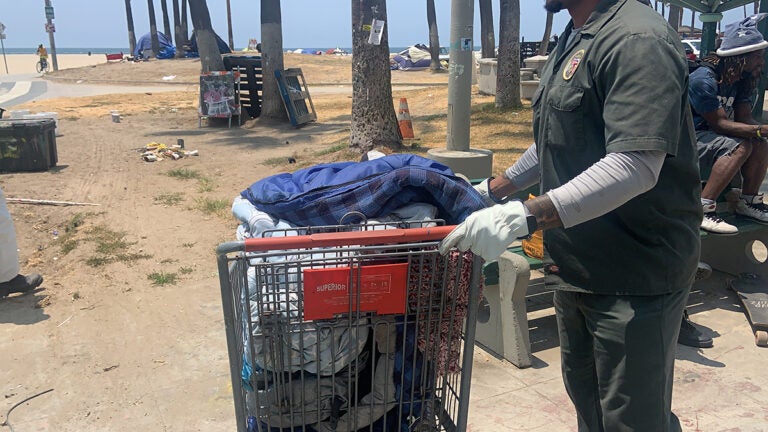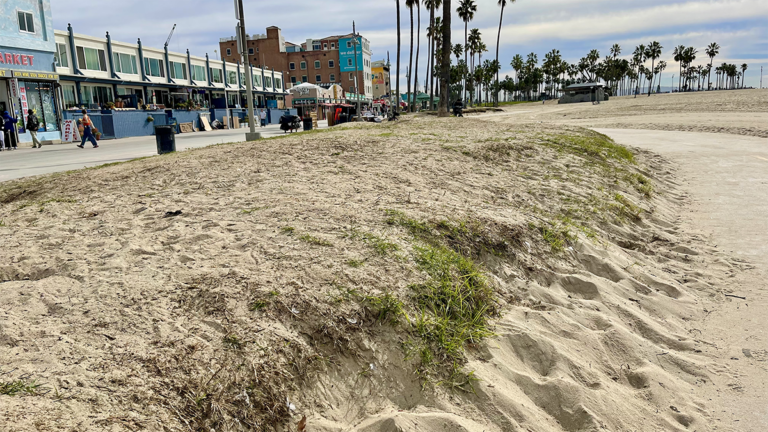 "That's going to cost more money, but that is what it would take to address these really deep histories of trauma of surviving violence, fleeing violence, and just being on the street for some of those folks who are chronically homeless," Weinmeister said.
The report credited the additional time staffers spent with clients to build trust. While typical outreach efforts last just one to two weeks, Ocean Front Walk's outreach lasted six weeks, which helped enroll residents. St. Joseph Center also used drones to map out the encampment and organize outreach efforts.
"The staff's creativity and devotion stands out in the report," said Saba Mwine-Chang, the Homelessness Policy Research Institute's managing director. "This is a lot of territory to cover and a lot of relationships to build. They were incredibly dedicated."
---
The report, "Understanding the Ocean Front Walk Encampment to Homes Project," was authored by Project Specialist Nick Weinmeister and Research Assistants Stefanie Portillo and Claire Zhang.
Researchers Victoria Ciudad-Real, sociology doctoral student at the University of California, Irvine's School of Social Sciences, and Gary Painter, director of the Homelessness Policy Research Institute and academic director of the Real Estate Center at the University of Cincinnati, also contributed to the report.