Residential colleges get new energy, new crests and a new competitive spirit
The Residential College Cup is just one sign of USC's new focus on adding depth, dimension and camaraderie to the residential experience
The crowd at Galen Center was cheering — not unusual for a Friday night. But it sounded and looked more like Harry Potter as students shouted the names of their first-year halls at each other.
New North!
South!
Birnkrant!
Students wore T-shirts and hats emblazoned with their residential college crests, also displayed on big banners, for the kickoff of the university's first-ever Residential College Cup. The winner of the competition, in which students in six colleges will compete throughout the year for a trophy, will be announced at year's end.
That Friday night last month was the first event, with students playing games for points, such as wiggling through hula-hoops or shooting free throws with blindfolds.
But instead of 10 points for Gryffindor, it was 300 points for New North.
The cup, along with new branding and programming, is part of USC's push to reinvent the residential college experience.
USC has had the colleges for decades, but staffers felt they were lacking a camaraderie that could make them more close-knit.
To bridge the gap, staffers spent two years researching the best residential college programs in the U.S., including those at Rice University and Michigan State University. They identified key factors that cultivated a strong sense of belonging, such as intellectual engagement, community service, physical activity and connectedness.
Staffers also got student input, conducting surveys and focus groups last year.
"We have taken the best practices from colleges in the U.S. and intend to build the cutting-edge residential college experience," said Vice President of Student Affairs Ainsley Carry.
More things to do
That means there will be a push for more programming, such as movie nights and off-campus volunteer work.
USC is working with a developer on an app, where residents could track their college's points and organize hangouts and events.
And this is all happening a year before the opening of USC Village, the housing and retail complex that will bring eight additional residential colleges along with a dining hall that looks an awful lot like Hogwarts.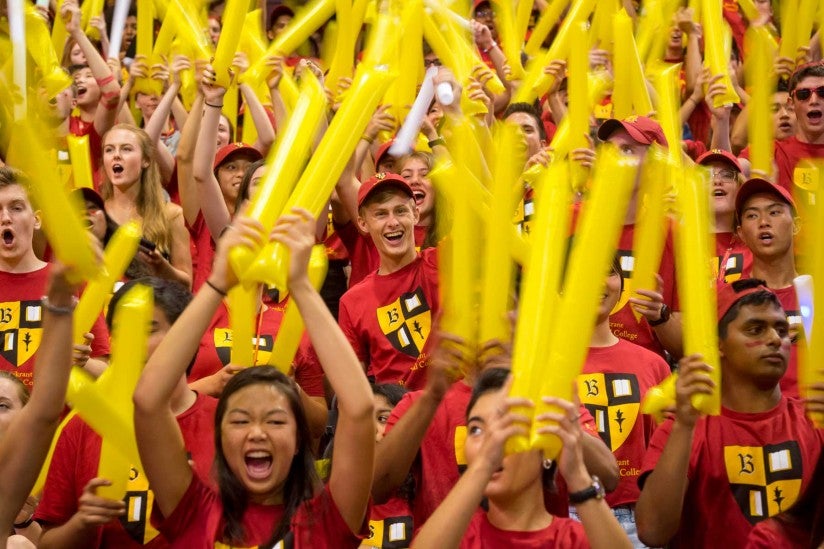 Birnkrant, the smallest of USC's residential colleges, might have been the mightiest that Friday night. The only ones armed with inflatable yellow cheer sticks, the college of about 300 students ­— all scholarship recipients ­— cheered as if it were 1,000 strong.
"It was one of the most high-energy scenes I've ever seen," Joy Ofodu, a resident assistant at Birnkrant, said days later. "I have not regained my voice yet."
The college got a head start, moving in two days earlier than the others. By the time the residents hit Galen, they had worn out their Birnkrant tees, attended an Angels baseball game and exchanged endless ice breakers.
"If you just tell someone where you're dorming and you both say ?Birnkrant, there's this automatic connection," Birnkrant resident Hannah Chong, 18, said at the end of move-in week. "I have to remind myself it's only been five days we've known each other."
Pilot program
Birnkrant has a tradition of community within the residential colleges, with the saying "seven floors of open doors." And for that reason, the university chose Birnkrant to pilot Residential College Ambassadors, a new program. Starting next year, the program will be at every USC college.
The ambassadors are volunteers in their second, third or fourth year at USC, there to host events, serve as a sounding board and provide a resource outside the residential college.
Last year, Birnkrant R.A.s emailed past and present residents asking if they'd like to mentor the college this year. Student Affairs expected a dozen at most to sign up; department officials were pleasantly surprised when they received 21 commitments.
Rebecca Hu, an ambassador and sophomore, said they like to describe themselves as the "cool aunts and uncles" of the Birnkrant family.
She wants to help make residential colleges a strong community for new Trojans. And she knows the power of it firsthand, having lived in Birnkrant her first year.
"When I came back from winter break [that first year], it didn't feel like I'm returning to school. I just remember pulling out my suitcases and thinking, this is my home," Hu said.