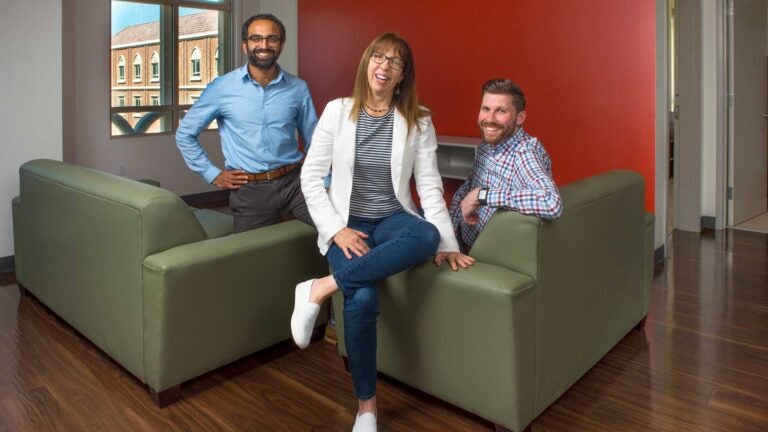 Residential faculty ready to take on new roles at USC Village
Six faculty members will live among students at new residential colleges
Eight new residential colleges will open in August at USC Village, bringing USC's total to 14. Six residential faculty members will help shape student life as soon as students move in.
Laura Baker, Ruth Chung, Broderick Leaks, John Pascarella, Neelesh Tiruviluamala and Trisha Tucker were chosen through an intensive selection process. They'll share time with students during conversations, meals, gatherings and outings.
"Even in an era of social media, we have a lot of students experiencing loneliness," said Ainsley Carry, vice president for Student Affairs, who believes the residential college experience increases academic satisfaction. "When you're 18 or 19, there are few things more important than belonging. We want to make it easy for students to belong. You just have to live there and be willing to participate."
Moving in, making plans
With measuring tapes and paint swatches in hand, faculty members recently checked out their living spaces at the new residential colleges. Their plans extend far beyond decorating.
"We're here to build authentic, caring relationships," said Pascarella, an associate professor of clinical education at the USC Rossier School of Education who has served as residential faculty at South Residential College since 2012. Along with Tucker, assistant professor of writing, Pascarella will reside at McCarthy Honors College.
"We want to draw from students' diverse backgrounds, to expose them to growth opportunities they're not going to get in class," Pascarella said. "We want to connect students with alumni and cultivate a commitment to service, which aligns with our mission as a university."
Baker, a professor of psychology at the USC Dornsife College of Letters, Arts and Sciences, will be living right above Trader Joe's.
It'll be exciting to have that living and learning and retail community all together to see how that interfaces with the wider community as well.

Laura Baker
"It'll be exciting to have that living and learning and retail community all together to see how that interfaces with the wider community as well," she said. "There's going to be a whole new energy on that side of Jefferson that will transform what was there before."
Chung, associate professor of clinical education at USC Rossier, will work with students at Cale Residential College, which will emphasize global perspectives, and Irani Residential College, which will focus on performance science.
"The scale of USC Village is impressive, and it represents the university's commitment to defining a signature experience," Chung said. "The value of a USC education is something I think we're trying to emphasize, and that includes excellence not only in teaching but in the residential college connection."
Nationwide trend
USC Village is a massive investment, part of a decade-long higher education building boom that includes new space for residential colleges at highly selective universities. Yale University will open two new residential colleges housing 250 in August. Vanderbilt University is expanding its residential college facilities to accommodate 340 additional upperclassmen, and Princeton University is planning a seventh residential college.
"Every few years, the generation of college students shifts," said Emily Sandoval, director of Residential Education. "Students and parents are expecting more. When they move in, we want them to feel that sense of home."
Sandoval has overseen an expansion that will provide strong support for students in USC's residential colleges.
USC is expanding the number of residential assistants by almost a third. All will go through two weeks of leadership development.
After a nationwide search, USC's Office for Residential Education hired seven new residential college coordinators and six new graduate residential college coordinators, bringing the total professional staff to 26 and the total graduate student staff to 10. The Residential College/Community Coordinator team collaborates with residential faculty to provide a robust experience that allows students to be successful on an academic and social level.
"Residential education is more than a job," Sandoval said. "It's a way of living. A lot of us grew up in this as RA's. You share your life with students."
Math and noodles
Tiruviluamala, an assistant professor of mathematics at USC Dornsife, has a tricky way of engaging friends and students in math, which, he said, is part of everybody's soul. He believes math suffers an image problem involving a lack of creativity and reliance on formulas. His solution: math nights, a tradition he plans to bring to USC Village's residential college experience.
"Whether it's following baseball stats or a mystery show, math is there," Tiruviluamala said. "People haven't been exposed to a wide variety of math so they don't understand the things they love involve a great deal of mathematics," he said. "So what could be more fun than having a skeptical student who says 'this isn't fun or relevant,' and getting to show them how great it is."
Chung looks forward to outings at venues like the Walt Disney Concert Hall and the Watts Towers. She's also thinking of more informal gatherings centered on food.
"I might do 'Noodles of the World," since every culture seems to have a noodle dish," she said. "I'd like to have students sample the dishes and talk about how they're reflective of cultures."
Tiruviluamala, who often goes by Neel, wants it all to be fun.
"Creating an academic and intellectual environment that's nourished in a relaxed way — that's exactly what residential college life at USC Village can be," he said. "My best times in college were outside the classroom. That doesn't mean I wasn't learning."