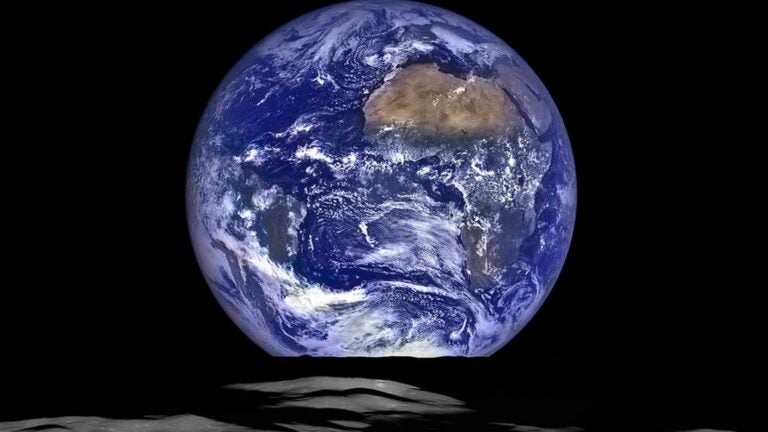 As the world heats up, USC experts examine our early responses to climate change
Policymakers and scientists are pushing for — and in some cases, enacting — steps like lessening our reliance on fossil fuels and redesigning cities, but the question remains: Will it be enough?
Climate change is civilization's stress test.
While Earth's atmosphere has changed dramatically before, it is heating up faster now than society can pace, taxing government and business efforts to adapt. The Biden administration has proposed $2 trillion in infrastructure spending, much of it for clean energy to reduce climate-altering greenhouse gases.
The city of Los Angeles and the U.S. Department of Energy, assisted by USC scientists, are developing plans to wean the metropolis off fossil fuels in 25 years — the topic of an upcoming USC Facebook Live that will be broadcast at 11 a.m. April 19. The university previously announced in February that it will freeze all fossil fuel investments and liquidate such assets in several years.
These measures, and many others, are the early steps to avert the worst-case-scenario effects of climate change and prepare for irreversible climate impacts — some of which have already begun.
Severe events once considered 'extreme' are becoming the new normal.

Najmedin Meshkati
"We are vulnerable because climate change causes extreme events that are more frequent and severe that impact our lifelines, such as transportation, communication, energy and sewage systems. We need to think about the unthinkable because severe events once considered 'extreme' are becoming the new normal," said Najmedin Meshkati, professor of civil and environmental engineering at the USC Viterbi School of Engineering.
Just over the past few years, the risks to energy infrastructure include the wildfires that drove the California utility PG&E to bankruptcy, the deep freeze that shut down Texas' power grid and the heat waves in France that render lakes and rivers too warm to cool nuclear power plants. Meshkati, an expert in the safety and reliability of complex technological systems, accidents and disasters, said that society must get ready for climate-induced catastrophes similar to how it prepares for earthquakes.
Through earth, fire and water, California feels the climate impact
In California, the impacts of climate change are apparent from the oceans to the cities to the mountains.
Along the coast, sea level will rise 1 to 2 feet in Southern California within 30 years while El Niño storm events will exacerbate coastal damage in coming decades, said Melodie Grubbs of the USC Sea Grant program, which is based at the USC Dornsife College of Letters, Arts and Sciences. She said that, without more effective action, the L.A. coast will likely lose half its beaches by the end of the century.
"We need to create a sustainable coastline that can adapt to sea level rise due to climate change," said Grubbs, an expert in mitigating coastal impacts of sea level rise. "We need to prepare for impacts to roads, buildings, sewage plants and critical infrastructure."
Cities must redesign for energy efficiency and resilience to adapt to climate extremes. For example, by 2050, L.A. days over 95 degrees could nearly triple in vulnerable communities. The heat waves will exact a toll on L.A.'s growing homeless population and other low-income communities that lack resources to cope with extreme heat, explained Hilda Blanco, project director of the Center for Sustainable Cities-METRANS Center at the USC Price School of Public Policy.
We have fires that are too hot, too frequent and too big.

Bill Deverell
"President Biden's bill [for infrastructure and clean energy] invests a lot of money; we haven't seen anything like this in a long time. It would give society an opportunity to deal with issues of sustainability that will help as the climate continues to heat up," said Blanco, who is an expert on climate change policy and urban planning.
In the mountains, wildfires devour vast landscapes, spurred in part by ever-increasing drought and questionable land-use policies, said Bill Deverell, professor and historian at the USC Dornsife College of Letters, Arts and Sciences. He's an expert on California history and leads the West on Fire program at USC.
"Fire is part of the equation of climate change. We have fires that are too hot, too frequent and too big, as we saw across California and the West last year. It's compounded by drought, atmospheric rivers and mudslides. This is real now, not something for the future," he said.
Deverell points to the PG&E bankruptcy as an example of how energy transmission systems proved unready for the challenges of climate change. Similarly, the sudden freeze that shut down the Texas power grid underscores how vulnerable the grid is to extreme weather events that are becoming increasingly common.
Responding to climate change: Will our solutions work?
Yet, adapting to a rapidly changing climate is proving challenging for human civilization.
For example, zoning laws and politics in the West results in homes spreading along the fire-prone urban-wildland interface, assuring the destructive blazes repeat. Meanwhile, electrical transmission lines traversing miles of brush and forest remain at risk due to global warming, Deverell explained.
Resiliency begins with proactive safety cultures that integrate sociology, policy and engineering, Meshkati added, yet utilities are notoriously slow to adapt and innovate because "calcified cultures as hard to move as supertankers."
On the coast, adaptation to rising sea levels is complicated by byzantine regulatory processes, multiple jurisdictions and competing stakeholder interests. Increasingly, mitigation experts like Grubbs are turning to natural processes to blunt climate-induced impacts.
People like living in cities, so we need to build cities better in response to climate change.

Esther Margulies
"We're looking to nature-based solutions, like building sand dunes and wetlands, to absorb the ocean's energy," she said. "The good news is people can see the impacts now, so the mentality is changing. But time is ticking and we need to scale up solutions and apply them to wider swaths of the coast."
In some instances, retreat from the coast will be necessary, "but there's nowhere to go back where development is built against the shore," she added.
In cities, experts are turning to trees to help cool pavement and reduced localized air pollution. Urban forestry is the most cost-effective way to cool cities; shade trees can reduce heat from pavement by 20 to 40 degrees Fahrenheit, said Esther Margulies, an associate professor of landscape architecture and urbanism at the USC School of Architecture.
"Infrastructure comes in different colors, such as grey and green. We all know grey, like bridges, dams and roads; but green infrastructure helps cool cities, conserve water, benefit wildlife and create parks, open space and bikeways that make cities more livable," said Margulies, an expert in sustainability and open spaces.
Margulies noted how California and L.A. policymakers have begun to respond to climate change. She said L.A. green infrastructure responses include revitalizing the L.A. River, the proposed Liberty Canyon wildlife overpass over U.S. 101, Mayor Eric Garcetti's Green New Deal and the USC and L.A. city urban trees initiative on the Eastside.
"People like living in cities, so we need to build cities better in response to climate change," Margulies said.