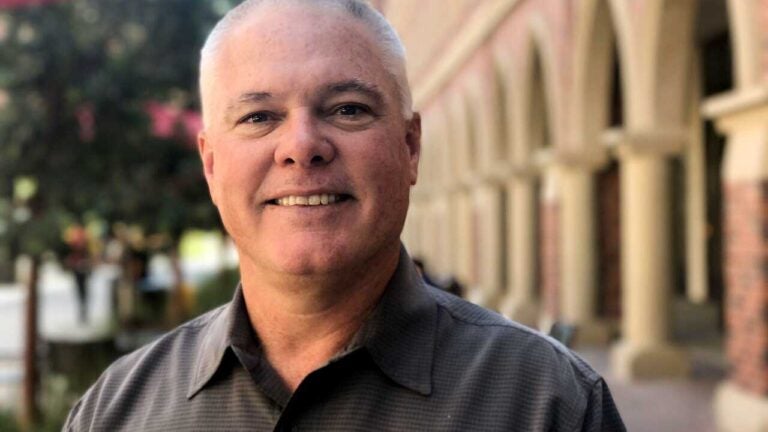 Retired Green Beret seeks social work graduate degree to help veterans and employers
???????? Military Appreciation Week: Attorney Mike St. Denis learns the tools he needs to better serve the military community
'I speak veteran, I speak business and I understand the law," said Mike St. Denis, who's earning his MSW degree while laying the groundwork for a better veterans services network.
"There aren't too many ex-Green Berets or lawyers lining up to be social workers."
St. Denis, 59, began earning his degree at a time when some of his peers were thinking of retirement. He's also working to help veterans succeed in business and avoid the pitfalls of their transition to civilian life.
"We often don't catch the veteran until he's in trouble," St. Denis said. "We want to be there when they get off the plane at LAX and ask 'Have you got money for rent? Are you depressed? Do you need help finding a job?'?"
Drawing on his Green Beret background and 25 years as an attorney, St. Denis is helping to build a platform to connect veteran service organizations with business leaders and employers. He turned to his old firm, Sheppard Mullin, Richter & Hampton, for pro bono help writing a platform and operating software agreement. Tentatively called the Veteran Employment Strategy, it's set for a soft launch next month.
With a full course load, St. Denis spends at least 20 hours a week with the Center for Innovation and Research on Veterans and Military Families at the USC Suzanne Dworak-Peck School of Social Work. The center conducts research and strengthens the support network for veterans and military families.
"When most of us think about veterans, we tend to polarize them as either heroes or homeless, most of whom are neither," said Nathan Graeser, a community program administrator at the center. "The common thread that runs through most veterans is the notion of service. Mike exemplifies this. He served in the Green Berets, he worked as an attorney and now he is back in school learning the tools he needs to better serve the veteran community.
"We're proud of what he's doing," Graeser said.
"We have hundreds of thousands of veterans in California, and I want to change the way they transition back into L.A.," St. Denis said. "It's like turning around an aircraft carrier in the Pacific — it can be done but not on a dime."