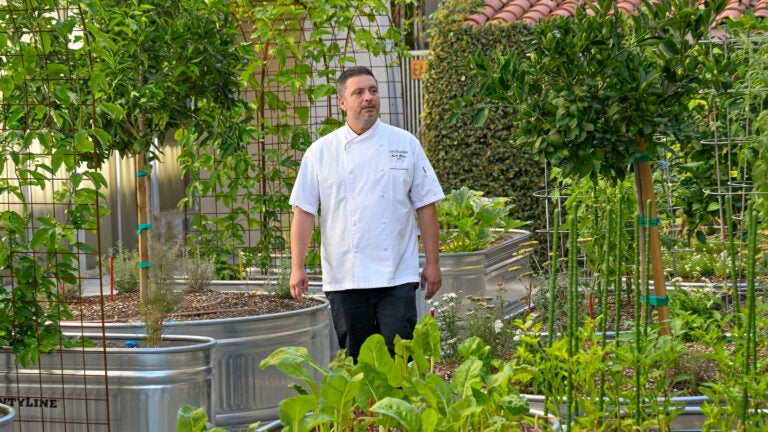 Revamped USC Hotel Garden provides fresh produce to campus restaurants
The university grows fruits, vegetables and herbs — sustainably — in an unexpected oasis just off of Figueroa Street.
Just around the corner from the bustle of Figueroa Street, in an alley behind the USC Hotel, chef Keith Shutta picks a ripe cherry tomato off the vine and pops it in his mouth. As he scans the rest of the tomatoes on the vine, he chews a bit before he tilts his head back and smiles.
"Oh, you can't beat that," he says. "You can taste the sweetness, the acidity — it tastes like how a tomato is supposed to taste."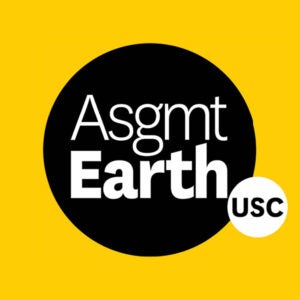 The urban setting of USC's University Park Campus is the last place someone would expect fresh-from-the-vine produce, and Shutta cherishes every bite. It's an experience that he — as a USC executive chef — has been waiting for.
These tomatoes are part of the revamped USC Hotel Garden, which features dozens of fruits, vegetables and herbs. Compared to its predecessor, which grew produce hydroponically — using a water-based nutrient solution rather than soil — the new garden uses significantly less water. As part of USC's commitment to cut water usage 20 percent by 2028, outlined in one of USC President Carol L. Folt's "moonshots," the new garden is a sustainable way to provide produce for campus restaurants, cafes and bars.
"Any time a chef has an opportunity to have a garden, you can't pass it up," Shutta says.
USC Hotel Garden origins and early design
The original USC Hotel Garden launched in 2016 to provide fresh produce to campus restaurants and catering services. That hydroponic garden featured 60 towers, with a weekly yield of 700 produce items from just a portion of the towers.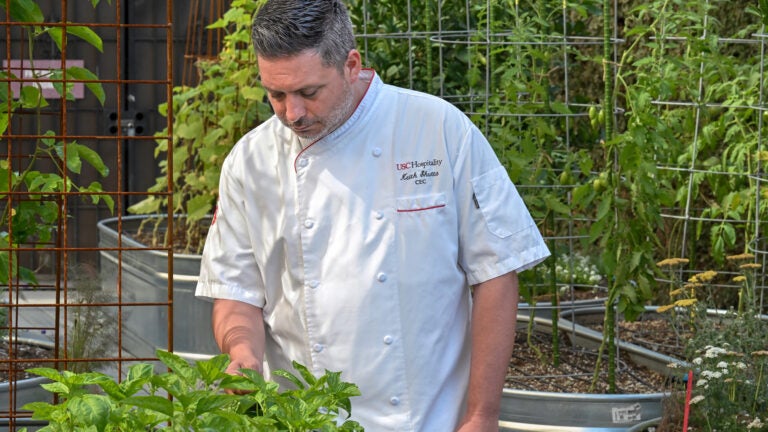 "Originally, it was phenomenal to look at, with the 60 towers in rows," said Dirk De Jong, assistant vice president of USC Hospitality and USC Hotel.
"People wanted to host events in the garden, or even just see what we had built because they were interested in the hydroponic towers."
In March 2020, the hydroponic garden was shut down due to the COVID-19 pandemic, but De Jong said other reasons like low output and high water usage also contributed to the garden's closure.
When USC campuses opened back up to students in the fall of 2021, De Jong said, this presented a great opportunity to create a completely new organic garden with chef and farmer input.
De Jong noted that when Folt arrived at USC in 2019, "one of the first places she wanted to see was the garden, and she's been championing its return."
USC Garden 2.0
To design the university's revamped garden, USC partnered with Farmscape, a Los Angeles-based company that specializes in sustainable urban gardens. From there, USC Hotel replaced the space where the hydroponic towers sat with a wooden patio fitted with 15 planters of various sizes filled with locally sourced organic soil.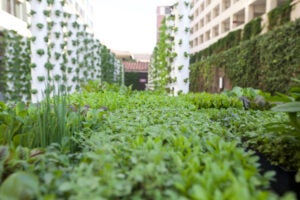 "When we used to have the towers, we couldn't grow stuff like this hydroponically, or at least it was difficult because it's such a small seedling," Shutta said. "Now that we have the actual plants in actual soil, we can grow a lot more."
The garden launched this summer, but USC Private Events & Conferences will host an official reopening Oct. 12.
As part of the upgrades, USC Hospitality also redesigned the space to be even better suited for outdoor events at the garden. The event space at the USC Garden can comfortably accommodate 60 people for a seated lunch or dinner or up to 100 people for a reception.
For the spring/summer season, the garden will feature three citrus trees — mandarin, oro blanco grapefruit and cara cara orange — along with two passion fruit vines, scallions, heirloom tomatoes, Persian cucumbers, zucchini, shishito and jalapeño peppers, Swiss chard, bronze fennel and English lavender. A separate herb garden yields basil, parsley, sage, thyme, oregano and chives.
Some of the fall crops will stay the same, with the new additions including kale; sugar snap peas; butter, romaine and Little Gem lettuce; and various root crops like radishes, turnips and carrots.
"We're trying to work a season or semester ahead, so by the end of November we'll have our spring menu set and by the end of spring we'll have the fall menu ready," De Jong said. "It's our way of ensuring the freshest produce aligns with our seasonal menus."
Creating a healthier, greener campus and community
Aside from providing produce and cutting down on water usage, the USC Garden also shows what's possible when people care about their food. There's a certain pride that comes with growing your own food in your own backyard, and both Shutta and De Jong hope this shows what can be accomplished in the most unlikely of settings.
"We want to show that you don't need a whole lot of space," De Jong said. "This is not a large area we're in, but we're still able to produce a good amount of food, as long as it's done the right way."
"We're not UC Davis with a lot of land, but I think we can still showcase that you don't need to be in an agricultural area to grow things."
For Shutta, the garden is a way for others to see fresh produce as he and other chefs do.
"If you grow your own produce, not everything is going to have a perfect shape or look like it does in the store," Shutta said.
"It may look phenomenal, but it tends to be watery and tastes processed. But when you go to something like a farmers market, a tomato may have a blemish or something like that, and people think there's something wrong. No, that's real growing — that's real food."
---
Contact USC Private Events to plan a future event in the garden.