Rick Caruso Is Elected Chair of USC Board of Trustees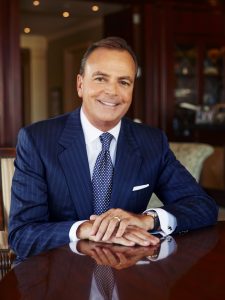 Contact: USC Media Relations at uscnews@usc.edu or (213) 740-2215
The University of Southern California Board of Trustees has elected Rick Caruso as its chair effective immediately. He succeeds John Mork, who completed his full five-year term as chair.
Caruso is a long-serving member of the USC community, an alumnus (Bachelor of Science, 1980), a current parent, and member of the Board. He is the founder and CEO of Caruso, one of the country's largest privately-held real estate companies.
In addition to his duties as Board Chair, Caruso will continue to lead the Special Committee overseeing the investigation into the misconduct and reporting failures that occurred at the USC student health center. The subcommittee has retained Los Angeles law firm O'Melveny & Myers LLP to conduct an expedient, thorough and independent investigation. The investigation will be led by one of the firm's practice chairs, Apalla Chopra, with assistance from her partner, Steve Olson, both of whom have vast expertise working with universities in conducting complex and sensitive investigations. The goal is to complete the investigation by the time students return to campus in the fall.
The Board of Trustees also approved the action of the Executive Committee to immediately begin the process of identifying a new world-class president for our university. This will be an orderly, seamless, painstaking and intelligent process.
"Our most fundamental duty is to protect the dignity, safety and well-being of our students on their own campus. What happened to our students is unthinkable and immoral, and there can be no tolerance for not protecting our students. I am outraged by the failure of this duty, and it ends today," said Rick Caruso.
"We must do everything to ensure this kind of systematic misconduct never occurs on our campus again. I am committed to working closely with the entire USC community to make all necessary changes, no matter how difficult. The Board of Trustees and I will be seeking input from representatives of our constituencies as we move, swiftly but thoroughly and intelligently, to identify new leadership for the university."
Born and raised in Los Angeles, Caruso is a renowned real-estate developer, civic leader, and philanthropist who has earned a reputation as a dedicated citizen and a compassionate yet tough leader. He has a record of success bringing needed reform to established institutions. Caruso served as the youngest commissioner in the city's history when Mayor Tom Bradley appointed him to the Board of the LA Department of Water and Power. In that role, he brought a 25-year-old lawsuit to a resolution that provided more clean water to Los Angeles and protected the environment. In his subsequent role as President of the Los Angeles Police Commission, Caruso led the effort to overhaul the LAPD's disciplinary procedures and recruited William Bratton as Chief of Police. Together, they reduced crime rates to historic lows.
"During Rick Caruso's time as president of the Los Angeles Police Commission in the aftermath of 9/11 and the implementation of the federal consent decree, Rick was instrumental in guiding the LAPD through tumultuous times. He led the effort with innovation and integrity. I can think of no person better suited to transition the culture of an institution in crisis, and lead its turnaround. USC is at a crossroads, and Rick will know how to find the way forward," said William Bratton.
"USC is fortunate to have Rick in this role at this critical moment in time. He knows how to turn around difficult situations with a long-term view and deep compassion for those he serves. He is a strong believer in social justice and a powerful advocate for the institutions he represents," said Constance Rice, Co-Director & Co-Founder at Advancement Project, a policy, communications and legal action group committed to racial justice.
In addition to his results-oriented civic work, Rick, with his wife, Tina, continue their civic philanthropy through the Caruso Family Foundation. The Foundation is dedicated to supporting organizations that improve the lives of low-income families and children in need of healthcare and education. They are also actively involved with Operation Progress, Para Los Niños, St. Lawrence of Brindisi School and Verbum Dei High School, all focused on the historically underserved area of Watts, Los Angeles.
At USC, they endowed the USC Caruso Department of Otolaryngology at the Keck School of Medicine, and the USC Caruso Catholic Center, which provides spiritual connection for faculty and students of all faiths. Caruso earned his Bachelor of Science degree from USC Marshall School of Business and his Juris Doctorate as a Margaret Martin Block Scholar from Pepperdine School of Law.
[Photo credit: John Russo]
###