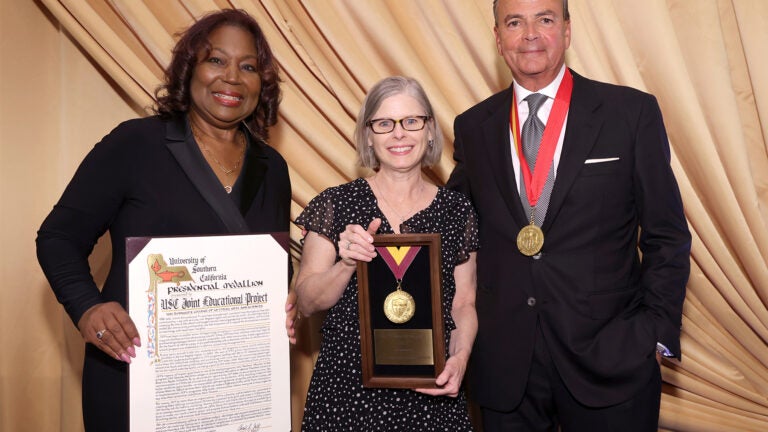 Rick Caruso, USC Joint Educational Project among award recipients at Academic Honors Convocation
The event, held at Town and Gown on the University Park Campus, is a reminder that USC is above all else a community of scholars.
Longtime USC Trustee Rick Caruso and the university's Joint Educational Project were among those honored Tuesday as students, faculty and administrators celebrated the university's 42nd Academic Honors Convocation.
USC President Carol L. Folt presented the Presidential Medallion — the university's top honor, awarded to those who have brought honor and distinction to the university — to Caruso and the Joint Educational Project, one of the oldest and largest service-learning programs in the United States.
Rick Caruso: navigating a challenging time for USC
Caruso — a USC alumnus and parent — joined the Board of Trustees in 2007 and served as its chair from 2018 to 2022, an especially challenging time for the university. He led the special committee that oversaw the investigation into misconduct and reporting failures at the USC student health center. He also guided the Board of Trustees as it approved a series of governance changes that modernized its structure and conducted the search that resulted in Folt joining USC.
In accepting the medallion, Caruso praised the faculty for helping him — and the university — during his tenure as board chair.
"The faculty," Caruso said, "is really the secret sauce to the excellence of USC," adding that the faculty has helped USC become more transparent and move forward.
He said he personally met with many faculty members during that time and that "a closer bond was forged. I will forever be grateful, and I thank you."
He said USC now needs to be aspirational and continue to look forward. "We have set our sails, and the wind is at our back," he said. "There is no limit to what we can achieve together. … What an exciting time."
Caruso and his wife, Tina, endowed the USC Caruso Department of Otolaryngology at the Keck School of Medicine of USC and the USC Caruso Catholic Center, which provides spiritual connection for faculty and students of all faiths. He is the founder and chief executive officer of Caruso, one of the country's largest privately held real estate companies.
Joint Educational Project: inspiring service
Established in 1972, the USC Joint Educational Project offers USC students a variety of opportunities to work in nearby elementary and secondary schools, community organizations, health care facilities and legal clinics. Each year, more than 2,000 USC students enroll in JEP's service-learning, work-study and volunteer programs.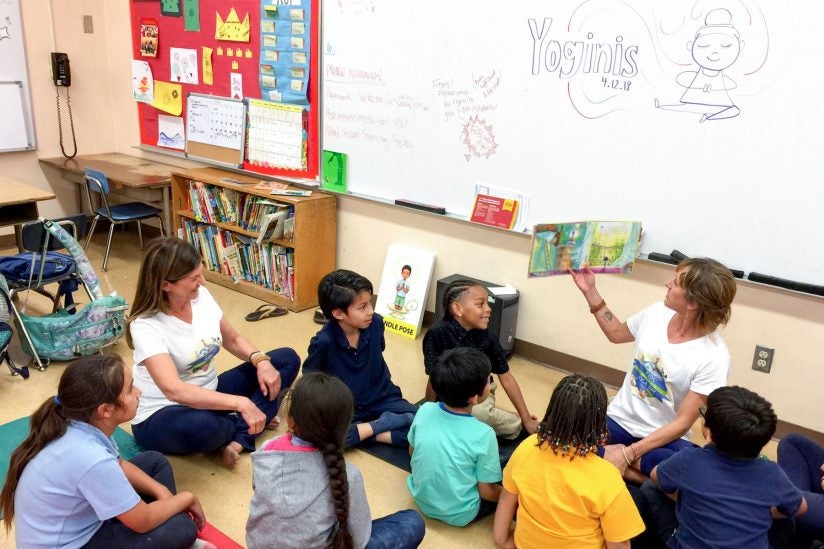 JEP's programs combine hands-on experience with reflective practice, enabling students to learn firsthand about the critical issues facing the communities surrounding USC. JEP participants collaborate with USC faculty, who offer course credit for their participation. The program also offers opportunities for alumni, USC employees and student volunteers. The project is part of the USC Dornsife College of Letters, Arts and Sciences.
In presenting the award, Folt said JEP has "planted the seed of community service" in so many people, including USC Board of Trustees Chair Suzanne Nora Johnson, who attended the event, and Los Angeles City Council President Paul Krekorian. Folt said she frequently hears from people that JEP was their introduction into a life of community service.
In accepting the award, Tammara Seabrook Anderson — USC Dornsife associate dean for experiential learning — said JEP offers "a spirit of service that has truly become a symbol of the Trojan spirit."
A number of prestigious faculty and student awards were also presented during the event at Town and Gown on the University Park Campus. Of the student recipients, Folt said, "They're doing things most of us never imagined. We just need to get out of their way." The crowd laughed and nodded in agreement.
Faculty members honored at USC Academic Honors Convocation
Distinguished Professors: Awarded very selectively to those whose accomplishments have brought special renown to USC.
Lourdes Baezconde-Garbanati
Pinchas Cohen
Genevieve Giuliano
Peter C. Mancall
Jong-Shi Pang
University Professors: Awarded based on multidisciplinary interests and significant accomplishments in several disciplines.
Thomas A. Buchanan
Akira M. Lippit
Mark E. Thompson
Faculty Lifetime Achievement Award: Awarded to a very select number of retired faculty at the annual Academic Honors Convocation, the USC Faculty Lifetime Achievement Award recognizes eminent careers and notable contributions to the university, the profession and the community.
Pierrette Hondagneu-Sotelo
John Brooks Slaughter
Michael R. Stallcup
Phi Kappa Phi Faculty Recognition Award: Founded in 1897, Phi Kappa Phi is the oldest interdisciplinary honor society at USC.
Heather James
Azad M. Madni
Natalia Molina
John Vidale
Provost's Mentoring Award: The Provost's Mentoring Award honors an individual faculty member whose investment in and generosity toward the academic and professional success of other USC faculty, postdoctoral fellows, graduate students or undergraduate students demonstrate exemplary mentoring.
Jennifer Ailshire
Omar A. El Sawy
USC Associates Awards: The USC Associates Awards are the highest honors the university faculty bestows upon its members for distinguished intellectual and artistic achievements and for outstanding teaching, both in and out of the classroom.
Creativity in Research and Scholarship
Arie Kapteyn
Steve A. Kay
Excellence in Teaching
Miriam T. Burgos
Francesca V. Mariani
Artistic Expression
Nao Bustamante
d. Sabela Grimes
Students honored at USC Academic Honors Convocation
Class of 2023 valedictorian and salutatorians: At USC, it is the custom to name one student to serve as the university valedictorian and one or more students to serve as university salutatorian. The USC selection process recognizes the very highest levels of academic achievement, but it is also more holistic and takes into consideration service and leadership as well.
Valedictorian: Isha Sanghvi
Salutatorians: Carina Robles, Liam Tsao
Phi Kappa Phi Student Recognition Award: Founded in 1897, Phi Kappa Phi is the oldest interdisciplinary honor society at USC. It recognizes scholarship and awards prizes annually to graduate and undergraduate students for creative and scholarly achievements.
Arian Aghilinejad
Rashid Alavi
Sarah K. Daoudi
Abigail Kim
Christopher Q. Zobrist
Phi Beta Kappa Undergraduate Awards: Devoted to liberal learning in arts and sciences, Phi Beta Kappa, founded in 1776, presents two undergraduate awards to honor creativity, scholarship and leadership in faculty-student community relations.
Quin Cho
Kelly Nguyen
Carina Robles
Rockwell Dennis Hunt Award: Awarded to an alumna or alumnus of USC who is pursuing a graduate or professional degree at the university and who is most representative of the Trojan Family's traditions and values.
University Outstanding Teaching Assistant Award: Awarded to three graduate teaching assistants — from diverse areas such as the natural sciences and engineering, the social sciences, and the humanities and arts — who have exhibited consistent excellence in the classroom and thus symbolize the university's dedication to the education of scholar-teachers.
Elisa Shimada
Emily M. Sung
Junxiong Yin
PhD Achievement Award: Awarded for doctoral student achievement.
Heidi Aronson
Ho-Chun Herbert Chang
Nina C. Christie
Alison Cribb
Nicholas G. Napolio
Blanca A. Ramirez