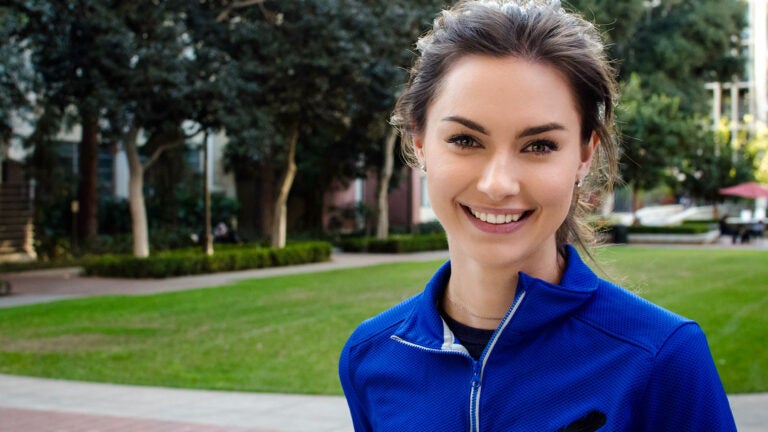 Space-loving engineer builds rockets at USC
USC junior Madeline Koldos builds rockets, tests the Mars 2020 rover and encourages young girls to learn about science. Financial aid made it all possible.
As a kid, Madeline Koldos devoured library books on space. And she couldn't get enough of science shows on TV like The Magic School Bus.
Koldos visited her dad at his job as a tool and die maker, watching him operate a drill press or lathe. In his spare time, he fixed old cars. And her mom? She was the only woman in her electrical engineering program when she graduated from the University of Texas at El Paso.
With great grades from a science and technology magnet high school, Koldos seemed destined to become an engineer. If not for a big stumbling block: her family's finances.
"I didn't know how I would get to college because we didn't have a college fund," she said. "I definitely never thought private schools would be accessible to low-income students. I thought that was another world that was just too expensive."
That's when she found out about QuestBridge. The nonprofit program finds highly talented low-income students and helps them apply to prestigious colleges. In return, the colleges agree to provide financial aid to any QuestBridge students they admit. Koldos applied and was accepted. That paved her way to the USC Viterbi School of Engineering, with generous support from the university's endowment that covers much of her tuition and other expenses.
I don't know what I would have done if I couldn't have come here. I'm so grateful to USC for providing that opportunity and giving me so much support.

Madeline Koldos
Now the 21-year-old junior from Elgin, Ill., is excelling as a mechanical engineering major. She is a key member of the USC Rocket Propulsion Laboratory, helping the team prep for a potential record-breaking launch this spring. Last summer, she worked on the Mars 2020 rover project at NASA's Jet Propulsion Laboratory. And Koldos recently found out she landed a paid fellowship this summer with Blue Origin, the spaceflight company owned by tech entrepreneur Jeff Bezos.
"I don't know what I would have done if I couldn't have come here," she said. "I'm so grateful to USC for providing that opportunity and giving me so much support. I don't think I would have become the same person I am now otherwise."
Financial aid program brings much-needed relief
Money had always been a little tight for the young family, but when Koldos was around 8 years old, things took a bad turn. Badly injured in a cycling accident, her dad was forced to quit his job and rely on disability support. Her parents divorced. Then the economy bottomed out. Koldos had to grow up in a hurry.
"I felt like I was a 50-year-old woman in a young girl's body," she said. "We were just barely getting by, and almost lost our home a few times."
By age 15, she was lifeguarding at the local pool to cover her clothing expenses and school supplies. So when she found out she had been accepted as a QuestBridge Scholar and didn't have to worry about paying for college, it was a major relief.
"It took a lot of the burden off my parents," she said. "They were happy to see that I could make it on my own."
Because of those early experiences, Koldos is self-sufficient and pragmatic. She sticks to a budget and doesn't spend a lot on meals at restaurants or other luxuries. Instead, she focuses most of her time on her primary passion: space.
Helping the USC rocket team reach new heights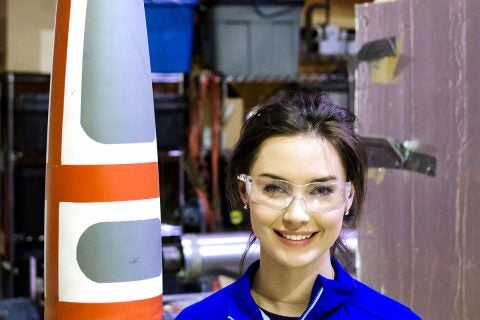 Most days, she can be found surrounded by machinery and rocket parts in the Rapp Engineering Building, the home base of the USC Rocket Propulsion Lab. As the lead engineer of data acquisition, Koldos gathers information on the temperature, thrust and pressure of powerful engines used to send rockets soaring into the atmosphere.
Those tests are critical to achieving the group's mission of becoming the first student team to design, build and launch a rocket into space. The group already broke the record last year for highest altitude achieved by a student-fabricated rocket. Weather permitting, the next attempt will likely come in April or May. The goal: the recognized boundary of space known as the Karman line — 100 kilometers, or about 62 miles, from Earth's surface.
Although the team will have to more than double the altitude achieved on its last launch, Koldos feels confident. Recent tests in the lab have been promising.
"I can't even imagine how it would feel and what it would mean to make it to space," she said. "Our team has been trying to do this for more than 10 years. To finally accomplish our goal, it would just feel so incredible."
More rocket science: Hands-on experiences at NASA, Blue Origin
Rockets aren't the only things Koldos has prepped for a trip to space. Last summer, she interned with NASA's Mars 2020 rover chassis team. She ran experiments to see how parts of the rover's body handled extreme temperatures, acceleration and other stress. Her findings led the team to redesign some components.
Other exciting projects include a collaboration with the Jet Propulsion Lab's Biotechnology and Planetary Protection Group. This time, Koldos tested whether bacteria spores could survive on spacecraft despite the intense temperatures during launch and reentry.
If we are going to other planets like Mars that have an atmosphere, we don't want to contaminate those planets with our bacteria.

Madeline Koldos
"If we are going to other planets like Mars that have an atmosphere, we don't want to contaminate those planets with our bacteria," she said.
In the coming months, she will travel to Blue Origin's headquarters near Seattle for a summer internship. Inspired by a USC course on fluid dynamics, Koldos hopes to explore that topic further during her time there.
Understanding how fluids act in zero gravity could have implications for life support systems, water supplies and even how blood circulates in the human body, she explained. That knowledge will be important if astronauts want to go on longer missions, like visiting Mars or one day live in space.
Promoting women in science and aerospace
In addition to her paid internship at Blue Origin, Koldos will receive mentoring from senior leaders at the aerospace manufacturer, thanks to a Brooke Owens Fellowship. The prestigious initiative selects 36 undergraduate women interested in careers in aviation or space industries each year and pairs them with leading tech and aerospace firms.
Koldos is doing her part to promote diversity in science and technology. At her work–study job at the California Science Center near USC, she teaches kids about the Space Shuttle Endeavor and shares facts about space travel. She is a member of the Society of Women Engineers. The group's USC chapter recently invited young girls to campus to learn about science and play with stomp rockets.
Her mother's background and support from her father encouraged her to pursue a career in engineering, even though women are outnumbered in the field.
"My mom was always this awesome, strong woman figure in my life," she said. "She would tell me I could do anything if I just try. That really helped me get into engineering and feel like this is something I can do, this is normal. My dad had the same attitude, that I could choose to do whatever I wanted. It meant a lot to me that he was including me in his work — it made it more normal working in those environments with men."
Koldos is also gratified to see USC Viterbi's emphasis on helping women thrive in STEM fields. She hopes these initiatives will inspire more women and minorities to pursue a career in engineering.
"It's just so good for them to see that we are here and doing this kind of work, and that they can to it, too," she said. "It's the same for me, seeing women working at Blue Origin. I can do that!"