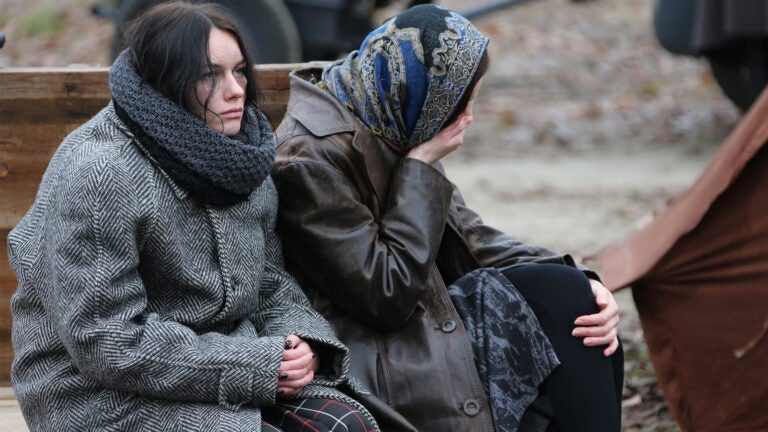 Stage for Russia's war on Ukraine was set by a massive propaganda campaign, USC experts say
As the U.S. and Britain announce sanctions against Russia and soldiers march into Ukraine, USC experts discuss the escalation of the conflict — and note a distinct change in Vladimir Putin's usual propaganda tactics.
As Russia advanced its invasion of Ukraine on Thursday, USC international affairs experts shared timely perspectives on Russia's information war and state-run propaganda, news coverage, sanctions and potential action by NATO.
The threat of invasion has been simmering for years but was heavily cloaked by Russian propaganda, experts at the Center on Public Diplomacy at USC Annenberg School for Communication and Journalism noted during a webinar Thursday afternoon.
Some of that propaganda had leveraged compelling facts such as attacks on Russian nationalists in Ukraine, noted Robert English, an associate professor of foreign policy and defense analysis at the USC School of International Relations in the USC Dornsife College of Letters, Arts and Sciences.
VIDEO: Watch Thursday's webinar. Story continues below.
However, English and other analysts noted that the messages from Russian President Vladimir Putin, Russian state-run media and Russian-owned automated social media accounts — bots — have been disparate and confusing. Even so, U.S. intelligence successfully sorted through the noise and found warning signs of Russia's intention to escalate toward war, he said.
"The craziness of his narrative that simply could not be taken seriously perhaps contributed to our failure to take seriously the military power, the military forces he was amassing all around Ukraine. Again, many, many experts — with the exception of the intelligence analysts in [President Joe] Biden's government — failed to see, failed to take seriously the scope of what Putin was about to do," English said.
Mixed messages in Russia and Ukraine conflict uncharacteristic of Putin
English noted that the recent noise in Russian information and state-run media is uncharacteristic of the Putin and his government's typical sharp, targeted propaganda efforts.
"It really leads us to questions about what happened to Putin — how premeditated and deviously premeditated his information strategy, which seemed like such a failure, actually was in lulling people to sleep," English said.
Nicholas J. Cull, another faculty fellow at the Center on Public Diplomacy, argued that the U.S. response so far is falling short of fully stopping a war.
"They've been trying to inoculate public opinion by pointing out that it is likely that the Russians would claim Ukrainian provocation, and they've been pointing out the likelihood of what are called false flag operations, and I think may have taken a little bit of the sting out of the disruption," Cull said. "But these sorts of tactics … are inadequate when we have a full-scale invasion."
While Putin's strategy may never be known, it is clear that Putin's government and media have intensified efforts through Russian news coverage and social media to propagate a false narrative about the invasion of Ukraine over the past two days. Putin's claim that Russian troops are there as part of a "special military operation" and other false portrayals of their mission is just a "horrible narrative that … is everything but true," said analyst Katarzyna Pisarska, a faculty fellow for the USC Annenberg Center on Public Diplomacy and founding director of the European Academy of Diplomacy in Poland.
Poland, a member of NATO, has been critical of Russia for some time.Pisarska noted the invasion's direct impact on her: She must race to safely get 20 women from her organization out of Ukraine and back to Poland because they are on a Russian hit list.
In Russia and Ukraine conflict, how effective will sanctions be?
In the meantime, she praised U.S. and British sanctions implemented early Thursday as Russian troops advanced from their positions on three sides of Ukraine.
Both Biden and British Prime Minister Boris Johnson announced sanctions on business and trade with Russia. The U.S. actions include an exportation block on technology to hinder Russian efforts to grow its military and aerospace sector. The United States has also frozen assets of Russian banks with locations on American ground, and the assets of wealthy families connected to the Kremlin. Johnson announced similar sanctions on Russian bank assets in Britain.
Combined, the U.S. and its allies' efforts are intended to ratchet up the pressure on Putin to suspend the attack or withdraw. But who will bear the brunt of the fallout from the sanctions: Putin or the Russian people?, English asked.
"Sanctions should be taken if they can work. Will the United States and other nations do enough to prepare for the pain? Because we also will be hurt," English said. "Poland, a front-line country with no illusions about Russian benevolence — it imports two-thirds of its gas and three-quarters of its oil from Russia — Poles have not done what was needed to be done which is to get off the addiction of Russian oil and gas."
Putin … is testing how far we will go on sanctions. He's prepared for the worst, but he hopes for the best.

Katarzyna Pisarska,
USC Annenberg Center on Public Diplomacy
Pisarska said that sanctions will hurt over the long term. Poland will pay the price because of its reliance on Russian fossil fuels, as will other countries that now face hikes in gas and oil prices.
"But Putin also is testing how far we will go on sanctions," she said. "He's prepared for the worst, but he hopes for the best. He hopes he will be proven right and that, just like in 2008, when he invaded Georgia, and 2014, when he annexed Crimea, the sanctions turn out to be very weak."
Pisarska said the one question that stands out is what NATO may or may not do — particularly as Poland and its neighboring countries raise concerns that the Russian advance will not stop at the borders of Ukraine.
"Ukraine is only one theater of a much bigger war," she warned.