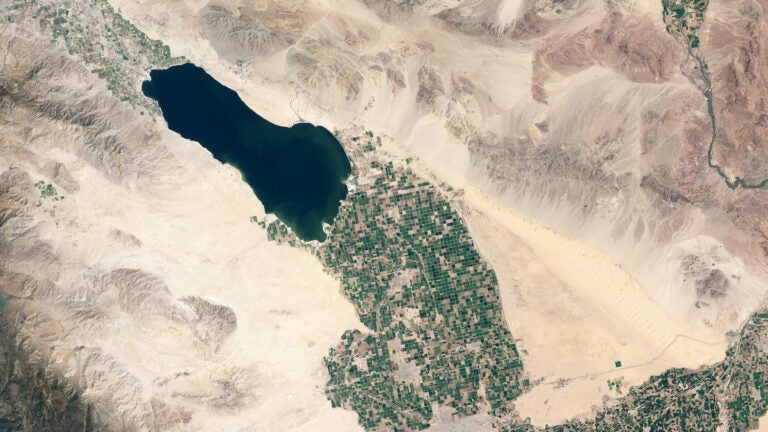 As Salton Sea shrinks, experts fear far-reaching health consequences
USC researchers are exploring how losing California's largest lake could affect the respiratory health of people throughout the Imperial Valley and beyond.
In the string of small farm towns that stretches south from California's Salton Sea toward the border with Mexico, pretty much everyone knows someone with asthma.
As many as three of every 10 people report having the disease in places like Brawley, Calipatria and Westmorland — compared with about one of 10 in California as a whole. Bronchitis is also common, and many residents complain about coughing, wheezing and shortness of breath.
Experts point to numerous likely culprits. Heavy manufacturing and industrial sources pollute the air. Strong winds whip up natural dust storms that are made worse by off-road vehicles that break apart the desert's natural crust. Smoke rises above burning piles of excess vegetation from unnatural oases of lush farmland with an unquenching thirst for Colorado River water.
But USC researchers see another potential hazard linked to complicated water rights issues and climate change: the shrinking of the Salton Sea.
And they expect its effects to intensify in the coming decades. As the drying lakebed is increasingly exposed to the Imperial Valley's harsh winds, more particulate matter — tiny bits of dust and pollution — could become airborne and worsen health problems among those living nearby.
"We already have a vulnerable population here," said Jill Johnston, an assistant professor of preventive medicine with the Keck School of Medicine of USC. "What could be the effects of more pollution because of the shrinking sea? It's a major concern, because there's a lot of evidence that shows particulate matter is not good for you."
USC researchers examine health effects as Salton Sea recedes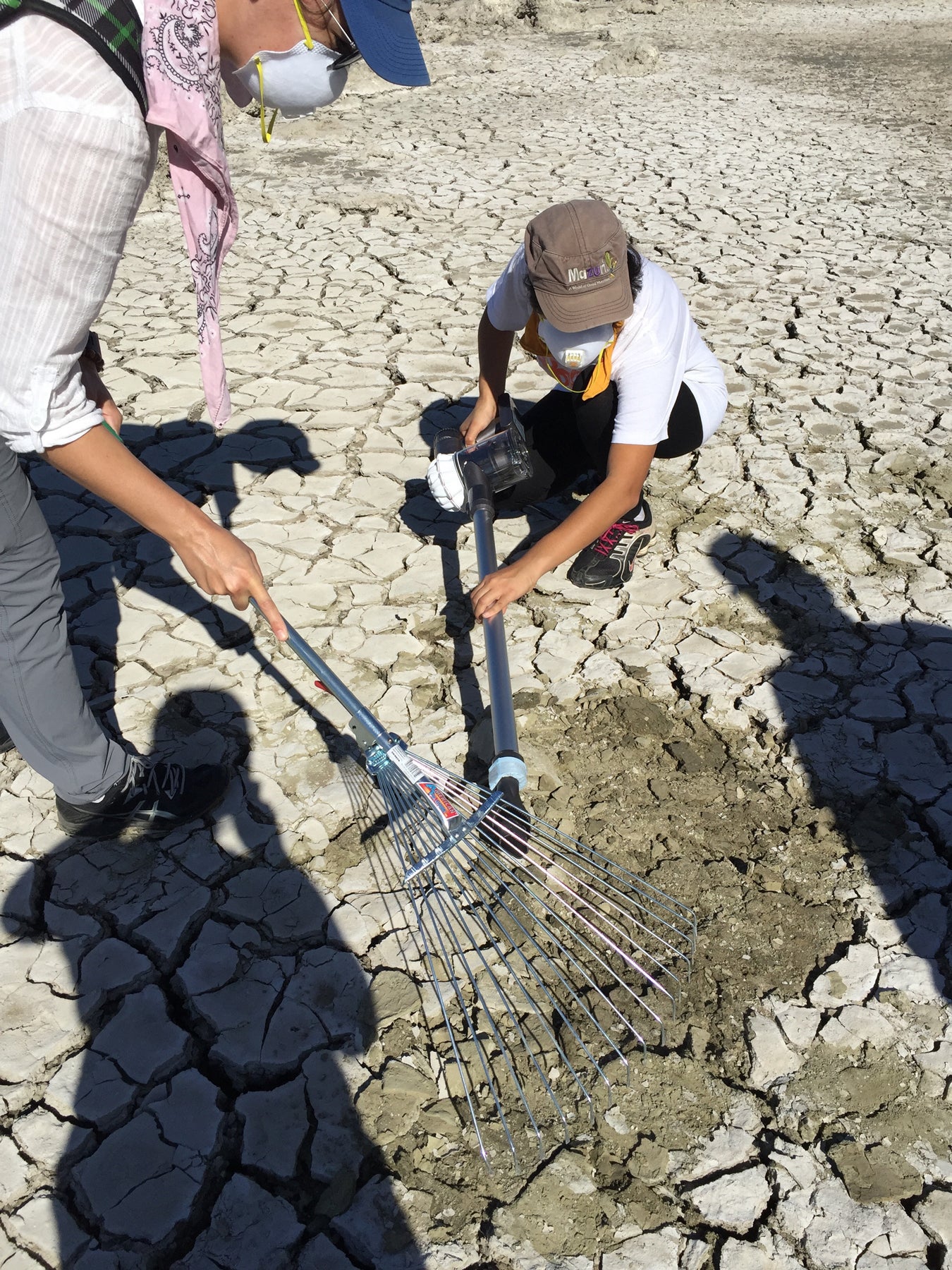 Johnston and fellow preventive medicine researcher Shohreh Farzan are leading a long-term study into the receding Salton Sea shoreline and its implications for air quality in the region. Funded by a five-year grant from the National Institute of Environmental Health Sciences, they are examining the composition of airborne dust, measuring respiratory health among school kids over time and helping local residents develop education and advocacy plans to protect health.
Their work is a collaborative effort with Comite Civico del Valle, a local nonprofit that promotes wellness in disadvantaged communities of Imperial County. The group operates an extensive network of air quality monitors throughout the county to measure particulate matter.
Luis Olmedo, the group's executive director, said it's critical to understand the consequences of increased dust exposure. But even more critical is using that information to protect people from getting sick.
"It's not just about research, but about coming up with actions," he said. "That's why I think this work with USC, this community-engaged research, is going to give us the tools to inform people about how these sources of pollution are interacting with the community and affecting people here."
A smaller Salton Sea likely means more dust, dangerous pollutants
In an expansive tract of unforgiving desert landscape southeast of Los Angeles, the Salton Sea spreads across 345 square miles in a shallow, salty layer. It is fed in large part by farm irrigation runoff from the agricultural fields that bookend the lake's northern and southern edges. But complex water deals coupled with the changing climate are expected to curtail that flow, causing the lake to shrink dramatically in the coming decades.
Some experts have estimated that the sea will lose more than half its volume by 2030. A 3-foot decline in the water level would expose more than 11,000 acres of playa, a term used for the salt flats left behind as the water recedes.
We're not dealing with just plain dirt. We're dealing with particles that are laced with chemicals and carcinogens.

Luis Olmedo
To explain the potentially devastating consequences of losing major swaths of the lake, Johnston points a few hundred miles north to the mostly dry Owens Lake. Once a third the size of the Salton Sea, it shrank dramatically when water was diverted west to support a growing Los Angeles. The barren terrain left behind created severe dust pollution, requiring expensive and ongoing mitigation.
A receding Salton Sea could cause similarly serious issues. Many people are worried about the concentration of dangerous toxins due to decades of waste and agricultural runoff into the lake, which has no natural outlet.
"We're not dealing with just plain dirt," Olmedo said. "We're dealing with particles that are laced with chemicals and carcinogens — and telling people they should avoid prolonged exposure might not be enough anymore."
Respiratory problems linked to poor air quality near Salton Sea
Dust and other particulates can cause or exacerbate health problems like asthma, chronic obstructive pulmonary disease, obesity, heart disease and diabetes, Johnston said. But much of the research into these negative effects has been conducted in cities. The USC team wants to understand what is contributing to poor air quality in rural areas like the Imperial Valley, which features a mix of natural and manmade pollution.
"We're thinking about this from an exposure standpoint," Farzan said. "What's in the dust and what are people breathing?"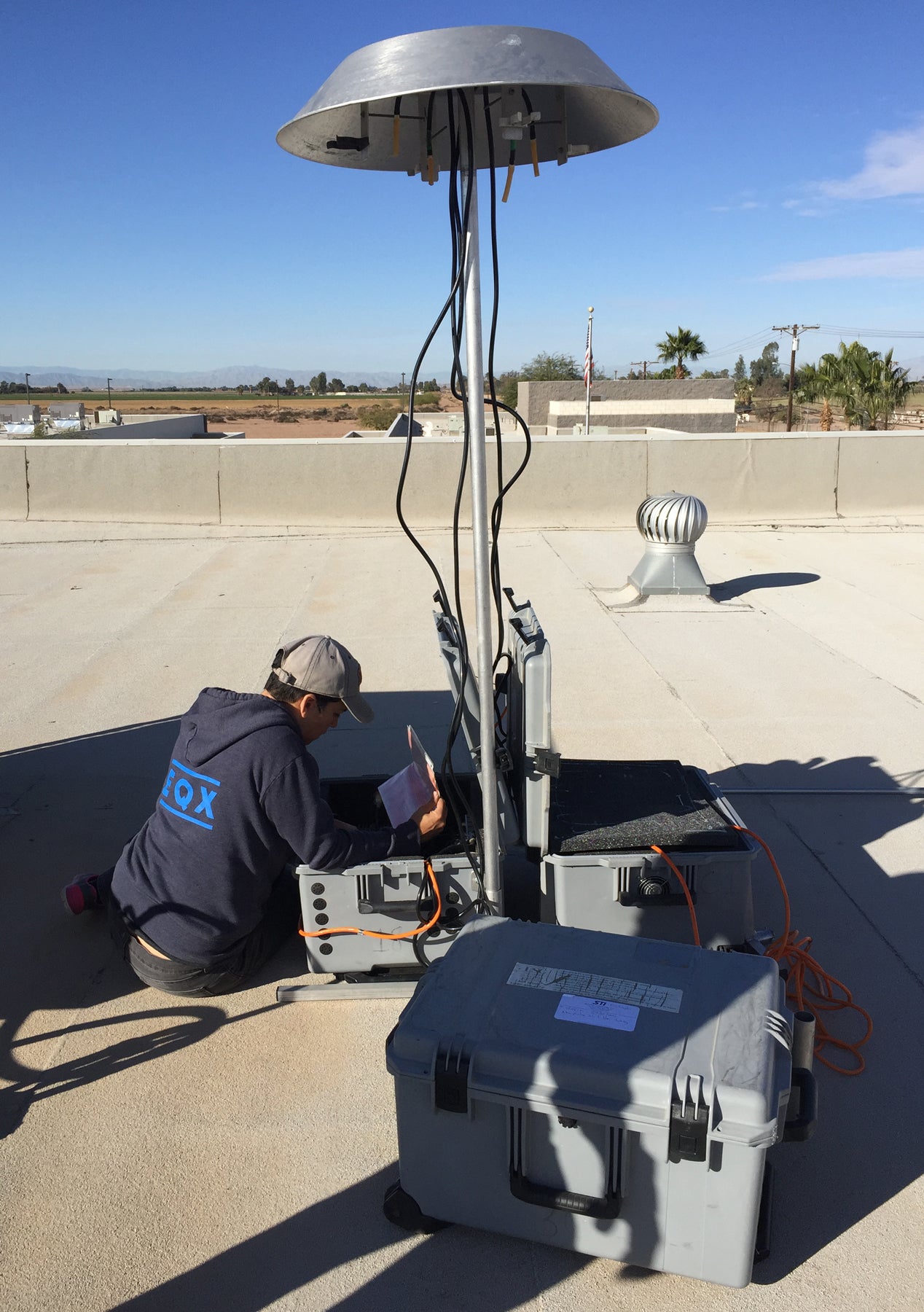 By analyzing dust samples, the researchers can pinpoint its source. Finding chloride ions would suggest the particles came from the Salton Sea due to its high levels of salt, which contains chloride. Black carbon, a byproduct of burning diesel fuel, hints at pollution from big rigs and manufacturing. Silica implies dust pollution from the desert, potentially kicked up by off-roading activities or wind gusts.
The USC researchers also are exploring the effects of chronic exposure to particulate matter on the respiratory health of local children. In 2017, they started measuring lung function and asking about other health issues like asthma and coughing among hundreds of kids at five elementary schools in the communities south of the Salton Sea.
"We're seeing indications of harm specifically to the pulmonary system, like bronchitis symptoms," Johnston said. "We can't yet associate what we're seeing with the Salton Sea, but as we collect more data, we'll have a better scientific design to tease out what is strongly linked to these symptoms."
USC researchers emphasize community involvement in respiratory health study
A major emphasis of the Salton Sea study is collaborating with a local community that has been overlooked or ignored in the past. Olmedo said the Imperial Valley, which is largely populated by low-income Hispanic families, has suffered from a lack of resources and investment for many years.
"You see it in the insufficient sidewalks, not enough tree canopy, lack of basics that a well-resourced community would have — access to good food, good education, community centers, transportation," he said. "There are a lot of barriers that exist."
He has also seen many studies on issues like air pollution or public health in Imperial County that never seem to lead anywhere. So Olmedo said he appreciates the USC team's focus on involving community members and addressing local needs.
"We raised expectations on academic researchers: If you want to come out here, you need to do community-engaged and action-based research," he said. "This USC work is really focused on community impact."
Part of the study involves creating health education and advocacy programs to help residents be better informed about the negative effects of poor air quality and how they can voice their concerns. The researchers are reporting their findings through community workshops, reports and easy-to-understand infographics. They are also training local study collaborators in how to measure particulate matter, prepare dust samples for analysis and assess lung function.
Comite Civico del Valle has already established a program at local schools to display color-coded flags that signal the current air quality. The USC researchers are hoping to identify similar simple approaches to raise awareness and provide tools that help the community protect itself.
"It's really a collaborative effort," Farzan said. "They are guiding our questions and helping us figure out the best way to do our work. And they can take what we learn from our dust analysis and health surveys to advocate for public health policy and promote positive change."