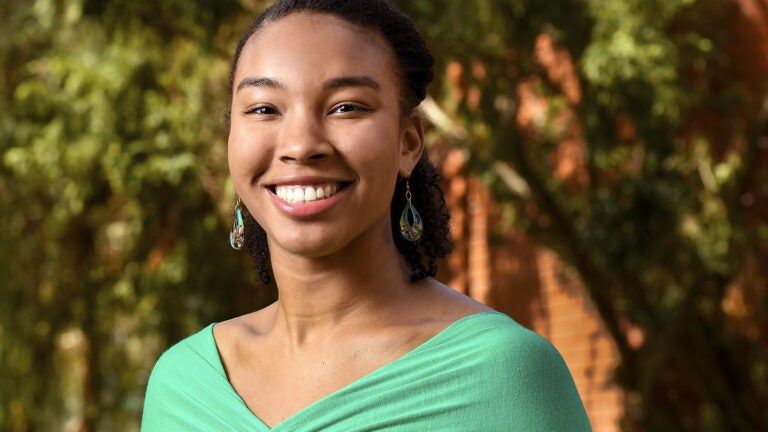 Salutatorian Carrie Moore recalls a journey of self-discovery
In four years at USC, the creative writing major welcomed the chance to reinvent herself.
Carrie Moore came to USC expecting to become a filmmaker, decided she instead wanted to write fiction and now has every intention of being a teacher.
The last four years have been a journey of self-discovery for the Atlanta native who is this year's salutatorian.
A creative writing major with a minor in American studies and ethnicity at the USC Dornsife College of Letters, Arts and Sciences, Moore fully embraced the license to reinvent herself, making the most of every undergraduate experience USC had to offer while achieving a near-perfect 3.99 GPA.
I really felt at USC I could be any person I wanted to be.

Carrie Ruth Moore
"I really felt at USC I could be any person I wanted to be and have resources to study anything I wanted to study," she said.
Sing, write, research
So Moore sang with the all-female Oriana Choir and later joined the popular Saved by Grace gospel choir. She threw herself into the classics with the Thematic Option honors program. As a lifestyle writer for the Daily Trojan, she covered the Academy Awards and interviewed Jada Pinkett-Smith.
As a research assistant to historian Francille Wilson, she pored over hundreds of articles penned by little-known 19th century black suffragettes. She dug into other meaty research projects for faculty mentors Michelle Gordon and Dana Johnson, and presented her own scholarly papers at national humanities conferences. She also assembled a portfolio of meticulously crafted short fiction, winning several undergraduate writing prizes.
Perhaps her most transformative experiences, however, were traveling to Thailand to teach English to rural schoolchildren and sharing her love of literature with youngsters in South Central Los Angeles through a series of service-learning projects through the Joint Educational Project.
Those experiences cemented Moore's decision to be a teacher.
"I really felt like I didn't just want to sit at home and write," she said. "I wanted to be able to work in classrooms that needed help."
In June, she'll begin an accelerated M.Ed. program at Stanford University that will put her in a classroom full of underserved Bay Area youths every morning and in graduate education courses every afternoon. At the end of the program, she'll embark on her career as a high school English teacher. She plans to continue writing fiction by night.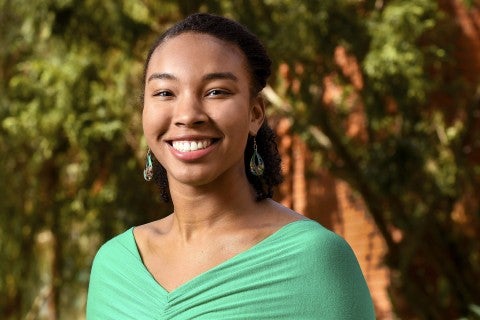 Change is good
Like much of her generation, Moore sees herself as a change-maker.
"I read somewhere that teachers normally come from the bottom 25 percent of their graduating class," she said. "That really frustrated me. Education is so important, and everyone should have access to good teachers and good schools."
Instead of grumbling about what can't be helped, she looked in the mirror and asked "what can I do?"
"I'm sitting here as salutatorian of my class," she explained. "I'm definitely not in the bottom 25 percent. And I think high-achieving teachers can be a good thing for students and a good thing for education.
One child at a time
It was at USC that Moore began to recognize how privileged she actually was. In elementary school, she won a lottery to attend a magnet program 45 minutes from her home. There she benefited from teachers (she's especially grateful to mentors Chris Smith and Keysha Lee) and resources unavailable in her neighborhood.
Literature is transcendant.

Carrie Ruth Moore
"I've seen a lot of my friends, peers and even family members who did not go to that same school system, and our futures are so different," she said.
Moore plans to address that inequality one child at a time, harnessing the power of fiction.
"Literature is transcendent," she said. "You read a book and your life is changed. There are authors like Toni Morrison and Barbara Kingsolver, who have totally reshaped what I thought about love and death, race, global warming and community."
Somewhere in the Bay Area, dozens of unsuspecting teenagers are about to have their minds expanded and lives changed.
---
IN HER OWN WORDS
What advice do you have for freshmen?
Study what you want. I got a lot of flack for being a creative writing major. It's not practical. But the reality is, you're at a top-tier institution and everything is going to be OK. If you study what you want, you'll find a way to make it work.
What is your fondest memory of these last four years?
Definitely the alternative winter break trip I took to Thailand. There was this moment when we had this cultural exchange. The Thai students, they were 9 or 10, had these elaborate cultural dances. They were so beautiful. And then we showed them the Cha Cha Slide because we didn't have an equivalent. They were not impressed.
Is there anything you regret?
I wish I had learned a foreign language in a strong way. I had Advanced Placement German in high school, and I took a little Italian and a little Spanish in college. But if I could go back, I would do a Spanish minor starting the first semester.
Do you have a novel in you?
I do. I have several novels, but I haven't written them yet. Mostly I've been focusing on short stories. It's what they teach us here: to start small. I do have my first publication coming out this month, a short story titled "Vipers." It's coming out in The Normal School literary magazine in the spring 2015 issue.
What is it about?
It's a story about a mother and her 12-year-old daughter who are pregnant at the same time. It's about this moment when you're an adolescent and your parent gives you questionable advice. Suddenly you see they're not absolutely right all the time — that they're human and flawed.
Are you sad to be leaving USC?
Yes and no. I will miss all my professors and friends here, but I want to be exposed to other institutions and have more experiences. So I'm ready to go.
I really miss the South. I miss having weather, rain. I miss fireplaces and boots and sweaters.
Where do you see yourself in 20 years?
I see myself still teaching literature. I want to go back and get an advanced degree in writing — either an MFA in creative writing or maybe a joint Ph.D/MFA. After that, I'd either go back to teaching high school or at the college level.