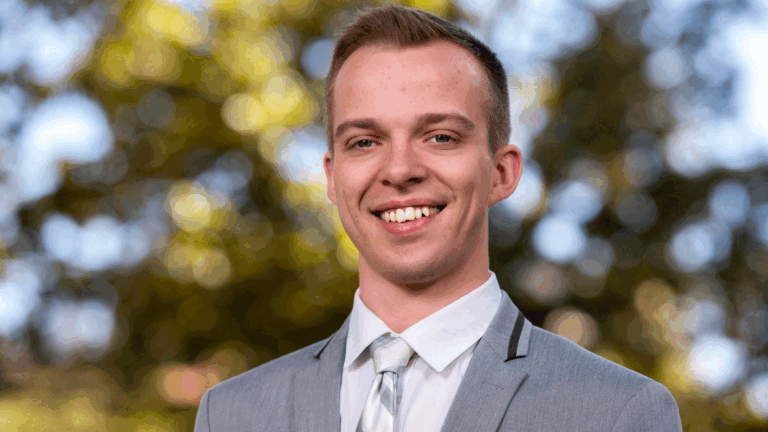 Salutatorian Ryan Lindveit commits to composing and conducting
After playing and eventually writing music, the USC Thornton student realized what he wanted to do in life
https://www.youtube.com/watch?v=qwKC-Hb6sgk&feature=youtu.be
"I think of myself as a scavenger," said salutatorian Ryan Lindveit. "I'm not afraid to consume anything."
Relax. He's talking about music. The serious young composer of modern classical chamber and orchestral pieces is intrigued by the sampling logic of electronic music and the innovative beats of pop artists. Shunning stylistic labels, he composes in both tonal and atonal harmonies, experimenting with surrealist forms at the USC Thornton School of Music.
According to his Spotify app, the most recent tracks he played are by artists like Kendrick Lamar and the Talking Heads. Confining himself to classical works, Lindveit said, "would be very boring." Then again, he reveres Gustav Mahler, John Adams and Esa-Pekka Salonen, to name only a few of his strong influences.
As one of USC's two salutatorians, Lindveit is one of three 2016 graduates who will sit on the platform at the 133rd commencement, alongside such honorees as Oracle founder Larry Ellison and Academy Award-winning filmmaker Alejandro Iñárritu.
A whole new (musical) world
Becoming a composer wasn't the most obvious path for him to take. A scholar by nature, he competed as a youngster in spelling and geography bees, math decathlons and chess tournaments. He was the kind of kid who could identify commercial airplane models as they flew overhead.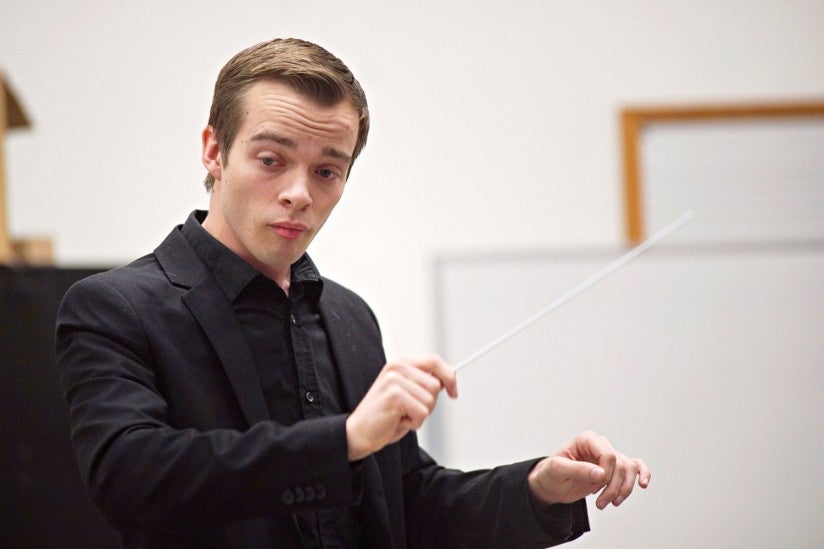 Growing up in sleepy Lake Jackson, Texas, Lindveit is the child of a legal secretary and a trucker-turned-repair-shop-owner. He had little exposure to the arts before middle school, when he first picked up the euphonium to join the school band.
"That was the gateway to a whole musical world that I didn't know about," Lindveit recalled. "I just became intensely interested in playing music and eventually writing music. And I realized I couldn't do anything else."
His high school band director gave encouragement, performing and even recording several of Lindveit's early compositions for a 60-piece symphonic band. His parents approved, which "was shocking to me," Lindveit said. "They knew nothing of the music world but were extremely supportive."
Between composition lessons in Houston and a summer program at the Cleveland Institute of Music, Lindveit amassed a significant portfolio by the time he was admitted to USC, his first choice, as a Presidential Scholar and recipient of the Adrienne Westerbeck Endowed Music Scholarship.
He considers the piano trio he composed at age 16 as his first opus. Since then, he's penned many hours of music, including six works commissioned by professional chamber ensembles.
In the past year, he has received prizes at eight national competitions, including a 2016 BMI Student Composer Award for his "Spinning Yarns," a multilayered wind ensemble piece inspired by the Margaret Atwood novel, The Blind Assassin. That work had its world premiere last summer in Washington, D.C., where it was performed by the U.S. Marine Band. It was subsequently performed again in Bovard Auditorium by the USC Thornton Wind Ensemble. A few days later in the same hall, the USC Thornton Symphony premiered Lindveit's orchestral piece, "Like an Altar With Nine Thousand Robot Attendants." Both works had taken USC Thornton's 2015 top prizes for new music composition.
Medicine or music?
But it's Lindveit's 2012 string quartet, "Exuberant Turns," that marked the most important milestone in his artistic journey. The piece was inspired by a brush with mortality during Lindveit's freshman year after he was rushed from his dorm room into emergency surgery with a ruptured appendix.
Looking back, he said, "it was a traumatic thing, but also a clarifying experience."
Lindveit had come to USC planning to be a composition and pre-med double major. Intellectually, he knew he was up to the task. But lying in his hospital bed, he realized that his "insane and misguided fallback plan" of becoming a doctor — something he was not passionate about — represented "a personal lack of faith that I could accomplish what I wanted to accomplish in the composition world."
After missing nine days of school — a gap that earned him the only A- of his four years at USC, resulting in an overall 3.99 GPA — Lindveit returned to campus, fully committed to a life of composing, conducting and someday teaching at the university level.
That decision was validated at USC Thornton, where his prizes and awards quickly piled up. But this spring, Lindveit's passionate pursuit of music — and music alone — was vindicated university-wide when he was selected as a salutatorian. And earlier this month, he snagged one of USC's coveted $10,000 Discovery Scholars Prizes, which rewards the creators of outstanding original work in any discipline.
He will continue his graduate-level composition studies at Yale University in 2017. Look for "spiked," his forthcoming piece for the new music ensemble Alarm Will Sound, commissioned for the 2016 Mizzou International Composers Festival.