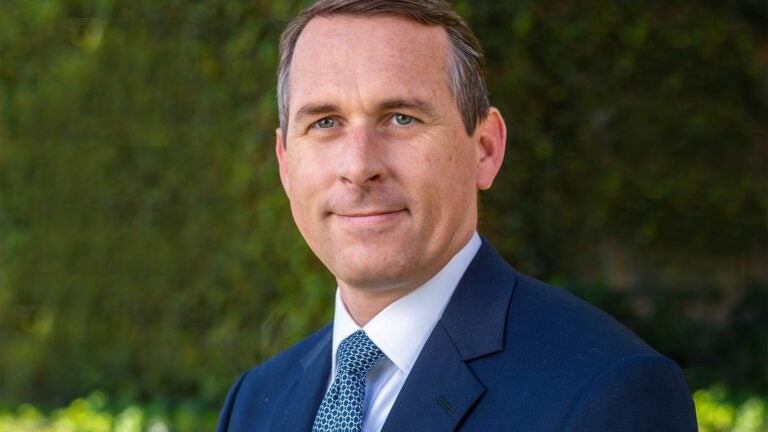 USC names Samuel Garrison senior vice president of university relations
Garrison will direct a more robust department dedicated to community partnerships, civic leadership and collaboration with local businesses, schools and neighbors.
Samuel Garrison, a thoughtful leader dedicated to public affairs and community outreach, has been named USC's senior vice president of university relations, President Carol L. Folt announced Tuesday.
Garrison, who is part of the president's senior leadership team, took over University Relations as the pandemic began. Under his guidance, the unit quickly pivoted to COVID-19 community relief, including helping distribute nearly 6 million pounds of food and medical supplies to USC's neighbors. He also filled a number of important roles with local leaders.
"Sam has already taken us forward in our effort to have a positive impact in our community," Folt said. "He is the right person to continue strengthening ties to our neighborhoods."
University Relations includes government relations, community partnerships, civic engagement and economic partnerships, pre-K-12 education programs and the USC Radio Group, the nation's largest classical music provider. The unit has partnerships with more than a dozen schools, provides Head Start programs for 500 children at three locations, helps educate and mentor thousands of students from kindergarten through high school, and works with hundreds of businesses, community leaders and elected officials.
University Relations' flagship programs include the USC Leslie and William McMorrow Neighborhood Academic Initiative, which currently has 1,000 students on the pathway to college, and the Good Neighbors Campaign, which raises more than $1 million a year in support of local nonprofits.
Garrison helps lead community response to COVID-19 and beyond
Responding to community needs in the past year, University Relations organized blood drives with the Red Cross, distributed fruits and vegetables with the Weingart East Los Angeles YMCA and created a community relief fund to provide urgent financial assistance to local nonprofits and small businesses.
"The pandemic brought USC and our community closer together," Garrison said. "Now, we are focused on working with our internal and external partners to help build an inclusive, equitable and sustainable future for the entire region."
The pandemic brought USC and our community closer together.

Samuel Garrison
Garrison recently hired two recognized civic leaders to help lead this work. Effie Turnbull Sanders, vice president for civic engagement and economic partnerships, previously served as the executive director of the South Los Angeles Transit Empowerment Zone, a federally designated promise zone, where she collaborated with 71 nonprofit, government agency and private sector partners. Associate Vice President Michèle Turner, who was the longtime executive director of the USC Black Alumni Association, leads the new Office of Business Diversity and Economic Opportunity.
"Even before the pandemic, President Folt prioritized expanding USC's role in supporting diverse small businesses and strengthening the quality of life for our communities, so we've invested in people and programs to do just that," Garrison said.
New senior vice president of university relations has experience in communities surrounding USC
Garrison, who has a political science degree from USC and a JD from Loyola Law School, has strong ties to the civic and philanthropic communities in Southern California.
Garrison had served as a special adviser to Folt and as chief of staff to the chair of the USC Board of Trustees. Prior to that, he led external relations at Caltech and served as executive director of the Caruso Family Foundation.
Early in his career, Garrison worked on Capitol Hill with Sen. Dianne Feinstein and Rep. Adam Schiff. After returning to Los Angeles, he served as a communications director to a Los Angeles city councilmember and then led the government affairs and public policy department at the Los Angeles Area Chamber of Commerce. At the chamber, Garrison focused on collaborative partnerships with labor unions, community health care providers and public education leaders.
As a founder of Operation Progress in the Watts neighborhood, Garrison helped establish an ecosystem program that guides hundreds of young scholars from elementary school through college to a career. He is a longtime executive board member of Hillsides, a family and foster services provider in Pasadena, and was a member of the state's Managed Risk Medical Insurance Board, which administered health insurance programs for more than one million Californians. He has also served on the boards of the Los Angeles County Economic Development Corp, St. Lawrence of Brindisi School and South Central Scholars.