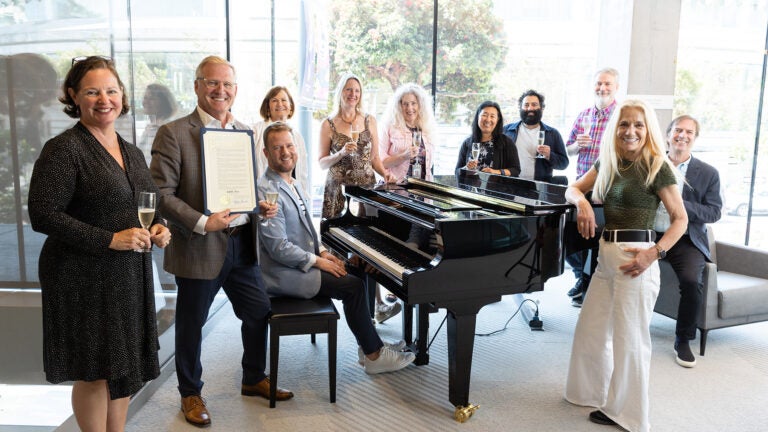 San Francisco's 'KDFC Day' honors USC's Bay Area radio station
The station — part of the USC-operated network that's the most-listened-to group of classical music stations in the country — is celebrating its 75th anniversary.
San Francisco Mayor London Breed has declared Friday, Sept. 1, as "KDFC Day" in honor of the storied USC-owned radio station.
Celebrating its 75th anniversary, KDFC is part of USC's Classical California radio network, the most-listened-to network of classical music radio stations in America. The network serves more than 800,000 listeners each week.
Since 1948, KDFC — one of the first FM stations in San Francisco — has been at the center of the Bay Area arts ecosystem, amplifying the efforts of arts partners such as the San Francisco Symphony and San Francisco Opera through concerts and programming.
Community-focused programming such as Kids Discovery Day and innovative live concerts including the SKY Concerts at The Bowes Center for the Performing Arts are just some examples of how KDFC has become a part of the cultural fabric of the region.
The station reaches over 250,000 listeners each week over the radio, and over 160,000 through digital devices making it one of the most popular classical stations in the United States.
About KDFC and Classical California
KDFC, based in downtown San Francisco, serves the Bay Area and other communities in Northern California and is broadcast on 90.3 FM in San Francisco, 104.9 FM in San Jose, 89.9 FM in Napa Wine Country, 103.9 FM in Monterey and 92.5 FM in Ukiah.
Sister station KUSC, located in downtown Los Angeles, serves communities throughout Southern California and is broadcast on 91.5 FM in Los Angeles and Orange County, 88.5 FM in Palm Springs, 91.1 FM in Thousand Oaks, 93.7 FM in Santa Barbara and 99.7 FM San Luis Obispo.
Listeners can also hear these stations streaming at kusc.org, kdfc.com and on their smartphone apps. Classical California also offers a variety of digital content and community events.