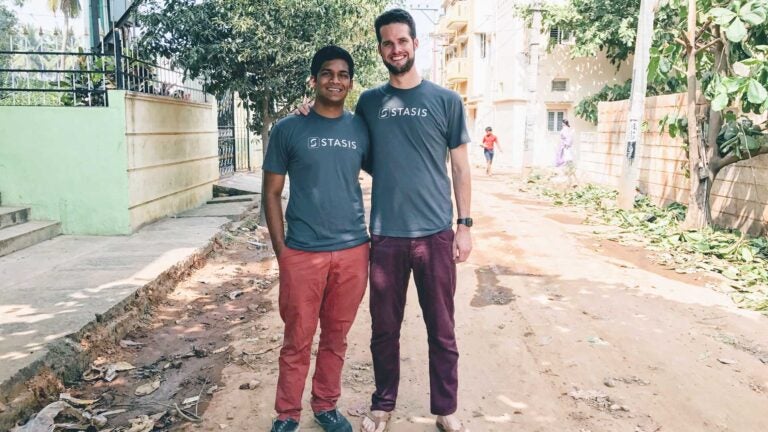 Saving the lives of hospital patients with one simple app
USC Viterbi biomedical engineers develop a system that tracks vital signs of patients from admission to discharge
A patient's heart stops beating. In a flash, hospital alarms blare and doctors pour into the room to provide emergency care.
It's a familiar scene from medical dramas on television, but it's not realistic. Other than specialized areas like intensive care units, most modern hospital rooms have no advanced systems to constantly monitor patients' vital signs and immediately signal problems. Instead, hospitals rely on occasional check-ins by nurses and other staff.
"Even if you are a doctor in the hospital, you don't necessarily know if your patients are safe or not," said Dinesh Seemakurty '15. So the USC Viterbi School of Engineering graduate set out to address that gap.
Seemakurty founded the startup Stasis Labs with fellow USC Viterbi biomedical engineering alum Michael Maylahn to develop technology that tracks the vital signs of patients with custom bedside monitors. The system compiles that data in the cloud, making it available to doctors and nurses on smartphones, tablets and other devices.
Seemakurty drew inspiration from a difficult personal experience. In 2012, his grandfather had been hospitalized in India with chronic obstructive pulmonary disease. Because he was in a private room, no caregivers noticed that his blood oxygen levels had dropped to dangerous levels until it was too late.
"We didn't know how he was doing, even though we were in the same room," Seemakurty said.
Envisioning a centralized system that monitors vitals from admission to discharge, he began building prototypes with classmates — including Maylahn, Clayton Brand and Derek Nielsen — while studying at USC Viterbi. The project rapidly grew from an idea into a company that now provides monitoring services in 15 medical facilities in India and plans to expand into the United States.
Green light
The Stasis system monitors heart rate, respiratory rate, temperature and other vital signs. It also features a color-coded display that makes it easy for family members to determine if something is wrong. Green indicates that everything is fine; yellow means call for help. Doctors receive automated alerts and notifications and can set reminders to check on patients.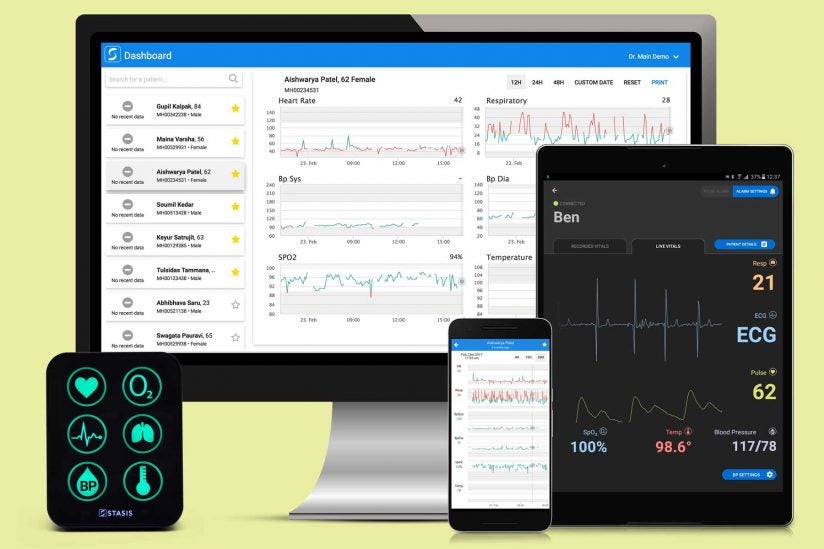 Seemakurty, who was born in India but moved to the United States at age 3, returned to India a year ago to build the company's presence from its headquarters in Bangalore.
Reviews of the system are positive so far, he said. "We have doctors telling us how they've saved lives using this product, which really makes our day."
In one facility, physicians diagnosed a heart blockage from home. They also provided better care that kept more than 50 patients from returning to the intensive care unit due to complications. The system alerted doctors when their patients experienced rapid heartbeat, allowing them to diagnose cases of sepsis and increase antibiotics much sooner. Because nurses didn't need to constantly check in on patients and update doctors, they had more time to provide personalized care.
Rather than charging up front for equipment, the company uses annual subscriptions, making it more affordable to smaller providers. The system's preventive monitoring can result in savings for both patients and health care providers, and its cloud-based approach means hospitals don't need to pay for servers, wiring and other hardware.
We like to think of ourselves as the Tesla of vitals monitoring, sort of changing the ballgame.

Dinesh Seemakurty
"We can click a button and send an update across the country to add more features," Seemakurty said. "We like to think of ourselves as the Tesla of vitals monitoring, sort of changing the ballgame."
Cardinal and golden opportunity
He credits his success in part to the knowledge he gained at USC, an experience made possible by the Mork Family Scholars Program. As one of the first recipients of the competitive scholarship — established in 2011 by a $110 million gift from USC Trustee John Mork and his wife, Julie — Seemakurty received free tuition and a living stipend.
"It was extremely important and a big factor in my decision to come to USC," he said. "It also showed me that there was a lot of investment in bringing in the best students and releasing them from the pressure of a normal expensive education to think bigger."
Receiving such generous support also inspired Seemakurty to push himself to accomplish more and take bigger risks. He squeezed his bachelor's and master's degrees in biomedical engineering into four years and felt empowered to launch a startup because he didn't have any student debt looming over him after he graduated.
Although he expects to spend the next few years expanding Stasis Labs throughout India, he hopes to begin splitting his time between India and the United States once the company breaks into the American marketplace. And he has big plans for the company, envisioning a move into other software systems and data analytics beyond vitals monitoring.
"Our core mission is to build the smart hospital," Seemakurty said. "The long-term vision is building the infrastructure in hospitals so one day they can truly become data-driven from the ground up."
He also hopes to provide encouragement and feedback to other USC students and graduates interested in entrepreneurship and starting a company, although he does have one warning for anyone entering the startup world.
"If someone can convince you not to do it, you probably aren't fit to do it," he said. "You have to be ready to go all in."