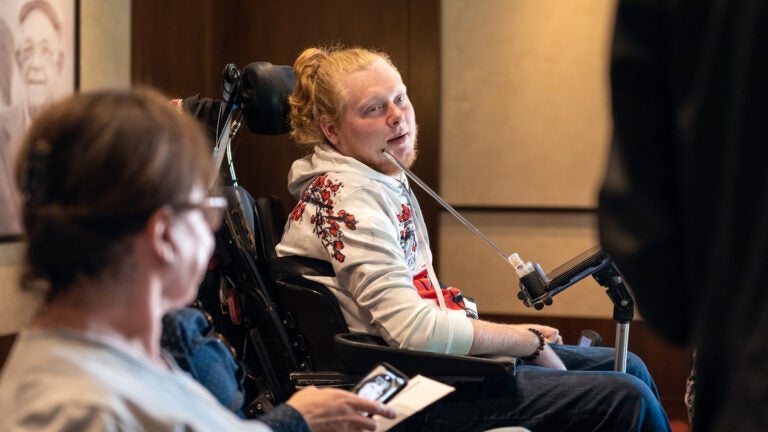 Swim With Mike helps standout athlete move forward after tragic accident
Master's student and aspiring screenwriter Tyler Hoog finds friendship and hope through the USC scholarship initiative for athletes with physical disabilities.
Tyler Hoog likes to say that when he first came to USC, he was greeted with hugs before handshakes.
That's because dozens of people already knew his story.
They knew about his athletic prowess as a teen. They knew about the automobile accident that robbed him of his ability to swing a baseball bat or field a ground ball. And they knew about his quick wit, talent for writing and resolve in the face of tragedy.
That instant familiarity is a built-in benefit of Swim With Mike, the USC scholarship program that supports student-athletes with physical disabilities. For Hoog, the community of volunteers, staff members and supporters provided a steady source of comfort and encouragement during his undergraduate years at the University of North Carolina at Chapel Hill and now as a master's student at the USC School of Cinematic Arts.
"It has been the best experience of my life," he said. "I've made lifelong friends here. I've learned that not only am I good at screenwriting, but it's something I can do and will be successful at. None of that would be possible without Swim With Mike."
Popular scholarship for students with disabilities helps hundreds of student-athletes
Now in its 39th year, the scholarship initiative started as a swim-a-thon fundraiser for All-American USC swimmer Mike Nyeholt after he was paralyzed in a motorcycle accident. The event brought in more cash than he needed to buy an accessible van, so he proposed funding scholarships at USC for others facing similar circumstances.
The program has since grown into an annual gathering at the USC Uytengsu Aquatics Center, along with a handful of satellite fundraisers around the country. Millions have been raised through the years, benefiting hundreds of students and creating a community of avid supporters.
"Who would have thought that back in 1981, a few friends reaching out to help just one person would turn into a whole bunch of friends and families reaching out to help people all around the country," said Nyeholt, who chairs the board of Swim With Mike. "It never ceases to amaze me."
This year's fundraiser gets started Friday at noon with a wheelchair basketball tournament at the Lyon Center. The festivities continue on Saturday with a pancake breakfast, silent auction, football showcase, diving competition, photos with Traveler, barbecue lunch, Trojan Marching Band performance and much more.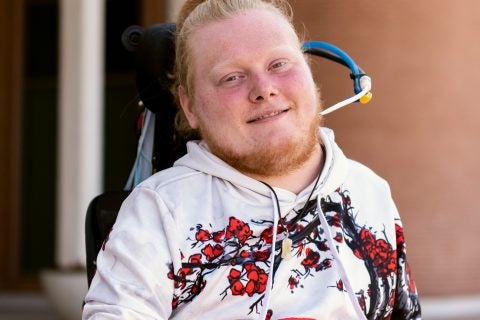 It will be Hoog's last fundraiser as a college student after six years of scholarship support from Swim With Mike. The native of Longmont, Colo., graduates this spring with a master's in writing for screen and television.
But he'll be back for future Swim With Mike events. He doesn't expect to be too far away, given his plans to land a writing job in Hollywood. And he wants to make sure others have the same opportunities he had.
"When you're a college student, you have a million and 12 things to worry about," Hoog said. "When you're a college student in a wheelchair, there's two million and a bunch more things to worry about. To know I don't have to worry whether I can register for classes and how I'm going to pay for this is such a peace of mind, and I couldn't be more thankful to Swim With Mike."
USC scholarship recipient uses sharp wit to create stories
With slender silver stylus tucked into his mouth, Hoog deftly taps away on his tablet computer. He's in the midst of revising an original film script he wrote for his thesis project. Titled 60, Alone, and Dying, the story follows Charlie, an introverted and isolated video game enthusiast.
Hoog describes how the aging protagonist withdraws further into his world of gaming after a diagnosis of pancreatic cancer, until a brash new coworker inserts herself into his life. She pushes him to come out of his shell and reconnect with his estranged daughter.
"She's also using Charlie for her own redemption story, because she lost someone and wasn't there for her loved one," Hoog said. "She's making his life miserable in the best way possible."
The project is a bit of a departure for the 24-year-old writer, who prefers comedy infused with hints of drama rather than the other way around. He summarizes another recent script that captures the adventures of two high school friends — one a paraplegic — dealing with the zombie apocalypse as Superbad meets Shaun of the Dead.
Although he's focused on writing, Hoog is also learning other skills like directing and producing. That will undoubtedly provide useful as he pursues a career in entertainment, with visions of running his own television show one day.
"That's the long-term goal," he said. "The immediate goal right now is getting a manager and agent and finding my way into the industry."
USC student's enthusiasm for writing emerged from tragedy
Hoog found his passion for screenwriting in the wake of an off-roading accident at age 17 that damaged his C4 and C5 vertebrae. Despite the difficult years of recovery that followed, he frames the experience positively, noting it led to the discovery of his writing talents.
I found my group of incredibly dorky film nerds, and it's all because of Swim With Mike and a little bit of luck.

Tyler Hoog
"If I hadn't gotten injured and wasn't in a wheelchair, I don't know if I would be where I am today," he said. "But I do know this is the first time in my life since my injury that I feel like if I hadn't gotten injured, I would miss the people I'm surrounded by. I found my group of incredibly dorky film nerds, and it's all because of Swim With Mike and a little bit of luck."
Having spent time with Hoog over the past few years, Nyeholt said he is impressed by his determination and drive to overcome adversity.
"He's not going to let anything stand in his way," Nyeholt said. "The way his creative mind works, to listen to his thoughts about helping Swim With Mike move forward as well as his own career is really neat."
Beyond financial support, Swim With Mike provides friendship and independence
Seeing Hoog and other USC scholarship recipients succeed is also a humbling experience for Ron Orr, founder and executive director of Swim With Mike and senior associate athletic director at USC. He's gratified to see support for the program grow each year, especially because it means more students will benefit.
Although he has been running the program alongside Nyeholt since its inception, Orr is still astonished by its impact on scholarship recipients. The financial support is a big help, he said, but it pales in comparison to the boost to their self-esteem.
"When these accidents happen, there are a lot of things they can't do, but education is one thing they can do," he said. "It's amazing to watch people like Tyler come all the way across the country and get admitted into our university and take care of themselves. That independence is great."
And although many students who receive Swim With Mike scholarships come to USC, dozens of recipients attend other universities around the United States. In fact, many of the students currently on scholarship are enrolled in other institutions.
"We're taking care of young people who are going to school, and it doesn't matter what school colors they are wearing," Orr said. "That's pretty rewarding, and it says a lot about the Trojan Family."