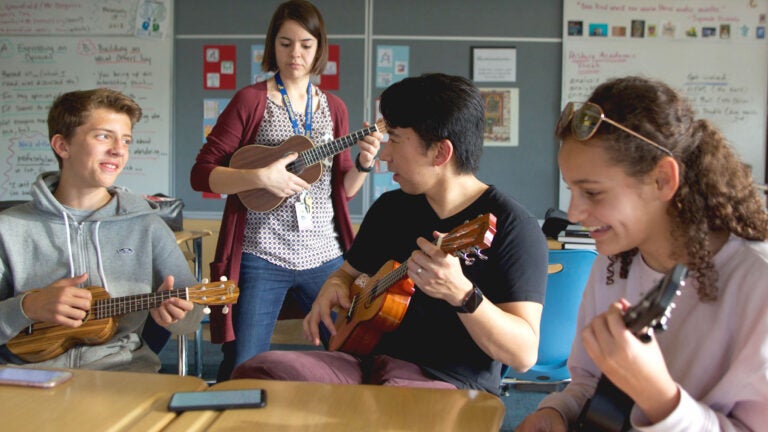 Schools seek music educators who can reach students in new ways
Teachers must engage students in projects through songwriting, world music and more
A typical day for Jim Wang might start with Beethoven and end with Bruddah Iz.
The director of orchestras at Lincoln Middle School in Santa Monica, Wang often leads students in packed orchestra rehearsals that train them in the foundations of the Western canon before hosting smaller contemporary music projects in the afternoon, like his new ukulele club.
A USC Thornton School of Music alumnus and current doctoral student, Wang can attest to what most music teachers working today will tell you: Young students are as passionate about music as ever, but their interests are wide and varied. Contemporary music teachers need to engage students in creative music projects that span genres, incorporate accessible technology and encourage learning outside of the classroom.
"The irony is that I actually work in a district where the traditional model of band, choir and orchestra is not only strong, but it's thriving," he said. "I want to do different things, but the community is so intact with the traditional model that I often have to do [these contemporary projects] on the side."
The landscape of contemporary music teaching is shifting, and new methods are quickly coming to the forefront of music teacher education. Schools are looking for transformative educators who can lead diverse classrooms and reach a wide variety of students through songwriting, world music, electronic music production, popular music and much more.
Afternoon music clubs and Garageband
When he's not directing the orchestra, Wang holds songwriting classes where students work on popular music covers, creative recording projects and original music. After school, he leads clubs that incorporate instruments like electric guitars and synthesizers. For recording and songwriting, Wang incorporates technology into his classes to enhance music learning and encourage students to learn independently.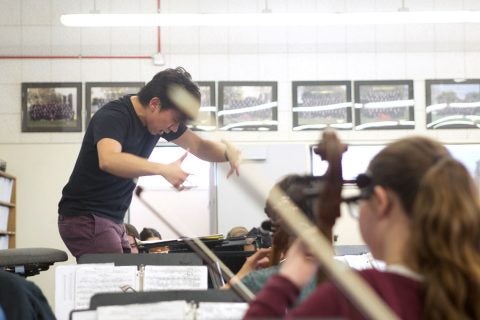 "Most students these days, even those who are socially or economically disadvantaged, have access to an iPhone or smartphone, and if you have an iPhone, you have Garageband," he said. "Students have this powerful DAW [digital audio workstation] system in their hands, and it's really a matter of guided learning. You show them how it works, and they're off on their own."
Wang himself grew up in a public school system in Los Angeles with a strong music program. Initially, he pursued violin, obtaining his performance degree from Biola University while teaching private lessons on the side. After graduating from Biola, Wang earned a master's degree at USC Thornton in 2014 and is currently pursuing a doctorate in the Music Teaching and Learning program.
"I felt like everything in my life was pointing me toward teaching, and I was just the last one to realize it," he said. "USC had this perfect program that offered a master's and teaching credential for people who didn't have classroom teaching experience."
During his time at USC Thornton, Wang studied a curriculum that immersed him in different aspects of music education, from teaching choir and directing band to picking up new instruments and benefiting from classes through USC Thornton's partnership with the USC Rossier School of Education.
"Rossier prepared us to help ESL learners and students with disabilities, which is something we didn't really think of before," Wang said. "They taught us from the education perspective."
Embracing technology in contemporary music
But when it came to contemporary teaching methods, Wang had to rely on his own interests and learn how to meaningfully incorporate them on the job.
"I always had an interest in technology," he said. "I was always tinkering around on my own, and being able to be in front of a classroom helped me put two and two together."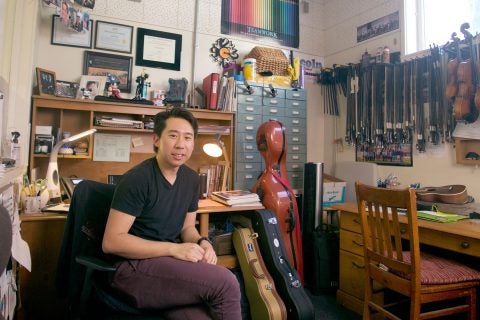 In response to the changing landscape of music education, USC Thornton launched a new master's degree in K-12 Contemporary Teaching Practice, to develop well-rounded teachers with contemporary music instruction methods that teachers like Wang learned through years of personal experience.
The program offers a comprehensive curriculum to students with an undergraduate degree in music performance or composition, and it provides a certification pathway to teach in public and private schools in California and other states.
"This program is designed to take a professional musician who has gone through four years of intensive training and train them to be comfortable teaching a wind ensemble at 9 a.m. and a rock group at noon in a public school setting," said Judy Lewis, director of the K-12 Contemporary Teaching Practice program. "Jim is a great representative of what we imagine teachers in this contemporary program for teaching practice can do."
Wang feels extremely fortunate to have the job that he does, and he offers some sage advice to future music teachers: Follow your interests.
"Don't get into music education because it's a backup," he said. "You'll never be successful that way," he said. "Do what you love to do, and the money will follow."