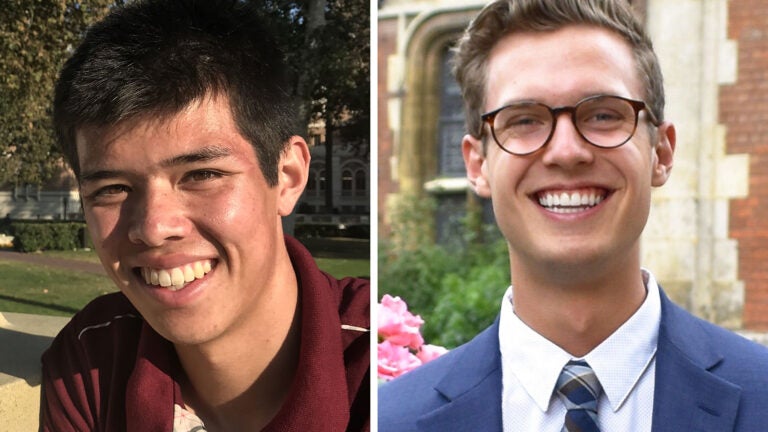 2 Trojans receive prestigious Schwarzman Scholarship to study in Beijing
The accomplished USC duo will learn about Chinese culture and study with top professors as part of a one-year master's program in global affairs.
Two accomplished students will represent USC as Schwarzman Scholars in 2021.
Ben Ma, who is simultaneously pursuing bachelor's and master's degrees, and USC senior Trenton Stone won the prestigious scholarship. They'll travel to Beijing next fall to complete a one-year master's program in global affairs.
The Trojans are among just 152 students and recent college graduates selected from a global pool of more than 3,600 applicants. Schwarzman Scholars study at Tsinghua University in Beijing, one of China's most prestigious universities. The scholars will gain leadership skills, learn about Chinese culture and study with top professors and students with the broader goal of understanding China's role in global trends.
Ben Ma: The power of music — and computing
Ben Ma first realized the power of music to connect people as a volunteer DJ.
"I used to DJ at retirement homes, at food kitchens, at rehabilitation centers," he said. "As a 15-year-old, I couldn't really relate to a 70-year-old in a retirement home. But I did some research and listened to requests and realized that playing music that we both enjoy is something that creates the seed of a personal connection. And we can expand on that."
As Ma grew up in San Jose, Calif., he was simultaneously discovering his love for technology. After joining coding summer camps in the hopes of being able to make video games, he discovered the multitude of uses of programming languages and enrolled in computer science classes in high school.
Upon his admission to the USC Viterbi School of Engineering, Ma hoped to combine his passion for music with his interest in technology. He has contributed to two published papers under the mentorship of Shrikanth Narayanan, University Professor, Niki and C. L. Max Nikias Chair in Engineering and professor of electrical and computer engineering and computer science.
In the laboratory, Ma assisted with creating algorithms to analyze the body's physiological responses to hearing music. Data obtained in this way can have incredible applications in understanding exactly how music manipulates our emotions, and how it can be used to bring people together.
For Ma, the Schwarzman Scholarship is an excellent opportunity to get in touch with his heritage.
"I'm half Chinese, but growing up in California, I didn't get exposed to much of my Chinese half. I missed out on the culture and the language, as well as personally meeting many of my relatives who were born or spent significant time in China. So I personally want to go to China to enhance and develop that connection."
People can use what I've learned about universal music emotions to better foster international music sharing.

Ben Ma
He also believes that being an emissary between the two countries is extremely important during chaotic political times.
"The potential for conflict between the United States and China is one of the biggest threats to the geopolitical stability of the entire world. An escalating conflict between them would also involve everyone in their spheres of influence."
Can music help de-escalate conflict and help people put aside their differences?
"People can use what I've learned about universal music emotions to better foster international music sharing," Ma said. "There are parallel tracks between what Chinese and American research labs and companies are doing in machine learning, and this is a good way to bring together both research communities."
Trenton Stone: USC Dornsife senior aims to be a force for global good
A Daniels Fund Scholar and Warren Bennis Scholar, Stone is pursuing bachelor's degrees in international relations (global business) and philosophy at the USC Dornsife College of Letters, Arts and Sciences.
He's also the first openly gay person to be elected student body president, winning the votes and confidence of his peers last year at age 19.
He was a USC Global Fellow and, as a director of the USC service-learning organization Los Angeles Community Impact, Stone volunteered his time to help nonprofits that focus on food security and sustainability.
He has also researched comparative activism at the University of Cambridge, and he represented the United States at an international business competition in Malaysia in 2018.
He plans to use the scholarship to foster more effective partnerships between the U.S. and China on sustainable economic development as he pursues a master's degree in global affairs at Tsinghua University's Schwarzman College in Beijing.
"China's role in foreign aid and investment is rapidly growing but takes a very different approach than western nations. At the same time, the U.S., in particular, has been withdrawing from its international commitments," he said. "It is imperative to understand how these changing roles impact lower-income populations and the broader international community."
My experiences at USC and elsewhere … put me in a position that demands I be a global leader for good.

Trenton Stone
Once he completes his year-long Schwarzman Scholarship, he hopes to use what he's learned to work for international development groups, earn law and business degrees "and play a key role in building socio-economic relationships across nations," he said.
Stone grew up in Grand Junction, Colo., and his family moved to Salt Lake City before his senior year in high school. Like many high school students nearing graduation, he was unsure of where he wanted to attend college.
"I wasn't sure whether I wanted something big or small, East Coast or West Coast," he said. Ultimately, USC had what he needed to help him develop into the leader he hopes to be.
"What drew me to USC was its deep but broad expertise across subject areas, a diverse and engaged student body, the beautiful city in which the school resides and endless opportunities to pursue my passions," he said.
"My experiences at USC and elsewhere, and the resources I'm fortunate enough to have, put me in a position that demands I be a global leader for good, for equity, and to take part in finding solutions to tough problems facing our communities."
Stone is one of just eight USC students to earn a Schwarzman Scholarship since the program's 2016 inaugural class. He will begin his Schwarzman studies in August.