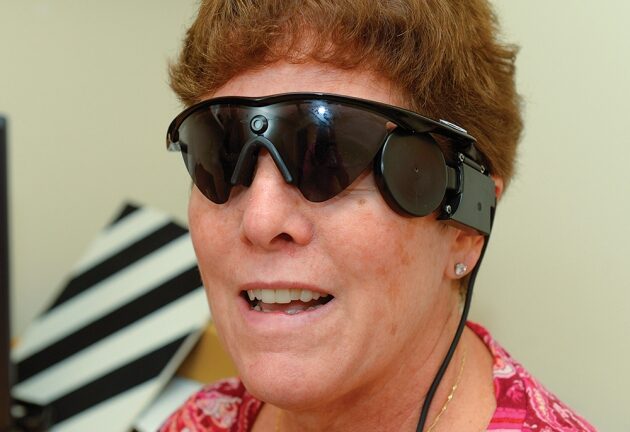 See the Road Ahead with Artificial Vision
After receiving FDA approval, the Argus II is fitted for its first patient at USC.
When she was a kid, Lisa Kulik used to watch Romper Room, a children's TV series that aired from 1953 to 1994. "Every episode used to end with the lady looking into her magic mirror and 'seeing' all the children around the world," Kulik says. "I used to think she could see me too."
It's been 30 years since Kulik has been able to see into any mirror. Kulik has retinitis pigmentosa (RP), which steadily stole her eyesight starting at age 21.
"The doctors told me there was no cure for RP," Kulik says. She has lived quietly with her family, never venturing alone past her driveway. In 2000, she had the last real glimpse of her sons: 6-foot Joey receiving his high school diploma; blue-eyed Danny's thrilling ninth-inning RBI in the season's final baseball game.
Then, in 2012, her husband, Ed, saw a news story about the Argus II retinal prosthesis system developed by the USC Eye Institute. Perhaps this could be Kulik's real magic mirror.
Patterns of light
It's June 2, 2014, and Kulik prepares to become only the second patient nationwide to undergo the procedure to implant the Argus II since its Food and Drug Administration approval. During the surgery, Lisa Olmos de Koo, an assistant professor of ophthalmology at Keck School of Medicine of USC, makes a tiny incision into the sclera—the white part of Kulik's eye—to slide in a 60-electrode array. Some five hours later, Kulik wakes.
Soon she'll be ready to see her new world with computer vision—essentially a 6-by-10 grid that shows patterns of light.
In Kulik's first Argus II "fitting" session, James Weiland, USC professor of ophthalmology and biomedical engineering, helps her fine-tune the device.
"It was a quick flash—more of a straight line to the left. It went from here over to here. Like a snake, kind of," Kulik says, as he tests the electrodes.
https://www.youtube.com/watch?v=wFUwJZ2aL6I
Pleased, Weiland declares the first fitting a success.
"It's really artificial vision," he explains. "You'll learn to use it in a whole new way."
On her last day at Keck Hospital of USC, Kulik takes her Argus II glasses outside for the first time.
When her husband lets go of her arm, Kulik's confidence falters. A guiding hand, whether it belonged to Ed or her friends and family, has accompanied her for more than 15 years.
Then, using a controller at her waist, Kulik adjusts the Argus II's settings. She begins to notice the contrast of the road—dark asphalt on the street, the lighter pavement of the sidewalk, the dark shape of a bush.
As Ed watches proudly, Kulik uses her "magic mirror"—and slowly takes her first steps toward a new life.