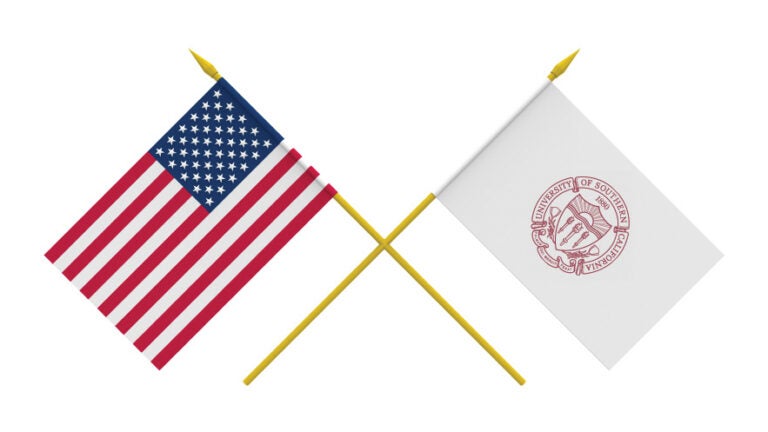 Trojans Pursue Public Service in D.C.
For a special group of Trojans, serving the public good is a lifelong passion. We catch up with three dedicated alumni who took their cardinal-and-gold allegiance to the Washington, D.C., area to make a difference in policy and government.
Melissa Dettmer Schild '98, MPA '02
Job duty
I ensure that there are strategic plans for all of the State Department's embassies, regional offices and major programs ranging from refugee assistance to counter-terrorism. I also evaluate how the State Department's foreign assistance programs are doing.
Inspiration
When I was 8 my family moved for three years to the Philippines, where my father served in the U.S. Air Force. He frequently brought me along on excursions into rural provinces to provide medical and food aid to impoverished people. It gave me a profound sense of gratitude for my own good fortune and opportunities, and sparked a desire to serve others.
Career Highlight
My proudest contribution was my work at the White House Office of Management and Budget and the State Department to support emergency aid to refugees who fled persecution and mass murder in the Darfur region of Sudan. My work directly led to Congress providing money for life-saving food, water, medicine and shelter in the middle of a barren desert. I'm proud of all of my service, but this work was the most gratifying.
Trojan Service
Alumni mentor
---
U.S. Army Colonel Mike Kolb '89
Job Duty
NGA is a unique combination of intelligence agency and combat support agency. Anyone who fights wars, sails a U.S. ship, responds to natural disasters, or even navigates with a cell phone relies on NGA. NGA enables the U.S. intelligence community and the Department of Defense to fulfill the president's national security priorities that protect the nation.
Inspiration
My initial motivation to pursue public service was a financial one. My Army ROTC scholarship was the only way it was financially possible for me to attend a world-class private university like USC. In exchange, I served as an Army officer in Germany—not a bad trade!
Career Highlight
My No. 1 priority in public service is saving lives—protecting those who can't protect themselves. We attempt to do that here by ensuring safety of navigation for our sailors and airmen, responding quickly to natural disasters and pinpointing military targets. My proudest contribution is putting on the uniform every day.
Trojan Service
Co-chair for Class of 1989's 25th Reunion
---
Stacy Hope '98
Job Duty
I craft key messages surrounding commission initiatives, especially around events such as the invasion of Ukraine by Russia and other violations of the Helsinki Final Act. I also serve as spokesperson and lead digital outreach strategies across multiple online platforms.
Inspiration
My grandmother was a strong advocate of public service and that left a strong impression. Interestingly, each of her three grandchildren has followed in her footsteps. I'm a civil servant, one of my cousins is an Army officer, and the other is a teacher. I like to think she'd be proud of all of us.
Career Highlight
On a daily basis, the United States does business with any number of regimes that treat their citizens incredibly poorly. Drawing attention to such cases at the Congressional level and advocating for those who have been persecuted for exercising what we in the U.S. would consider their basic rights is humbling. When we are successful—for example, when political prisoners are released thanks to pressure we've helped to place on a particular government—it's unbelievably rewarding.
Trojan Service
Former leader of the USC Alumni Club of Washington, D.C.