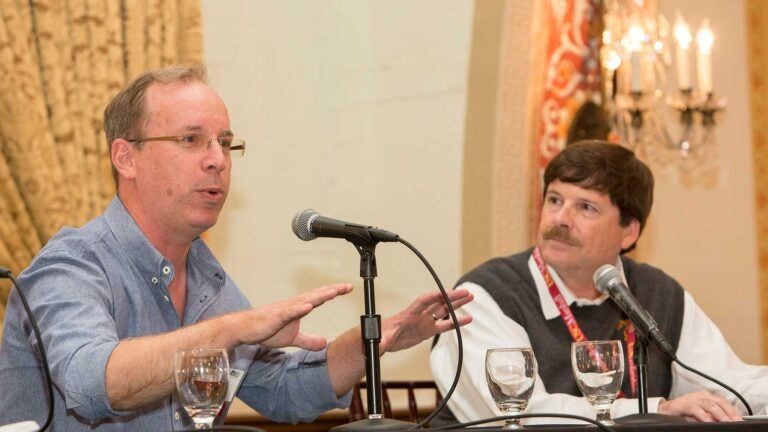 Silicon Beach@USC focuses on next-level technology
Fortune 500 executives come together with potential disruptors at USC Marshall event
Why would a Fortune 500 executive care about what a tiny startup is doing? Because that startup is creating next-level technology that might grow the bottom line of that Fortune 500 company — or put it out of business entirely.
The fifth annual Silicon Beach@USC brought together senior executives and their potential disruptors at Town and Gown to discuss the future of innovation.
"Thematically, we were trying to make the connection about why innovation in the startup community in L.A. is relevant to the big studios and tech companies," said Jay Tucker, director of marketing for the Institute for Communication Technology Management, a USC Marshall School of Business Center of Excellence that hosts the event each year.
Morning sessions focusing on technology preceded afternoon panels exploring the confluence of technology on entertainment. Panelists included Mark Goldin, chief technology officer of Cornerstone OnDemand; Stephen Fellsan, chief information officer of Edmunds.com; and Audrey Bellis, founder of StartUp DTLA.
An early session titled "Tech From the Top" assembled C-suite level technology leaders to discuss how they made the business case for adopting new technology platforms and services.
That discussion led into the keynote conversation with Jon Kraft, co-founder of Pandora, a disruptive technology at the time of its inception.
Not listening
Already a seasoned entrepreneur when he went after a second round of funding, Kraft was taken aback by the reticence to fund a game-changing technology.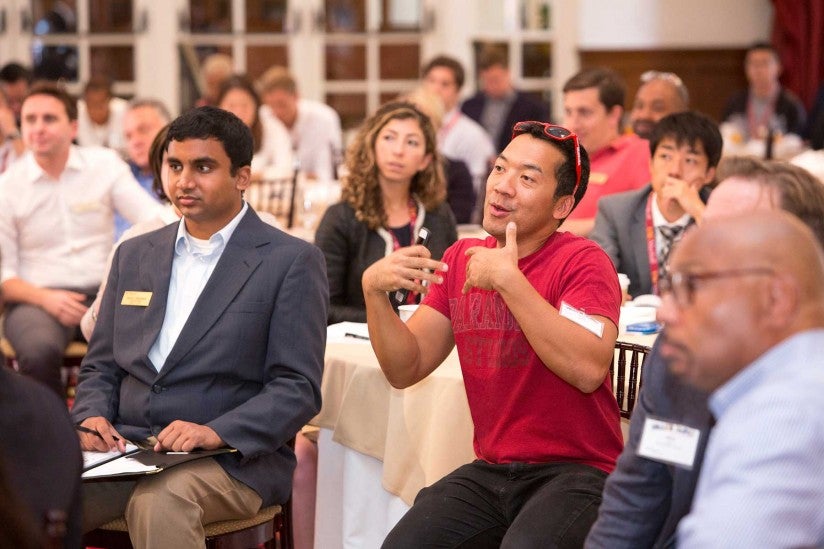 "Personalized radio? The investor community wasn't having it," he said. "Not only was nobody investing in consumer companies in 2000, but nobody could quite grasp what we were proposing to do."
Kraft and his co-founder Tim Westegren were trying to pitch an algorithm that could guess a user's musical tastes. An entrepreneur is supposed to possess relentless optimism, he said, but by the 40th rejection even he was starting to doubt the premise.
Westegren, however, never doubted his technology.
"Nothing discouraged him," Kraft said. "He believed completely." That mindset kept the others in the game. "We spent five years trying to build a business."
By the 2007 introduction of the iPhone, the concept had caught on. They had been right about consumer demand for predictive music. They'd just been early.
That sort of frank discussion of the good, the bad and the ugly of startup creation is the raison d'etre of the event, Tucker said.
"With our deep ties to companies across industries and emphasis on entrepreneurship and innovation, the Greif Center for Entrepreneurial Studies, the Young/Iovine Academy, our startup garage and our venture competitions, USC, and in particular the Marshall School, represents a powerful resource for Silicon Beach," he said. "Our presenters and attendees get to witness that firsthand."
Disruptive technology was the de facto topic of the afternoon session "Show Business 2020: The Future of Entertainment." Panelists included principals from across the entertainment spectrum, including John Attanasio, co-founder of Feldspar Ventures; Grant Michaelson, vice president of business affairs and new media for ABC Entertainment; and Derek Smith, principal for U.S. advisory entertainment and media for PwC.
Audience members expressed appreciation for the event.
"It's fantastic that USC Marshall brings entrepreneurs, startup founders and the C-suite to campus for open dialogue with the students," said Kevin Winston, CEO of Digital LA, a networking group of professionals in digital entertainment. "This event is a huge opportunity for students to learn, to network and get inspired."