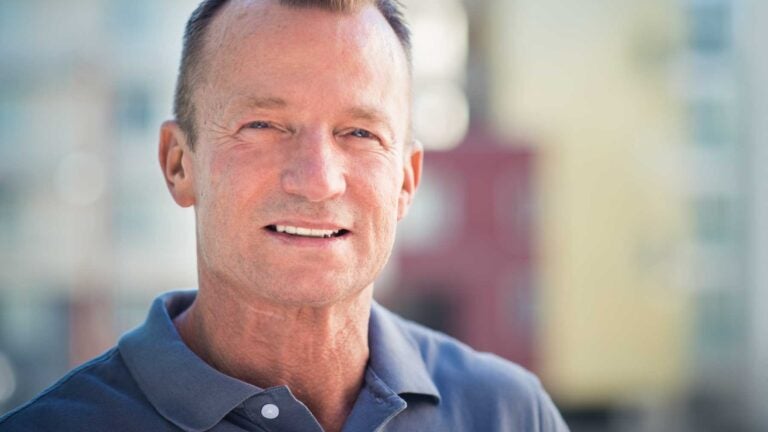 Smiles on Skid Row, compliments of work by USC dental students
Two clinics offer free, life-changing services to Los Angeles' underserved population
A year ago, James Hartley, 51, was at what he called his "road's end." Homeless, living on the streets of Skid Row and battling alcohol addiction, he was destitute and in despair. And his poor dental hygiene spoiled his self-esteem.
"I couldn't really smile," he said. "I would cover my mouth or smile without exposing any teeth."
After hitting rock bottom and seeking treatment at The Midnight Mission, Hartley noticed a flyer posted by the Herman Ostrow School of Dentistry of USC for its two downtown clinics that offer free dental services for low-income and homeless populations at the Union Rescue Mission and the John Wesley Community Health center.
"I decided, 'OK, let me go and check this out.'"
Little did he know, it was a decision that would help put his life back on track.
Down and out
"When you're homeless, your oral health gets pushed to the side unless you're in great pain," said Kathy Elizondo, assistant professor of clinical dentistry and clinic director for the Union Rescue Mission Dental Clinic. "They have so many other things going on."
To help combat this problem in 2000, the dental school established an eight-chair dental clinic at the mission that caters to the underserved in downtown Los Angeles. The demand for services proved to be so high that in 2010, a second clinic with seven chairs was opened across the street at the community health center.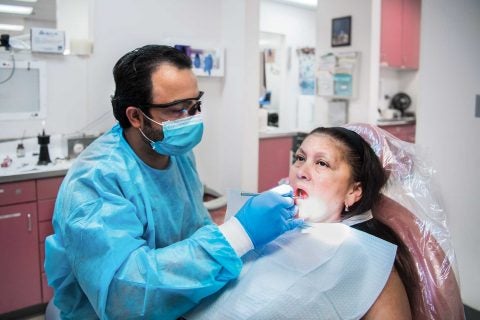 "I always considered the U.S. to be a rich country, and especially Los Angeles with all the glamour," said Mehdi Mohammadi DDS '12, assistant professor of clinical dentistry and clinic director for the health center's clinic. "Going to Skid Row was an eye-opener to see how many people do not have access to oral care."
Approximately 2,000 people are homeless in the area, which encompasses roughly 50 city blocks. There are approximately 58,000 homeless individuals in Los Angeles County. Encampments line the streets with inhabitants who often face substance abuse and mental health issues.
All procedures at the clinics are performed by fourth-year dental students as part of a seven-week rotation.
"We do everything from cleanings to fillings to root canals, dentures, partials, onlays and direct restorations," said student Karen Sierra.
Faculty is on hand to oversee the work and offer guidance when needed.
"Before we start any treatment, we go through the patient's medical history and make sure everything is up to date," said Mary Lou Wood, a student at the Union Rescue Mission. "Then we present our case to the faculty. There is a start check, prep check and final check."
Elizondo said the fast-paced nature of the clinics appeals to the students and makes them feel productive.
"Most of the time, they'll see two patients in the morning and two in the afternoon," she said. "At school, it's normally one in the morning and one in the afternoon. We try to keep our clinic very efficient."
In 2016, the Union Rescue Mission saw 7,000 patients and rendered $2 million worth of free dental work, while the community health center had more than 7,000 patient visits and rendered $1.2 million worth of free dental work.
Years since last dental visit
Reginald Drummer, 50, lived on Skid Row for a year and a half and hadn't been to a dentist since he was a child; at the health center, he had 40 restorations, two extractions, a root canal and received removable partial dentures.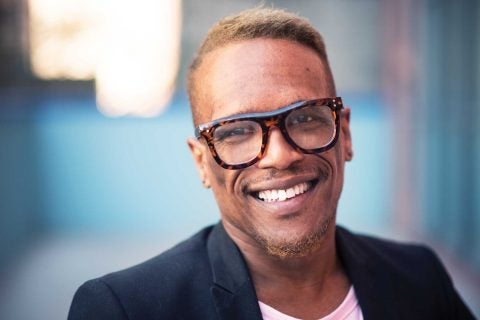 Before going to the Union Rescue Mission, Eli Handy, 63, said it was approaching two decades since he had been to a dentist. He had decayed teeth restored, was given a cleaning and received removable partial dentures.
And community health center patient Reginia Austell, 64, said she couldn't afford to have her teeth looked at and simply stopped eating foods such as lettuce and nuts for years due to pain. She had all of her teeth extracted and received complete dentures.
"I've seen a couple of people where the calculus on their teeth is pretty much what's holding them in the mouth," said dental student Hessam Toossi. "Sometimes you have to say, 'I'm going to clean your teeth, but there's a good chance they're going to fall out.' I've never experienced anybody saying they want to hold onto bad teeth because a lot of the time they're causing them pain."
In addition to pain and discomfort, poor dental health can lead to medical issues such as cardiovascular disease, bacterial lung infections and malnutrition as well as diminished self-esteem. According to Elizondo, your mouth is a reflection of the condition of your body. So if someone is not taking good care of his or her teeth, there are usually other organ systems that are problematic.
I brought this picture of me to the clinic that showed what my smile used to be like. Now I have a full smile again.

Reginald Drummer
"I used to smile all the time," Drummer said. "I brought this picture of me to the clinic that showed what my smile used to be like. Now I have a full smile again. It's impacted every area of my life. I'm confident. I got the résumé done. I've been applying for jobs. When I see people, it's just different. I don't have to keep my head down."
Rewarding work
For many of the patients, even more impressive than the students' professionalism and skill level was their compassion.
"I was treated like a human being," Hartley said. "They made me feel very comfortable despite my situation because there's a bit of shame associated when you're in those types of circumstances."
The rewarding nature of the work and ability to change lives is what brings Elizondo, who has worked at the Union Rescue Mission since 2003, back to Skid Row day after day.
"I especially love to do dentures and partials just to see the big smiles when we deliver them. They're able to eat well. They're able to speak better. For job interviews, they were embarrassed and not able to present themselves properly because they're missing teeth. Now they can go to interviews and secure work, which is key. And it just lifts their spirits."
Student Vyvy Pham recalls two patients in particular who cried after receiving their dentures.
"They'd gone so long without teeth, they forgot what they looked like with them. That was memorable."
A life-changing visit
A lot has happened for Hartley since he found that dental flyer at The Midnight Mission and received nine dental procedures, including removable partial dentures.
For starters, he is about to celebrate one year of sobriety. He now has a job, an apartment and recently bought a car.
My whole life has changed, and the basis of that change was from the dental procedures I had done.

James Hartley
"My whole life has changed, and the basis of that change was from the dental procedures I had done," he said. "My self-esteem returned and I could smile. I could talk and was less of an introvert. It just helped me so tremendously."
He even joined a running club and completed the 2017 L.A. Marathon. Next year, he will travel to Israel to run the international marathon.
"All this happened because my self-esteem returned and enabled me to self-actualize," he said. "So my whole life has changed completely. Before I got sober, I was in a place where I physically could no longer drink, but I didn't want to be sober. I didn't want to be where I was, and I didn't have any place I wanted to go. It was hopelessness. Today, I have a life. I have a full life."