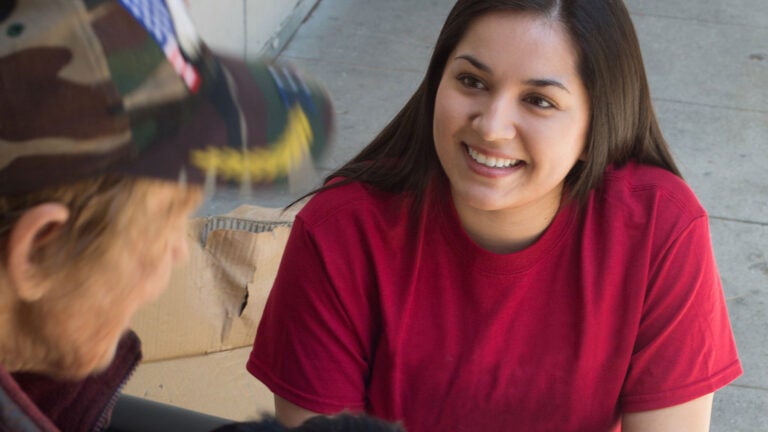 Social work academy taps Trojan to lead national effort against homelessness
Ben Henwood is among nine professors to accept the challenge
Is it possible that the social work profession could eliminate the homelessness crisis in our lifetime? From the perspective of Assistant Professor Ben Henwood, homelessness is a solvable problem on a national scale, and social work is uniquely qualified to lead the charge.
Henwood is one of nine professors from universities across the United States whose working paper proposing an end to homelessness was chosen as one of the Grand Challenge initiatives by the American Academy of Social Work and Social Welfare. The academy then approached Henwood to help lead the national effort and he accepted the challenge.
"If you look at the evidence, there's a road to ending homelessness. We're trying to figure out how the profession can close the gap, where people can see the path and then push to actualize it," he said. "Our intent is not to create a new initiative so much as to leverage our profession and advance what has clearly been articulated by many people as a real possibility, even though it is hard to imagine."
A shift in focus
The ultimate goal of the Grand Challenge to End Homelessness is to wipe out homelessness in 10 years. There has already been a fundamental shift in focus toward ending the problem, as opposed to mere management of the problem that was prevalent throughout the 1980s and 1990s. Eradicating homelessness will involve addressing systemic issues related to poverty and income inequality at the federal government level. It will require policy changes to increase affordable housing, the minimum wage and disability benefits. These issues vary dramatically from state to state and region to region.
While the argument is often made that these solutions are too great a tax burden on the American public, it also has been widely publicized that the cost to the taxpayer is far greater in keeping people on the street than in finding permanent solutions.
"The idea that a homeless shelter should be a temporary solution has not been the discourse," Henwood said. "We've relied on shelters to serve as permanent residences for people and no one even noticed."
Three key areas
For Henwood, ending homelessness means focusing efforts in three core areas.
The first is to better support the development of effective service delivery by expanding the education of social workers and exploring innovate ways of delivering care to homeless populations.
The second is a comprehensive research agenda to answer questions on what prevention should look like within different subpopulations. For example, how do the circumstances surrounding family homelessness differ from chronically homeless single adults? What needs to be considered among the aging homeless population with long-term health care needs?
The third, and the most important in Henwood's opinion, is raising awareness and getting people involved in a way that they begin to think and talk about homelessness and other social problems differently.
I don't think there's been enough done in terms of promoting more discussion and debunking the myths around homelessness.

Ben Henwood
"We need a well-educated public," Henwood said. "I don't think there's been enough done in terms of promoting more discussion and debunking the myths around homelessness, and I think that's a huge issue."
Ideally, Henwood sees the Grand Challenge to End Homelessness as a catalyst for multiple initiatives.
"I think people will be swept up in effective ways to end homelessness and that's what we want," he said.
Joining Henwood in leading the national effort are Deborah Padgett, a professor at New York University Silver School of Social Work, and Brian Redline, the national coordinator for this Grand Challenge at the USC Suzanne Dworak-Peck School of Social Work.
"Homelessness is not the social illness itself — it's the symptom," Redline said. "Social work is in a good position to address this issue because social work schools are training the workforce."
What's being done
Initiatives are already underway to advance the Grand Challenge to End Homelessness.
The USC Suzanne Dworak-Peck School of Social Work will launch an enhanced field placement project this fall in which 15 to 20 Master of Social Work students will participate in a practicum on policy and clinical practice to combat homelessness. This past spring, the school formed a partnership with the USC Caruso Catholic Center and PATH Ventures to start the Nourished Project, a program that brings students to a PATH permanent supportive housing site for meals and conversation with former homeless residents, as well as to collect oral histories to document the experience of homelessness.
A recent pilot program supported by the Los Angeles County Department of Health Services, with funding from Citibank, will provide the services of USC Telehealth to tenants in Skid Row Housing Trust programs in Los Angeles. The pilot study will provide 100 formerly homeless residents with weekly mental health services via an iPad to help address issues associated with transitioning from homelessness to permanent housing.
And USC will partner with the Los Angeles Homeless Services Authority (LAHSA) to conduct and analyze the 2017 Los Angeles County Homeless Count.
Taking up the charge
As the second author on the original position paper that began the Grand Challenge to End Homelessness, Suzanne Wenzel, the Richard M. and Ann L. Thor Professor in Urban Social Development and a recently appointed member of the committee on homelessness and housing for the National Academies of Science, Engineering and Medicine, understands there is much work to be done, but she's confident that social work can achieve it.
"I believe there is no profession more worthy or capable of taking up this charge, given our training and capacities for leadership, service, bridge building, and interdisciplinary and community collaboration," she said. "The Grand Challenge to End Homelessness puts the profession of social work at the vanguard as we move forward now and in the future to meet this significant goal.
The good news
The United Nations adopted the Declaration on Human Rights, which proclaimed housing a basic right that should be attainable by all, nearly 70 years ago. Yet during the course of any given year, nearly 1.5 million Americans still experience homelessness for at least one night, according to the U.S. Department of Housing and Urban Development. The good news is that national homelessness has seen a significant decrease in recent years due, in part, to focused efforts across the nation for particular subpopulations, such as veterans.
"This isn't an ephemeral goal," Henwood said. "We do believe homelessness can be ended in 10 years and that the Grand Challenge will be a pretty significant part of that story."