Local entrepreneur ready to revitalize South L.A. food deserts, with USC help
Thanks in part to guidance from USC's Bridges to Business Success Program, Javonne Sanders believes her company, Toss It Up Salad, is primed to provide the community with much-needed healthy options.
Javonne Sanders was in a rut. Her enterprising spirit was burning bright, but she couldn't muster the courage to leave her job as a bus driver.
It's the kind of decision many entrepreneurs wrestle with prior to taking the leap and turning their idea into a career opportunity.
Sanders used her time as a bus driver to conduct unofficial market research surveys with her regulars, jotting down notes and business ideas on her notepad during breaks.
One day, she couldn't find healthy eating options anywhere on her South L.A. route. She realized she was in the middle of a food desert and what that meant for the community.
Through her "market research," Sanders learned that people from her community were interested in having a healthy eating option nearby.
"It was great to hear people wanting something other than fast or fried food," she said.
She began making salads for her friends and colleagues, starting with her signature apple cranberry walnut salad. To her surprise, they wanted to pay her to make them regularly.
It was great to hear people wanting something other than fast or fried food.

Javonne Sanders
Sanders started stashing away the profits from her initial sales. The desire to turn this side hustle into a business led her to USC's Bridges to Business Success Program, which connects entrepreneurs and small businesses to resources that can help them grow. It also expands the networks of those businesses through Trojan alumni and the small cohorts participants are placed in.
"One of the strengths of the Bridges to Business Success Program is that it provides a strong sense of community for local diverse entrepreneurs and small business owners," program director Rocio Flores said. "The cohort grows together as they learn practical tools and strategies for sustaining and growing their business while at the same time building a supportive peer network."
To Javonne Sanders, success means bringing healthy options to South L.A. food deserts
Despite the feedback, grassroots success and encouragement from the program, Sanders still was not ready to take the leap.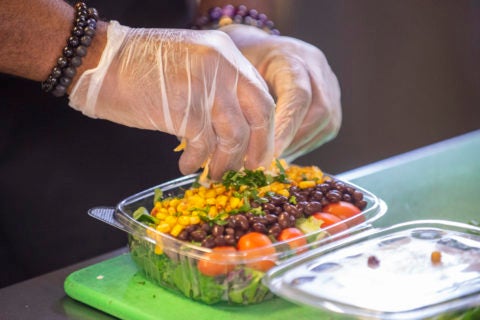 "I wasn't a risk-taker," she said — but the global pandemic made her rethink that stance and create an opportunity out of hardship.
"When COVID hit, my hours got reduced and then the bus position got eliminated," she said. "Things happen for a reason. If COVID didn't happen, I would probably still be on that bus."
Sanders reflected on her time with USC's small business program and began tapping into her newfound network for opportunities to grow her business, Toss It Up Salad. The company partnered with local vendors like Alma's Backyard Farms in Compton to source their fresh, locally farmed produce. Sanders worked with local officials to provide more than 1,000 seniors with no-cost meals three days a week at the onset of the pandemic. Toss It Up Salad was also chosen to distribute meals to South L.A. residents through the USC Community Outreach Fund, a venture aimed at assisting local small businesses and feeding residents in need.
"Doors started to open!" she said, crediting the program for putting her around people that "think like me."
Sanders' goal is more than just making a profit. She links success to her conscious efforts to make the community healthier. In fact, she is She is currently looking for a space to open the first brick-and-mortar Toss It Up Salad, a café style restaurant where people can enjoy locally grown leafy greens with staff hired from the local community.
"There's a huge epidemic of obesity, high blood pressure and diabetes that is affecting the community," she said. "We are trying to save time, but there are no healthy choices for us. Instead, there's a dialysis center on every corner."