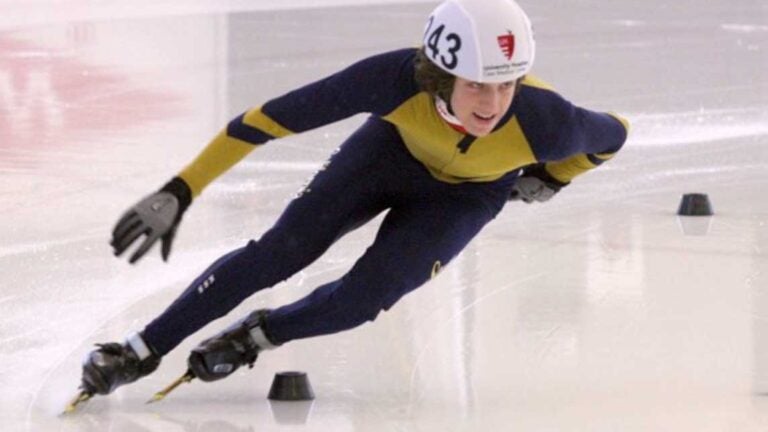 Speed skater-turned-physical therapy student helps athletes avoid injury
Trojan's nonprofit gives coaches the knowledge needed to maximize performance — at no cost
USC physical therapy student Alex Goldenring was training as a short-track speed skater nearly a decade ago when he had the idea for a new nonprofit.
"There's a saying in speed skating," he said of the competitive ice skating sport. "Go fast and turn left!"
But all that "turning left" eventually took its toll on Goldenring's body when he suffered knee injuries as a result of the intense asymmetrical training.
Thinking that his injuries might've been avoided had his coach had some basic physical therapy knowledge, Goldenring saw an opportunity.
"I kept thinking how cool it would've been if a movement expert had evaluated the program and said to the coach, 'I see that you're principally only training your athletes to go to the left, but studies have shown that body asymmetries can predispose people to injury. Here are my recommendations to modify your program,'" Goldenring said.
Though he intended to pursue this opportunity after school, he brought the idea up to classmates, who were not only excited but also said they couldn't wait to start it.
The idea blossomed into Movement Alliance, an organization that aims to empower coaches and performing arts teachers with the knowledge needed to maximize performance and prevent injury — all for free.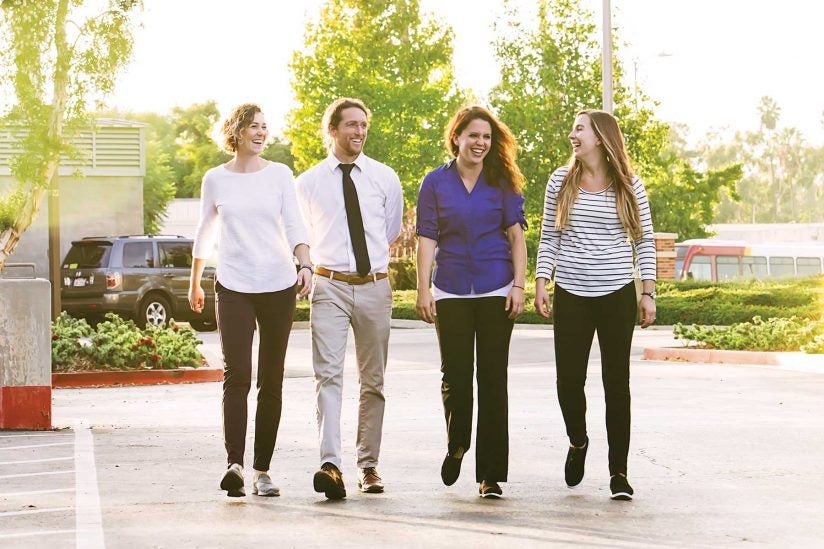 "We believe that quality health care services are at their best when they are made available to all people irrespective of their socioeconomic status, culture, age, race, religion, gender orientation, medical history or state of mental health," said fellow student Lindsay Backiev, the nonprofit's vice president.
The organization is composed of 14 doctor of physical therapy students — four of whom make up its executive board.
Goldenring serves as the group's president. Four physical therapists (including faculty members Beth Fisher '78, MS '81, PhD '00 and Sam Franklin) serve as advisers.
Spreading the message
The way the program works is that a coach, parent or performing arts teacher will reach out to Movement Alliance, having learned about the group through its social media marketing efforts on Facebook, Instagram or Twitter.
From there, a small group of physical therapy students will conduct a face-to-face consultation with the coach or teacher to get a 365-degree view of their program.
Movement Alliance will then present a customized, evidence-based protocol to be implemented to prevent injury and enhance performance. With its goal of getting physical therapy education out to the masses, the Movement Alliance team hopes that working with coaches and teachers — rather than individual athletes or artists — will help amplify their message.
If we empower one coach at a basketball camp, they're taking care of 250 kids.

Alex Goldenring
"If we empower one coach at a basketball camp, they're taking care of 250 kids," Goldenring said.
Though the idea for the group was all his, Goldenring is quick to point out how truly collaborative it has become.
In fact, it's this group effort — bringing together individuals with backgrounds in many sports and performance arts — that Goldenring hopes will be the key to the nonprofit's success.
"Seeing how each person has contributed and developed her or his own passion for Movement Alliance has been truly spectacular to watch," he said.