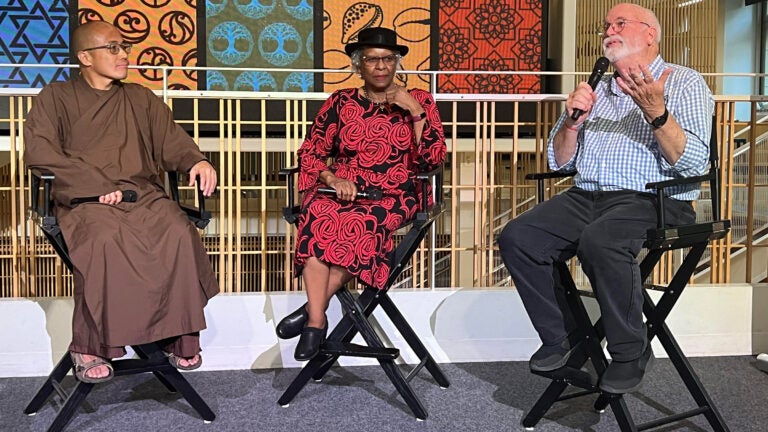 Spotlight shines on spiritually engaged humanitarians in 'Stories of Social Change' exhibit
Some of the subjects profiled in the exhibit shared inspiring stories during a celebratory event at Wallis Annenberg Hall.
After being immersed in the material for five years, Megan Sweas didn't need a script as she led small groups on tours of the ambitious multimedia exhibit Stories of Social Change: Spirituality in Action on Tuesday evening.
"This is a story from Thailand about a Buddhist woman who helps Indigenous people get Thai citizenship because there's a huge problem with statelessness," Sweas explained at one point during a pause in front of one of the clusters of photos. These images will line the walls of the second and third floors of USC's Wallis Annenberg Hall through Sept. 21.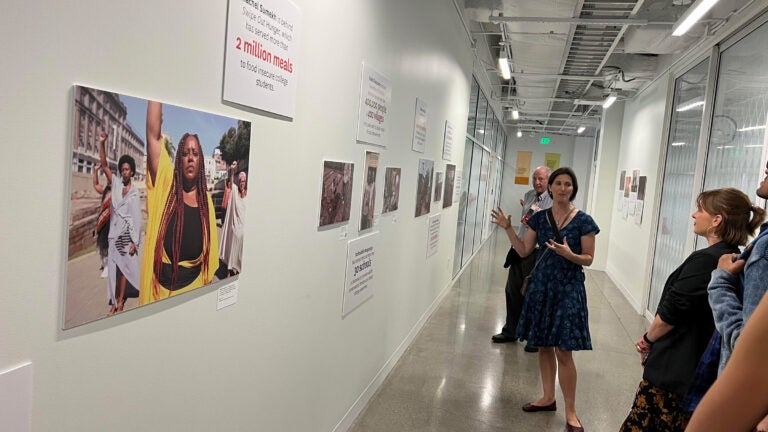 The exhibit grew out of the five-year project "Spiritual Exemplars: A Global Project on Engaged Spirituality." The stories represented in the exhibit reflect how the religious values and spiritual practices of the subjects inspire and sustain their work in areas such as human rights, gender equity, climate change and poverty.
Sweas, editor and director of communications for the USC Dornsife Center for Religion and Civic Culture, is among the global team of journalists and researchers who have been part of the project, which resulted in stories about 104 of these spiritual exemplars from around the world who are dedicated to working for positive social changes — often in the face of great challenges.
Stories of Social Change: A trio of exemplars
Among the more than 150 people on hand for the reception and panel were three of the exhibit's subjects: Father Gregory Boyle, the Jesuit priest who is founder of Homeboy Industries; Brother Chân Pháp Dung, a USC alumnus and a senior Dharma teacher in the Plum Village monastic tradition of Buddhism; and Sabrina Sojourner, a Shaliakh Tzibur — a Hebrew term for a person who leads a congregation in prayer — and community chaplain.
"I never set out to do anything," Boyle said during the panel discussion. "But you're there and you're responding to whatever is in front of you. Whether it was the immigration issues or the fact that kids are dying a lot, we tried to get underneath it."
Boyle, the former pastor of Dolores Mission Church in East Los Angeles, shared that in 1988, "I started to bury a lot of kids. It was becoming an enemy, the beginning of a decade of death."
He worked to develop positive opportunities for gang-involved youth and went on to found and become director of Homeboy Industries, an independent nonprofit that is the world's largest gang-intervention and rehabilitation program.
"I think the thing that is most exciting is that I'm not the only one — there are at least 104 of us."

— Sabrina Sojourner, one of the exhibit subjects
"I've had to listen to people," Boyle said. "How do you receive people, and how do you somehow just be helpful to alleviate suffering as best you can?"
Sojourner described being part of the project as "really sweet, exciting and humbling."
"I think the thing that is most exciting is that I'm not the only one — there are at least 104 of us," she said. "And there's so many more."
The capstone of a career
Diane Winston, associate professor of journalism at the USC Annenberg School for Communication and Journalism and Knight Center Chair in media and religion, moderated the panel discussion. She described the project as the "capstone" of the more than 50-year career of Donald E. Miller, a USC professor of religion and sociology, and co-founder and former executive director of the Center for Religion and Civic Culture.
Miller shared with the audience that he conceived the idea after thinking about all the people involved in humanitarian work whom he had met during five decades of international travel.
"It's joy, not happiness, that drives these people," he said, describing the exhibit's subjects as "exceptional." "These people have courage; they take risks; they have a lot of grit. Yet at the same time, they're individuals whose lives are punctuated on a daily basis by prayer, by meditation, and other spiritual practices."
Miller took his idea to the John Templeton Foundation, and the philanthropic organization agreed to fund a three-year project, eventually extending it to five years because of the COVID-19 pandemic. More than 350 global journalists applied for the initial 12 spots, which the foundation eventually increased to 33.
Journalists selected subjects who were engaged in significant humanitarian work that was inspired and sustained by their spiritual values, beliefs and practices, and admired and emulated by others within their community and beyond.
"It's joy, not happiness, that drives these people."

— Donald E. Miller, Center for Religion and Civic Culture
In the end, the journalists profiled 104 humanitarians from 42 different countries and various faith traditions. They produced a combined 150 articles about them, 11 visual stories and an 18-part in-depth podcast series titled The Spiritual Edge in collaboration with Bay Area public radio station KALW.
"We hope that students at USC Annenberg will see that these are stories that they can cover as journalists," Sweas said before the panel discussion. "To be able to see people who are inspired by their faith and take that to do this work in the world, to make the world a better place, is really beautiful. It gives you hope."
Tuesday's event drew students, faculty, staff and community members to the exhibit, which included QR codes linking to multimedia content such as videos, audio and articles as well as a playlist featuring music from some of the subjects.
"We have so many examples in this world that are so destructive, and we skip over the millions of people who are out there doing good," attendee Lo Sprague, a local community member, said after touring the exhibit. "These are people who believe in the values of a common good, [who] are serving their neighbor and getting joy from it."