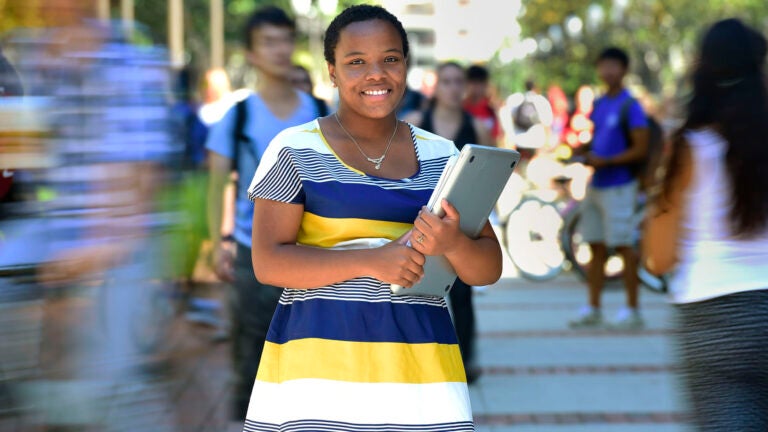 Standout students abound in the Class of 2018
USC welcomes nearly 3,100 diverse and accomplished freshmen from 48 states and 52 countries
Freshman Sierra Williams is an aspiring doctor and biomedical engineering student who turned down offers from 10 other prestigious colleges to attend USC. She's also one of 20 graduates of South LA's Foshay Learning Center who enrolled at USC this fall, putting the nearby school near the top of the list in representation among the freshman class.
The Foshay graduates join an incoming class of 3,098 freshmen from 48 states and 52 countries, a group that ranks among the most diverse and academically talented in the university's 134-year history.
Other standouts include a young woman who was once homeless but now plans to start her own video game company; a student who is fluent in seven languages, including biblical Hebrew; and the co-founder of a nonprofit that turns leftover food from restaurants into meals for the homeless.
"The USC Class of 2018 is self-described as 'creative,' 'determined,' and 'passionate.' It is clear that these new Trojans will have an immediate positive impact on our campus culture," said Timothy Brunold, USC's dean of admission. "Our faculty are excited about spending the next four years with this diverse and talented group."
Freshmen who are the first in their families to attend college make up 14 percent of the class, and more than two-thirds of the students will receive financial aid.
On average, incoming freshmen scored in the 95th percentile on standardized tests and earned an unweighted GPA of 3.73 in high school.
A record 51,920 applications were submitted for consideration, and admission was offered to 9,358 applicants. The admission rate of 18 percent is the most selective in the university's history.
The Class of 2018 represents a highly competitive group of students with broad geographic representation:
The class ranks among the most ethnically diverse ever enrolled at USC, with 22 percent underrepresented minority students, including 7 percent African-American, 13 percent Latino and 2 percent Native American/Pacific Islander.
Overall, 45 percent of newly enrolled students are from California. Outside California, the leading U.S. states of residence are, in order, New York, Texas, Washington and Illinois.
International students (17 percent) are citizens of 52 different countries. The most represented places of origin outside the United States are China (including Hong Kong), India, Canada, South Korea and Taiwan.
Foshay Learning Center was third among high schools who sent the most students to USC this fall, with 20. Other top schools included Loyola High (23 students), Palos Verdes High (21) and Harvard-Westlake (19).
Foshay is the home of USC's Neighborhood Academic Initiative, a pre-college enrichment program that prepares students for admission to a college or university. It includes intensive tutoring before and after school and on most Saturdays.
"Through the NAI program, students from Foshay have shown they can compete with students from high schools that have substantially more resources," said Thomas Sayles, senior vice president for university relations. "Simply put, NAI enables students at Foshay to reach their full potential."
USC enrolls more underrepresented minority students (African-American, Latino Pacific Islander and Native American) than most other private research universities in the country (more than 3,300 undergraduates as of fall 2013, or 18 percent of its total undergraduate population).
Moreover, USC enrolls more than 4,200 low-income undergraduates (as defined by Pell Grant eligibility), also more than most private research universities. Most importantly, low-income and underrepresented minority students at USC graduate at rates comparable to the overall undergraduate population.
USC offers admission without regard to ability to pay, and the university meets 100 percent of the demonstrated need of on-time financial aid applicants.
Answers to frequently asked questions can be found on the USC Admissions website.