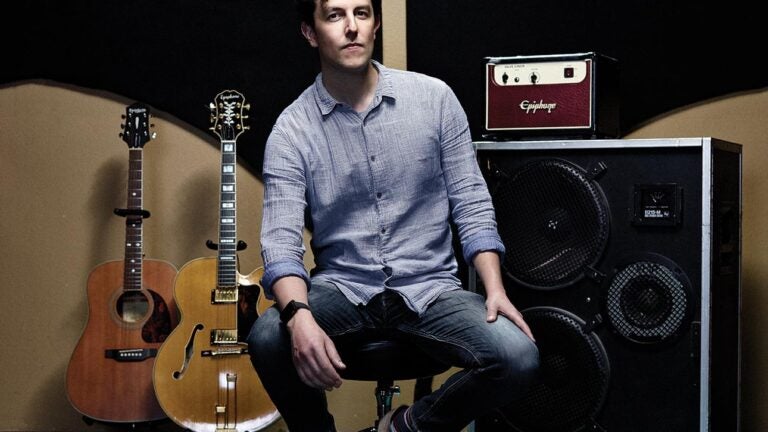 Starving Artists? Not a Chance
At USC, an arts education is more akin to creative entrepreneurship—and more than business as usual.
The year: 2008. Davey Martinez enrolls as a USC freshman just as the Los Angeles electronic dance music scene explodes from its niche with pyrotechnics and pulsing beats. Raves like the ones at the nearby Shrine and LA Sports Arena bowl him over with spectacle and the rhythm of tens of thousands of techno fans dancing as one.
Already a music performance major at the USC Thornton School of Music, Martinez is so fascinated with the electronic dance movement that he switches to the school's music industry program, where students get hands-on experience in live promotion and production, music publishing and other facets of the industry.
In one popular (and notoriously difficult) class, Martinez produces a live show with no budget. Along the way he meets two USC alums who started a dance music promotions company called DANCEiSM. He begs for a chance to learn their business and starts humbly, passing out event fliers.
DANCEiSM co-founders Corey Johnson '09 and Vivek Srinivasan '08 would later partner with production designer Miguel Risueño to start a new business called Production Club, focusing on design for touring musicians and special events. The company grows to build elaborate shows for DJs Skrillex and Zedd and tech companies like Amazon.
Shortly before he graduates in 2012, Martinez gets an opportunity from Production Club that he can't pass up: the chance to become a VJ, a video operator who controls live show visuals. Soon he's on the road with Skrillex full time as his touring VJ.
Creating opportunities
Today, Martinez has also learned lighting design—and now tours the world as Skrillex's lighting operator.
"When our professors told us how chaotic the music industry is and how we need to be prepared when opportunity strikes, I was super interested," says Martinez, who grew up in nearby Santa Monica.
"It was a skill set I learned at USC—how to create my own opportunities."
Ken Lopez, chair of the music industry program, who taught Martinez, Johnson and others at Production Club, loves watching his former students invent their own careers. "This is a superbly explosive, creative time for the music industry, perhaps the most exciting time since the late '60s, and it's a great time to be an entrepreneur," he says.
Is the stereotype of starving artists toiling on a labor of love finally a relic of the past?
This raises a bold thought for art majors (and perhaps their parents): Is the stereotype of starving artists toiling on a labor of love finally a relic of the past? Many students at USC's six arts schools are inventing jobs that didn't exist a decade ago. They're branding, marketing and networking their way into successful creative careers.
Consider another of the music industry program's alumni, a 2000 graduate who today goes by the name KamranV. He's an example of a serial entrepreneur who can mash up technology, art and marketing—all revolving around music.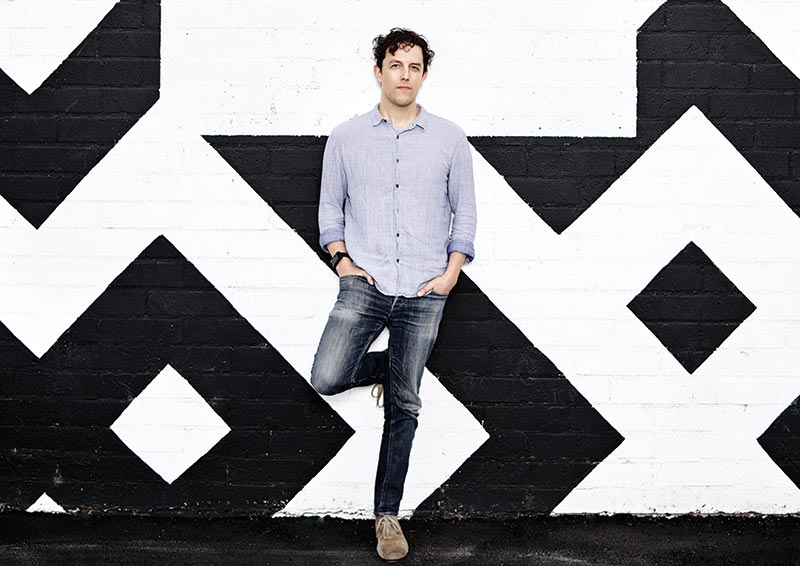 A partial listing of his business endeavors includes creating Interscope Records' multimillion-dollar mobile business; designing POP-AUT, a payment system for music, games, art and other creative projects; and reimagining Moogfest, a festival sponsored by the synthesizer company Moog. He's produced new music formats for artists like Nine Inch Nails, Sting and Beck.
He's also one of the founders of Bedrock.LA, a converted manufacturing building that's a musician's dream: a combination of more than 100 rehearsal rooms for rent, recording space, equipment rental and an instrument repair shop and retail store. Hundreds of bands call the space home, and it has fostered a musical community that gathers each year for its own BEDROCKtoberfest festival.
Operating under an umbrella company called CyKiK, KamranV describes his enterprises with this philosophy: "I realize that everything I do ends up making space for people's dreams."
What USC did for him, he says, was to take a guy from Oklahoma and give him a soft landing in Los Angeles, introducing him to interesting, motivated people. "It's sink or swim with the music industry degree," he says, "and those who have kept with it have thrived in media, arts and culture."
Creativity unbound
In an era in which easy access to technology unbundles creators from the traditional hold of studios, book publishers, concert promoters, record companies and museums, opportunities have a way of emerging amid rapid industry transformations.
One shift is the spillover of entertainment into other fields, as creativity is increasingly recognized as a valuable asset across industries. A new USC Marshall School of Business course called Entertainment Entrepreneurship examines how the "experience economy"—which revolves around how companies provide memorable experiences to consumers—is moving into fields as disparate as retail and higher education.
Michael Napoliello, a movie producer, entrepreneur and longtime USC Marshall lecturer, teaches this spring's course, which includes cinematic arts students, public relations majors and international students interested in global changes in entertainment.
"Everyone is looking for fresh ways to delight the consumer, and there are entertainment opportunities there," Napoliello says. To get a firsthand look, students take a field trip to nearby Maker Studios (purchased by Disney in 2014), where fledgling YouTube stars develop ideas for their channels. Students are examining the do-it-yourself movement among aspiring restaurateurs, fashion designers and gardeners who celebrate the handmade, locally sourced or heirloom products and techniques.
Everyone is looking for fresh ways to delight the consumer, and there are entertainment opportunities there.

Michael Napoliello
USC Marshall's two flagship courses for budding entrepreneurs often attract arts majors. And according to Patrick Henry, who teaches the courses, all arts disciplines today have businesses built around them. "Top actors and artists all are entrepreneurs," Henry says. "Look at Will Smith. He's a production company and he's a producer of his own films. He's built a business around his brand."
And film projects themselves are like startups now. You assemble a team and then, two years later, you close up shop."
USC Marshall has been teaching entrepreneurs of all stripes for years. It offers several entrepreneurship minors, including joint programs with the USC Viterbi School of Engineering,USC Annenberg School for Communication and Journalism, and USC School of Cinematic Arts. USC Marshall's venture management classes are part of the required curriculum at the USC Iovine and Young Academy, whose students are expected to riff among computer programs, 3-D printers and hand tools to create the "next big thing" in design and entertainment.
Henry sees an emerging trend as artists cross over into so many fields that it's hard to neatly categorize—or pigeonhole—their work. One of his students, Tre Ulseth, a business major who's minoring in music performance, fits that description. When asked about Ulseth's genre, Henry fumbles for words. "I don't even know what to call what he does."
Ulseth, a fifth-year senior, can't succinctly describe his show either, but points to acts like Blue Man Group and Cirque du Soleil, which also were difficult to categorize when they launched.
His stage show, OuR MoDeRn CiRcUs, combines a live band (Ulseth on bass, plus a drummer and a keyboard player), two ringleaders, two freak-show characters, and video and light projections in a multimedia remix of musical theater and the circus. Inspired by Sokamba, a USC-based student collaborative arts troupe, Ulseth launched his show in November and says he'd like to find a residency in London or Los Angeles. He's on his way: The act has been invited to perform in London this year.
Entrepreneurs are everywhere
Sokamba is one of many student-run performance groups that give students hands-on experience with directing and producing. The Brand New Theatre, which produces students' original dramatic work, Musical Theatre Repertory and the Commedus Interruptus improv group are just a few of the active student-run theater groups at USC.
One factor in their longevity is the supportive environment for enterprising students. Each semester, a USC Dramatic Arts faculty committee awards three or four grants for up to $2,000 each to help student productions premiere at campus locations like GroundZero Performance Café and the Physical Education Building courtyard. Several alumni, including Stephen Edlund '09, who co-founded USC's Musical Theatre Repertory a decade ago, credit the student-run experience for jump-starting their careers.
"Musical Theatre Repertory was a life-changing experience and is a product of USC's unending support of student-produced work," says Edlund, now an associate director on Broadway and at Lincoln Center in New York City. "It empowers you to make bold choices in the safest of environments."
This is a superbly explosive, creative time for the music industry … It's a great time to be an entrepreneur.

Ken Lopez
USC's efforts to mix business skills with artistic expression are intentional. Last October came word of a new online master's degree that will partner the USC Roski School of Art and Designwith mass media behemoth Condé Nast and Wired magazine. The degree in integrated design, business and technology will attract people who want to be leaders in both business and culture, says USC Roski Dean Erica Muhl.
Starting this fall, USC Thornton's Contemporary Music division will have a new music production degree designed with help from music engineer and acclaimed hip-hop producer Gimel "Young Guru" Keaton. The new major acknowledges that behind-the-scenes music producers are now recognized artists in their own right, with an elastic job description that includes business aspects of music as well as composing, arranging, engineering and performance. Music production students will be expected to collaborate with songwriters, artists and bands at USC Thornton as well as students from the USC School of Cinematic Arts, USC Viterbi and USC Annenberg.
This interdisciplinary approach characterizes the schools' efforts to prepare artists to navigate the increasingly uncharted waters of artistic life.
For example, in 2014, the USC School of Architecture debuted a class to show students how to promote their design projects through crowdfunding and building online communities. Lee Schneider, who runs an online marketing and public relations company, teaches this popular class. "It's imperative that designers become media makers so they can propagate their ideas, do product promotion and self-promotion, and build a community around what they do," Schneider says.
USC Thornton's music industry faculty often create 2-unit courses quickly, some of which may be offered for only a semester or two. "Classes exist only as the information is truly new," Lopez says. "The curriculum is designed to evolve."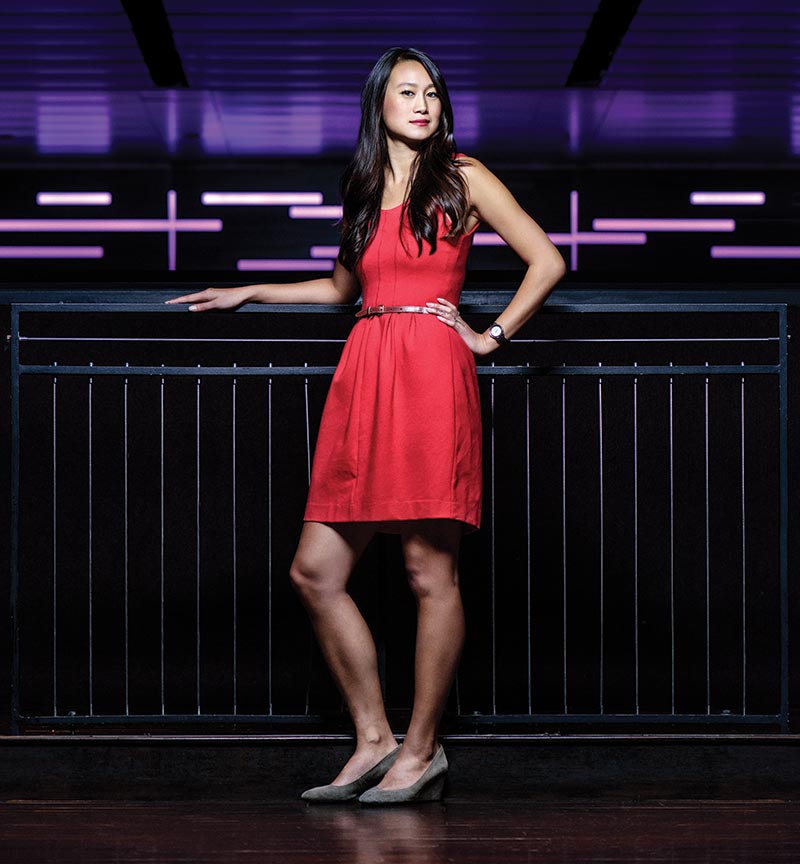 One upcoming 2-unit course will be taught by Vivian Wang '12, a music industry and neuroscience graduate who is product manager at AXS Venue and Event Services, a ticketing startup run by entertainment giant AEG and Cirque du Soleil. Her course will cover big data and ticket marketing—an emerging topic inadequately covered in textbooks, Lopez notes.
At the USC Glorya Kaufman School of Dance, undergraduates entering this fall will encounter an entirely reimagined interdisciplinary curriculum that includes classes in new media and career skills for the 21st century. Grounded with a rigorous curriculum in dance fundamentals, students will also be expected to learn about cinematic arts, music and multimedia platforms.
Jodie Gates, the school's vice dean and director, envisions USC's dance graduates as "versatile hybrids who learn how to apply choreography to stage, film, television and mobile devices."
As artists mash up business and performance, music and marketing, a new name for these genre-breaking explorations seems fitting. Asked to describe today's climate for artists, Gates settles on a simple two-word description: "career entrepreneurship."