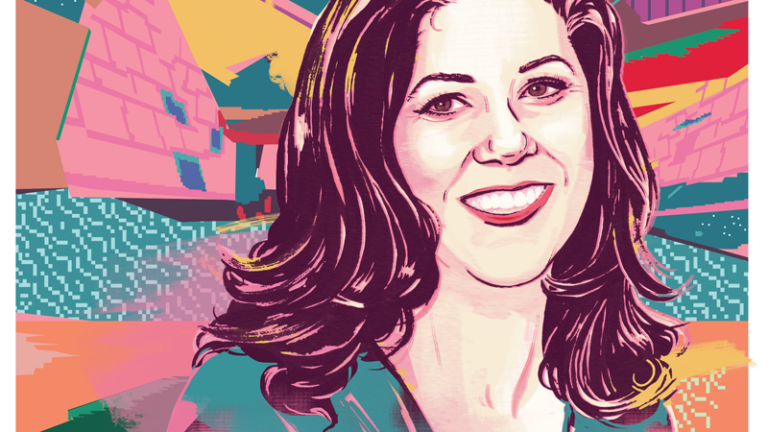 IndieCade Founder Stephanie Barish Champions Diverse Voices in Video Games
A USC School of Cinematic Arts alumna celebrates the diversity, creativity and artistry of video games.
If the only video games you've played had cartoon plumbers and shoot-'em-up showdowns, then Stephanie Barish MFA '94 is ready to open your horizons.
"Games are the art form of our time," Barish says. It's a bold assertion, but one inspired and backed by the thousands of submissions she has judged as the CEO and co-founder of IndieCade. The independent games festival is a four-day event that hosts 5,000 people in Los Angeles, with additional events in New York and Paris.
Game lovers and developers flock to IndieCade to try out inventive games that meld storytelling, visual design and interaction. Past attendees have used virtual reality to sort cats on a huge screen, played a card game called Sign created by deaf children in Central America, and experienced life as an early American traveler in the narrative adventure Where the Water Tastes Like Wine.
"It was such a new concept to think about setting up a festival, let alone an independent game festival. People were saying, 'Oh, nobody is ready for that!'" Barish says. "Of course, they were completely wrong, everybody was totally ready."
Barish has always had a love for technology. After graduating from UC Berkeley with a bachelor's in social science, she sought "the very best film school" and found her way to the animation department at the USC School of Cinematic Arts.
"I was there when all of the computers came in — I was instantly addicted," she says. "It was really an incredibly neat experience to be a part of that, the birth of a new era."
Games are the art form of our time.

Stephanie Barish
Right out of graduate school Barish worked on the video game-inspired movie Mortal Kombat, then put her interactive media skills to use at USC Shoah Foundation— The Institute of Visual History and Education developing cutting-edge projects that straddled documentary and games. She later returned to the cinema school to help set up the Institute for Multimedia Literacy, where students learn fluency across digital media. It was during this time that she met the fellow USC colleagues who would help her found IndieCade.
"We were just sitting around in my parents' living room talking — like you're supposed to with any garage business — saying, 'Hey, where do we belong in this industry that we love and is so exciting and is brand new?' So we decided to invent it ourselves." Barish was pregnant with her daughter at the time, and her motivation was also deeply personal: "I really felt like there was a moment to intervene, to make [the industry] better and make it better for her."
IndieCade was founded with a mission of diversity and inclusivity, and the event's trends directly reflect the times. Last year many of the featured games were inspired by the current political climate, including one that featured a cat trying to get on the subway while wearing her hijab, and another by a Mexican-American developer about his father's experience crossing the border. This year, IndieCade will be granting a "kindness" award. For Barish, it's a trait we could all use more of.
"It's amazing how much creativity there is and how positive it all is," she says. "It's a great thing to celebrate."