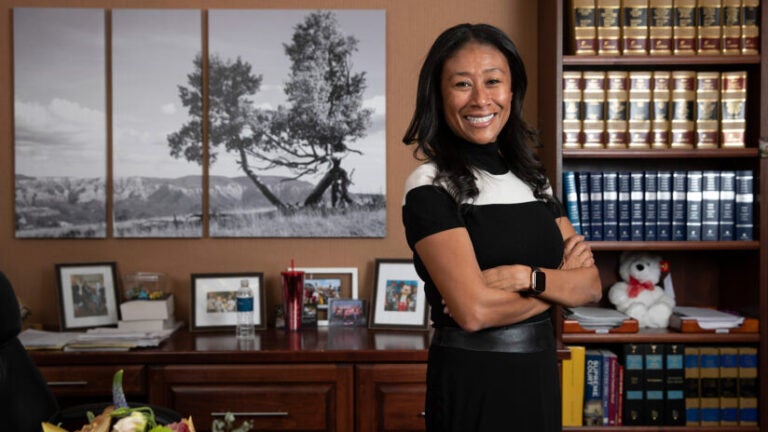 Stepping Up to the Bench
Civil rights activist Rosa Parks encouraged Patricia Thompson Lee '97 to study law. Now Lee is a Nevada Supreme Court justice.
While a student at USC, Patricia Thompson Lee '97 worked at the California Science Center across the street from the university. The job turned into a full-time position launching a computer learning center established in the name of civil rights icon Rosa Parks — and Parks was hands-on in its development, which gave Lee the opportunity to speak with the legend herself.
"I told her I was thinking about going to law school," says Lee, then a dual major in communications at the USC Annenberg School for Communication and Journalism and psychology at the USC Dornsife College of Letters, Arts and Sciences. Parks encouraged her to go. "That was the nudge I needed," Lee says. "When Rosa Parks says to go to law school, you go to law school!"
Lee says her undergraduate years and involvement in different organizations helped nurture her sense of advocacy and justice. "USC really gave me a platform and a launching pad to find myself and find my voice," she says.
She earned her juris doctor at George Washington University in 2002 and went on to establish a fruitful 20-year law career in Nevada.
In November 2022, Lee was appointed as a state supreme court justice by Nevada Gov. Steve Sisolak. She is the first Asian American and African American woman to serve on the state's highest court.
"It's not lost on me that this is bigger than me," says Lee of being a "first," adding that it's long past due. "Hopefully, scores of Black and brown people will see themselves reflected in this position and know it's absolutely possible to attain it."
Born in South Korea and raised by her single Korean mother in Lompoc, Calif., Lee began navigating the social support systems her family needed to get by as a child.
"My mom had limited English abilities, and I was tasked with handling all the forms to get governmental aid from the time I was 8 years old," says Lee, whose family, including her brother, Bobby Thompson '01, experienced challenging times. "I grew up with very little, and at times we were homeless, but there were many organizations and people who helped us along the way."
That's when she began to have a sense of government systems — "how the law can either work for you or against you," she recalls.
Those formative years influenced her professional trajectory. As a partner at the Las Vegas law firm Hutchison & Steffen, Lee worked primarily in complex commercial litigation and headed up the firm's pro bono work. She became the first attorney in the state honored with the American Bar Association's prestigious Pro Bono Publico Award in 2013.
"It's always been a personal mission of mine to serve my community that way," says Lee, who was on the board of the Legal Aid Center of Southern Nevada. "Our pro bono clients are typically people who live below the poverty level and would not otherwise have access to justice."
She sees the parallels to her younger years and says she is humbled to serve as a state supreme court justice.
"I think a career in law was pretty much my destiny," she says. "It would be arrogant to get to this place where I can effect change and not do it."