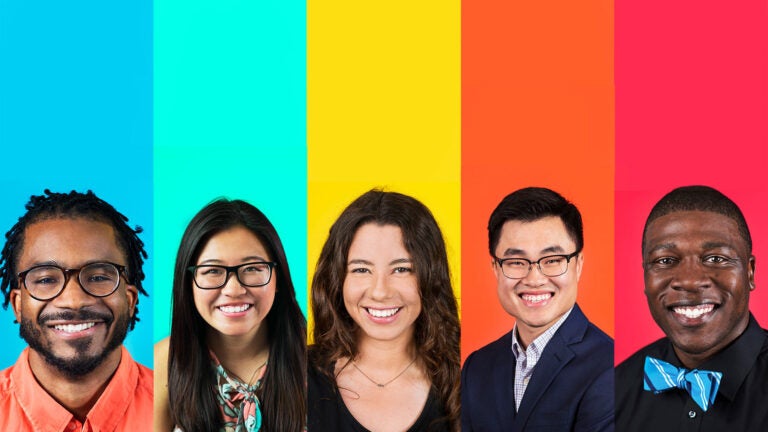 Student-led USC group aims for diversity among physical therapists
USC responds to national inequity in the field by forming an organization that explains the profession to minorities in the community
The physical therapy profession has a bit of a diversity problem, one might say.
According to the U.S. Bureau of Labor Statistics, 5 percent of all practicing physical therapists are African-American. And only 3 percent of all physical therapy students this year were African-American, while 6 percent were Hispanic, according to the Commission on Accreditation in Physical Therapy Education.
USC's physical therapy program scored a little higher, with 10 percent of its students being African-American and 21 percent Latino.
While USC fares better than national averages, in response to this inequity, a group of USC physical therapy students created the Physical Therapy Multicultural Leadership Alliance (PTMLA) in 2004. The goal of the student-led organization is to educate the local community about the physical therapy profession and promote diversity within the field, with an emphasis on minority and underserved communities.
"I was shocked by how minimal the minority representation was in our class and program as a whole," said Terry Richardson II, the alliance's faculty adviser. "Then I started to find out it's not just here at USC; this is a nationwide conundrum. I felt this burn to do what I could to increase minority representation and, in particular, African-American representation, because we make up only 3 percent of the entire profession nationally, which is not necessarily what our patient population is going to look like."
Physical therapy profession and volunteer work
For Jessica Nguyen, the alliance's current president, joining the organization was a natural progression from the volunteer work she was already doing in her Orange County neighborhood.
"The Vietnamese community doesn't know much about physical therapy, and there's not a lot of Vietnamese physical therapists out there," she said. "Coming to USC and seeing there was an organization dedicated to serving minority communities and spreading the word about physical therapy to these communities, I knew I wanted to get involved."
To get the message out, alliance members venture into the community at least once a month, speaking at local elementary, middle and high schools, and setting up booths at college fairs, career days and various other events. What they've found is that many kids in these areas have never even heard of the profession.
"The thing about kids from minority backgrounds is that a lot of times they don't think they can reach higher education," Nguyen said. "So we go out there from different backgrounds like Asian, Hispanic and African-American, and we tell them, 'Look, we are from minority backgrounds, and we are pursuing higher education and careers in the health profession, and you can, too.'"
While recently attending the college and career fair Adelante Mujer Latina Conference in Pasadena, alliance scholarship recipient and upcoming President Jessica Goytizolo was happy to field questions from the young women in attendance.
"We got to talk to these girls and really saw a lot of them inspired," she said. "They were asking, 'Do I need to have perfect grades?' 'Do I have to have a perfect GRE score?' We told them, 'No, we as physical therapists need to see you are a people person. You want to help others. You want to be a good influence in the medical community.' That was one of my favorite experiences so far."
Understanding others
The alliance has set its target on local communities, but it also focuses on educating from within by hosting a speaker series that is open to anyone on campus. Physical therapists from minority backgrounds are brought in for talks and presentations to help students become more knowledgeable as clinicians.
As an Asian woman, I might not understand different African-American populations or Hispanic populations, but through the speakers and the experiences we have in PTMLA, I'm able to get a better understanding.

Jessica Nguyen
"As an Asian woman, I might not understand different African-American populations or Hispanic populations, but through the speakers and the experiences we have in PTMLA, I'm able to get a better understanding," Nguyen said.
There were approximately 75 members in the alliance this year, the largest number since the organization's inception. Richardson said having a group like this at USC is important because it provides an opportunity for people to find common ground, to learn about cultures or ethnicities they aren't familiar with and to debunk stereotypes.
"We all have a specific lens through which we see the world," he said. "Sometimes it's difficult to step outside of our frame of reference and have a better understanding of what someone else has experienced."
A physical therapist who looks like me
Within the physical therapy profession itself, diversity is key to pushing the field forward.
Richardson said that bouncing ideas off of colleagues who come from differing backgrounds can lead to breakthroughs that may not have surfaced with someone from a similar ethnicity.
"That collaboration allows us to be a better version of ourselves for our next patient interaction."
Alliance Vice President David Tang said the rapidly changing demographics in the United States call for a physical therapy workforce that mirrors its patient population.
"We work directly with the people, and there are so many ethnicities and cultures, so it's important that we can engage with them, even if it means overcoming a language or cultural barrier."
Physical therapists who are able to interact with minorities create an environment in which patients feel comfortable seeking medical assistance, which could lead to better overall health for the community.
"When you can deal with someone who looks like you and you believe they can understand where you're coming from a little more than someone from another ethnicity, then sometimes I think that does contribute to better outcomes in a lot of ways," Richardson said.
Reaching out in Mexico and Costa Rica
In addition to focusing on USC's surrounding communities, alliance members take part in annual trips to Mexico and Costa Rica, where they provide services to people who don't have access to physical therapy. The trips serve as an extension of the group's mission statement to help underserved populations.
"It's such a humbling experience," Nguyen said. "Sometimes we get bogged down with studying and tests, but coming to these communities where they don't have insurance, they don't get to see a physical therapist and they have a lot of limitations — it grounds our members and reminds us this is what we do with our profession. We're not here just to see 100 patients a day and get paid. These are real people who we can actually affect over time and better their lives."
Even more than an opportunity for the students to practice their physical therapy skills, these trips teach them lessons that can't be acquired in a classroom.
"There isn't a lot of wealth in those cities, so it gives the students perspective," Richardson said. "There is a sense of gratitude they glean from those experiences, and they see their problems aren't that bad compared to some of the things they're witnessing."
Chris Floyd and Goytizolo, who is Peruvian, were recipients of the two annual $3,500 scholarships PTMLA awards to incoming first-year minority students who exemplify qualities of leadership, community involvement and academic excellence.
"The biggest thing for me receiving the award was having more confidence going into the program, knowing my peers and the faculty appreciate the work I did prior to getting into the program," Floyd said.