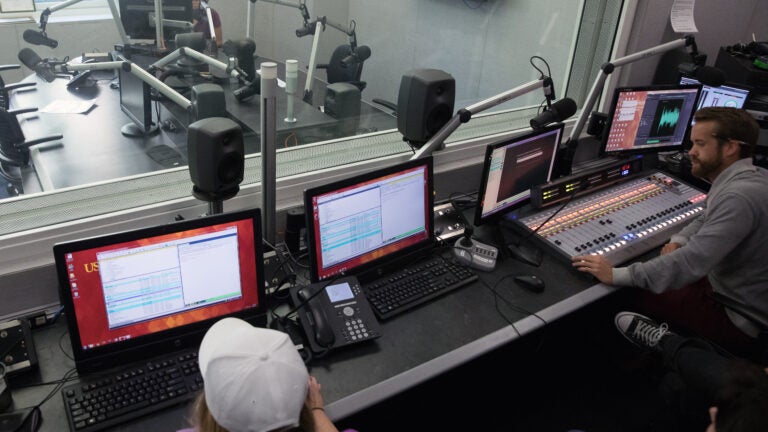 Students explore podcasting through new interdisciplinary program
USC's Communication and Journalism, Dramatic Arts, and Cinematic Arts schools join forces to help budding storytellers master the medium.
Taylor Martinez never really delved much into podcasts. The USC junior had listened to shows she considered "informational" or "conversational," but didn't really know the medium could go beyond that — until an internship last summer.
Imagine Entertainment, a major production company, had a team dedicated to audio storytelling through podcasts. After watching that department work, Martinez realized that, as a double major in film at the USC School of Cinematic Arts and African American studies at the USC Dornsife College of Letters, Arts and Sciences, she wanted to learn more about using this rising platform to tell stories.
"I wanted understand where podcasts are coming from and how they're going to be moving into entertainment industry projects," she said.
Martinez is one of a handful of students who have joined the newly created podcasting minor, a collaboration among the USC Annenberg School for Communication and Journalism, the USC School of Dramatic Arts and the USC School of Cinematic Arts. For her, taking up the podcasting minor goes beyond the nuts and bolts of writing a script, collecting audio, and then editing it all together.
"It's nice to have a foundation in different techniques and know the history of how they started booming," she said.
After the release of Apple's first iPod in 2001, users began downloading not only music, but audio blogs on any topic imaginable — a storytelling format that took its name from the device itself. In 2021, there were an estimated 120 million podcast listeners in the United States, with forecasts suggesting that number will surpass 160 million by 2023.
Spotify encourages top universities to take up podcasting training
After unveiling its new podcast hub last year in the Los Angeles Arts District — known as "Pod City" — the streaming service Spotify made it known worldwide that they were a major player in podcasting. According to USC Annenberg Dean Willow Bay, Spotify has been working with USC and other top-tier universities to encourage and inspire students to enter podcasting, as well as help them get training, mentorship and professional development.
You have a clear industry need and a growing medium that is immensely appealing to young people.

Willow Bay, USC Annenberg dean
"Bottom line, they need talent to power this growth, and they need the right kind of talent," Bay said. "So, you have a clear industry need and a growing medium that is immensely appealing to young people."
All of that helped create demand for a podcast minor, which first became available for the fall 2021 semester. USC Annenberg already had audio reporting and podcasting classes, but podcasting companies are also looking for the kinds of skills the USC School of Dramatic Arts and USC School of Cinematic Arts have to offer.
"It is this interdisciplinary effort among the three schools really reflects the whole industry and podcasting," said Willa Seidenberg, a professor of professional practice at USC Annenberg who has been involved with bringing the podcasting minor to fruition since talks began.
Learning to podcast: from technical skills to writing and performing
The podcasting minor is "designed to give students a grounding in the history, theory, production and business of podcasting," Seidenberg added. For several years, her podcasting classes at USC Annenberg have emphasized audio quality, which she said key to developing trust with an audience.
"Studies show that people will turn off a podcast if the audio is bad, and there are also studies that show that people don't find information credible if it's not good audio," she said.
Though USC Annenberg brings a grounding in interviewing, narrative, fact-checking and writing skills to the new minor, students also can explore the performance aspects of podcasting.
Dramatic Arts helps students develop as effective and engaging performers who connect to the podcast audience through voice acting.

Emily Roxworthy,
USC School of Dramatic Arts dean
"Dramatic Arts helps students develop as effective and engaging performers who connect to the podcast audience through voice acting," said Emily Roxworthy, dean of the USC School of Dramatic Arts.
Since 2017, the USC School of Dramatic Arts has offered a course called "Creating the Hit Podcast," taught by Sim Sarna, the founder and CEO of Cloud10 Media, and the co-creator, executive producer and former co-host of the award-winning celebrity podcast Anna Faris Is Unqualified. In its first semester, the class was co-taught by Sarna and the title actress.
Podcasting training includes focus on vocal performance
"Anyone who has ever listened to a podcast knows how important the vocal performance is," Roxworthy said. "The same skills that make a great actor on stage or screen are necessary to produce a great podcasting performance, all funneled through the performer's voice."
But another major part of teaching students how to craft something in a medium in which the competition is fierce — with over 2 million podcasts worldwide — is teaching students how to stand out and truly find their voices.
"I hope that students learn how to leverage podcasting as a mode of expression that is both creative and political," Roxworthy said. "In other words, it has enormous power in our highly mediated world, but only by learning to be effective storytellers and polished performers will they truly harness this power to create successful podcasts of their own."