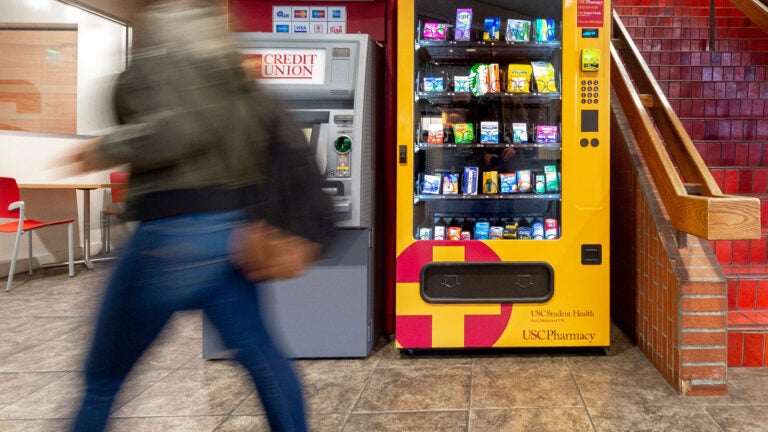 Students get round-the-clock access to health products
The "wellness-to-go" machine is stocked with everything from ibuprofen and thermometers to pregnancy tests and emergency contraception
Health issues can arise at any time. And college students, who can keep less conventional hours, may be more likely to need an Advil or a condom late at night rather than between 9 and 5.
That was the idea behind a new vending machine available to students 24 hours a day through a partnership between USC Student Health and USC Pharmacy. Instead of snacks, the machine stocks a variety of over-the-counter pharmacy products at its King Hall location, starting this semester.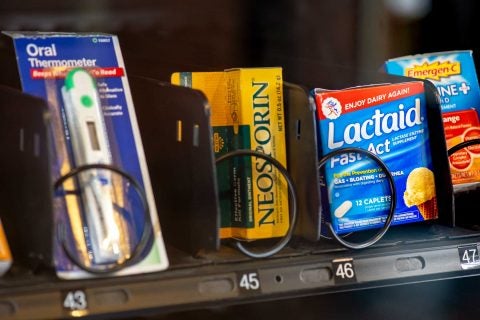 The machine, stocked with general and reproductive health products, was first proposed by students in Undergraduate Student Government as a way to make emergency contraception, like Plan B, accessible to students after campus pharmacies have closed. Similar vending machines have appeared in recent years on the campuses of Stanford University and University of California, Davis.
Important student access to health products
"We thought it was important for students to have around-the-clock access to important resources such as contraception and Plan B," said Andie Wright, USG director of wellness affairs.
Sarah Van Orman, chief medical officer and associate vice provost for USC Student Health, was immediately on board with bringing one to USC after meeting with student leaders last spring. She and Kari Trotter Wall, director of pharmacy for the USC Pharmacy and Health Center Pharmacy, agreed that students might need a number of pharmacy items at odd hours as well.
Beginning last month, the "wellness-to-go" machine opened for business with everything from ibuprofen and thermometers to pregnancy tests and emergency contraception.
"Students who may be experiencing symptoms of a cold or need something as simple as a Band-Aid in the middle of the night will have access to health care products," Van Orman said. "It's also important that students who choose to be sexually active have access to condoms and emergency contraception with no barriers.
"Having this available 24/7 on campus removes barriers for them."
USC Pharmacies maintains student access to health products
Staff of USC Pharmacies will maintain the machine's contents.
"From a pharmacy point of view, we were happy to help bring the vending option to the USC student population," Trotter Wall said. "We know that students' time is valuable and always aim to assist them with their health needs in an efficient manner."
The machine is in the King Hall lobby, next to Starbucks at Café 84.