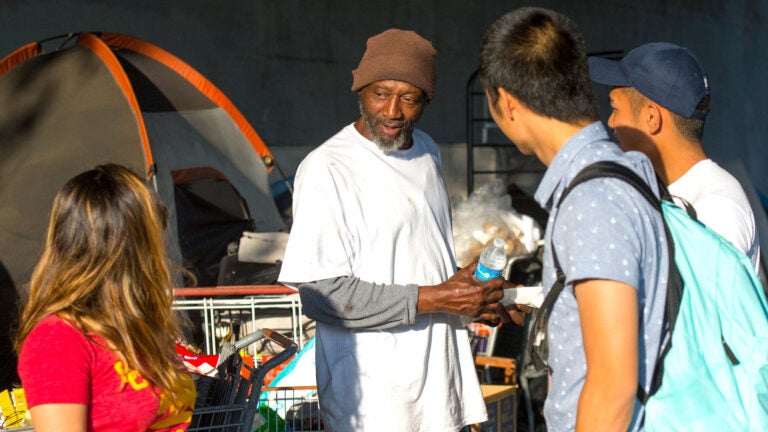 ???? Students' Share a Meal club makes a difference by feeding the homeless
Twice a week they hit the streets, handing out burritos and making friends
[soundcloud url="https://api.soundcloud.com/tracks/273878379″ params="auto_play=false&hide_related=false&show_comments=true&show_user=true&show_reposts=false&visual=false" width="100%" height="450″ iframe="true" /]
On a recent Wednesday night, about a dozen USC students gathered next to an orange food truck off Hope Street in South Los Angeles.
They took turns hopping inside and rolling burritos, which they'd spend the next hour handing out to homeless people who live in the area.
It's part of Share a Meal, a USC Club that's connected to an L.A. nonprofit called Khalsa Peace Corps, which runs a program of the same name.
This night they'll be focused on South L.A., a route they started about a year ago.
"The people in the areas we go to tonight – they're not used to having people come hand out meals," said club President Becca Hess, a senior biology major, noting there aren't as many resources in South L.A. as there as on Skid Row. "We really went out of our way to find areas of homeless people where they don't have a program in place for feeding them."
Hana Yokoi, who graduated from USC this year, started the university chapter two years ago.
Big draw
It started out as a once-a-week outing with the nonprofit in Downtown Los Angeles, Yokoi convincing a few friends to do it with her. But then word spread and her club grew. Now it has 150 members.
"I didn't think anyone would want to come volunteer on Friday nights. No one at USC would care about that," she said. "I was wrong. Clearly."
Some nights they have as many as 50 students come out to help – but summers are hard, cutting their volunteers by half or more.
On Wednesdays they stay within about a mile of campus, stopping at three locations, such as under the 110 Freeway off 39th and Figueroa streets.
That's where Mary Morgan lives, in a tent in a freeway underpass. She was happy to see the group.
"It's great," she said. "It might help some people to wake up. You never know. We all need help down here."
Los Angeles County has roughly 47,000 people living on the streets, according to the Los Angeles Homeless Services Authority, many in tents like Morgan. She's been on the streets 16 years.
[new_royalslider id= "127"]
She said she hopes that the experience shows students that a person's circumstances aren't simple.
"Everything changed for me when my family started falling apart – dying, losing homes, no money, no jobs," Morgan said.
A positive experience
Hess says response has been overwhelmingly positive, with many forming relationships with the volunteers who come week after week – even during their spring break and summer off.
"I think it's really nice for them to be able to talk to us and be able to share their experiences with us and it also gives an insight to how insanely hard their lives are," Hess said.
But there are a few that are skeptical that a vegetarian burrito will be satisfying. Usually one bite changes their minds, the group says.
One of those skeptics was Tony Dennis, homeless nearly a decade, who said he was down for a burrito, but with meat.
But once he heard they were Indian-inspired – beans slow-cooked in masala sauce with rice, cilantro and onions – he changed his mind.
He liked what the students were doing and hoped maybe their service could change the minds of people who don't interact with the homeless.
"I think that's beautiful," he said. "We need to eliminate a lot of prejudice … If we can get everybody around this world, the whole continent, to come together and realize — we're all human beings."