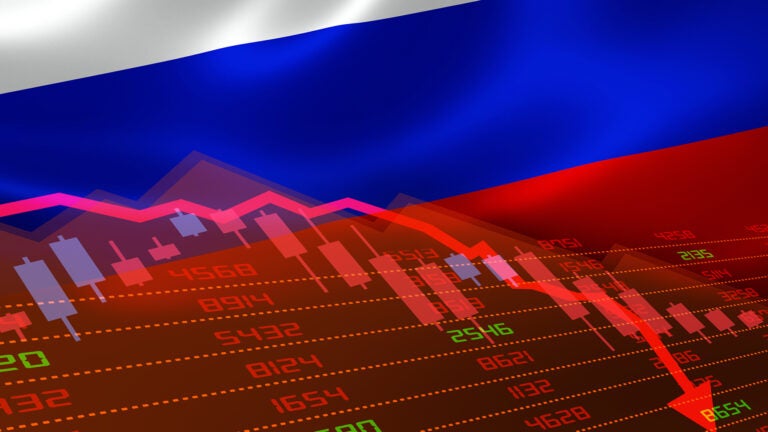 Technology, nuclear power are driving issues in the Russia-Ukraine war
USC experts discuss how tech-driven globalization and energy are front and center in Russia's war on Ukraine.
The Russian economy was crushed in the span of a week. Europe is questioning its reliance on Russian oil and gas. Meanwhile, nuclear plants across Ukraine have been vulnerable to Russian strikes and potential disaster.
The repercussions of Russia's war on Ukraine are rippling out far beyond the combat zone due to the world's highly interconnected economy and energy needs.
The world's advantage over Russia: Fintech
For example, so-called "fintech" — or financial technology — may be one of Putin's worst enemies. The international response to the Russian invasion included a rapid shutdown of Russian banking around the world and exclusion from the SWIFT electronic payment system, forcing the closure of the country's stock market.
Combined, trade sanctions and financial measures have tanked the Russian economy.
"Without access to SWIFT, a Russian importer of American computers can no longer pay the American exporter. Likewise, a Russian importer of French wine can no longer obtain a letter of credit from a Russian bank to provide his French supplier to guarantee the delivery of the wine," said Rodney Ramcharan, a professor of finance and business economics at USC Marshall School of Business.
Ramcharan said the disruption will drive up inflation in Russia and hurt its ordinary citizens.
The Russian advantage: Oil and gas
Russia's expulsion from the financial world may have been swift, but the energy sector remains tethered to the country's oil and gas supply. Several European countries depend on Russia for 40% of their gas, diminishing their clout when it comes to calling for an end to the conflict.
"Germany's dependence is even higher at over 60%," said Shon Hiatt, an expert on oil, gas and other energy industries and an associate professor of business strategy at the USC Marshall School.
Before the invasion, demand for oil was already outpacing supply with prices on the uptick. Now, they are soaring. Hiatt said experts are watching for other signs of trouble in the oil and gas sphere, such as damaged pipelines through Ukraine or a slowdown in Russian shipments of oil by sea.
In a worst-case scenario, "Putin could cut off gas supplies to Europe completely. Europe might need to turn to petroleum distillates and gases such as butane and propane for its energy needs, which would further increase the global price of petroleum," Hiatt said.
Hiatt pointed out a possible backup plan: Nearly two dozen European countries have import terminals for liquefied natural gas, and the United States and Qatar have spare capacity to send more LNG supplies.
"Europe has enough gas to make it until summer," Hiatt said. "However, it would need to find alternative supplies to restock for the next winter.
"In the long term, there needs to be a refocus on energy independence with a priority on sources such as domestically produced methane, nuclear, hydropower, geothermal and electrical energy storage."
A different sort of disaster
Ukraine's other source of energy — nuclear power — poses a different kind of danger.
Najmedin Meshkati, a USC Viterbi School of Engineering expert on nuclear plants, is worried about what could happen in the event of widespread power failure. He was among the researchers who assessed what went wrong after the Fukushima Daiichi nuclear disaster in 2011 and after the Chernobyl meltdown in 1986.
"My biggest fear is not the accidental shelling of a reactor or spent fuel pool, but the loss of offsite power due to transmission grid power failure," said Meshkati, a professor of civil engineering and industrial and systems engineering. "This could force reliance on fuel-hungry, gas-guzzling emergency diesel generators, which are highly unreliable and finicky. This vicious cycle could lead to station blackout — not having circulation in the spent-fuel pool is what happened in the Fukushima Daiichi disaster. This was barely prevented at Ukraine's Zaporizhzhia plant."
Meshkati said that nuclear plant maintenance and operations in Ukraine were often in question even before the invasion.
"My biggest concerns about Ukraine's four nuclear power plants — concerns I've always believed and preached — stem from a culture of secrecy and lack of cooperation," he said. "Now, in light of this unfolding tragedy in Ukraine and its potentially dire consequences, I believe that war could trigger nuclear disaster."