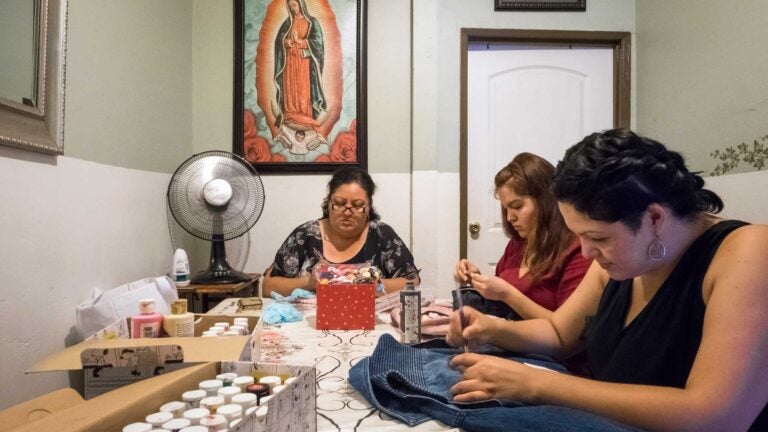 Teen entrepreneur gets down to business, with help from USC neighborhood programs
Ximena Salas' clothing company Mis Raíces is making a statement in the Latino community — just like its founder, who one day hopes to be a Trojan
[new_royalslider id="188″]
A few months ago, Ximena Salas grabbed a corduroy jacket from her closet and stitched a phrase on it. "International Women's Day is everyday," it read. She worked late into the night to have it ready to wear to school the next day.
"It felt cool to wear something I felt vocal about without having to say anything," said Salas, a rising junior at Foshay Learning Center in South Los Angeles.
"At first there was a lot of joking and teasing from the boys at school, but then it did open a conversation between the girls," she said. The boys were saying "women's rights are a joke." The girls thought adults might write off those comments as teasing, but by letting it go, they were enabling it.
"That's when I realized I could use it for my community," she said.
And now that idea is a company called Mis Raíces — "my roots" in Spanish. Salas embellishes upcycled clothes with different issues and symbols important to Latinos and Latinas to increase awareness about issues such as education, women's rights, rock en español and the environment. Eventually she wants it to be a social enterprise, hiring older women in the community to make the clothes.
"In the Latinx community, it's a big tradition to learn to sew and knit at a young age," said Salas, 16. "To use that to their advantage, I would give them a platform and an income."
She's won two startup competitions this year — first place in her Foshay business class, which allowed her to compete regionally, where she nabbed second. She will compete in October in New York City, with the chance to win $10,000 in seed money for her company.
The competitions are part of an entrepreneurship curriculum from the nonprofit Network for Teaching Entrepreneurship (NFTE), one of the organizations that receives a grant from USC's Good Neighbors program.
"She blew everyone out of the water," Foshay teacher William Stahura said, noting usually seniors win the class competition.
Bootcamp and business
NFTE — through its USC grant — funds and trains Stahura and provides a one-year, project-based entrepreneurship curriculum for Foshay sophomores, showing them how to start a business. Salas was in that program, and also completed an eight-week NFTE boot camp called Startup Summer at USC that wrapped up Wednesday.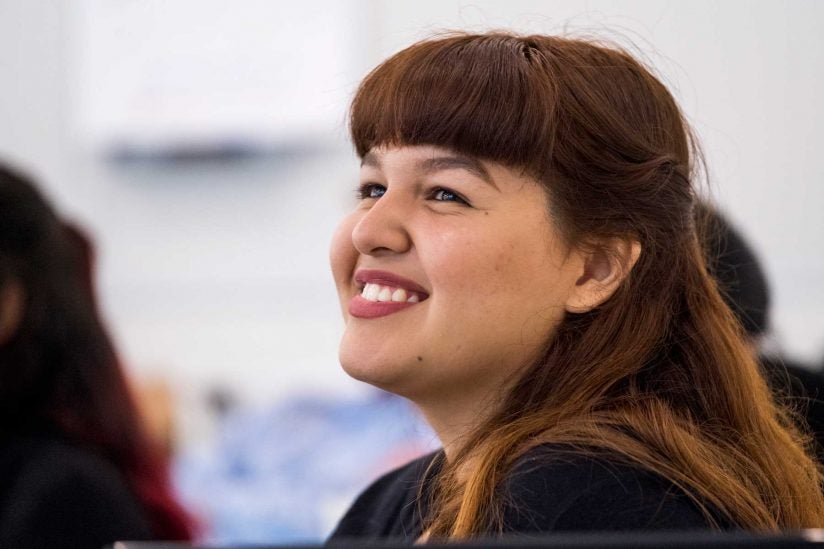 At the boot camp, about 20 students hung out in Fertitta Hall, hearing motivational talks from entrepreneurs and taking part in hands-on workshops — some from USC alumni — to learn tools and skills, such as designing chat bots and learning how to monetize a website. On Fridays, they would go on field trips to companies such as Uber and Snack Nation.
"If I hadn't been involved in NFTE, I wouldn't have thought of making it into a business," Salas said.
Salas said the free summer program got her to understand "in depth as to what an entrepreneur has to do day-to-day," feeling inspired by speakers who spoke on environmental sustainability and email marketing.
On a recent day, Salas was in the front row, wearing a prototype from Mis Raíces — a pair of light denim jeans with felt cutouts of people stitched along the sides. Salas told the story of those people.
"In 2014, there were 43 students in Mexico that were kidnapped and they never found them. They were college students," Salas said, who came to L.A. from Mexico when she was 4. "It happened before, I think in 1968. It's a reoccurring theme — the oppression of education."
Information and resources
When people buy her clothes, she plans to give information and resources on how to learn more and how to help.
NFTE is about promoting entrepreneurship and business skills at a young age in under-resourced communities, such as South L.A. It was started by a math teacher in the Bronx, who wanted to bring the hustle and drive they took to the streets into the business world. NFTE has entrepreneurial curriculums in 20 Los Angeles Unified School District schools and trains 32 teachers, reaching about 2,300 students. Stahura said some of his students who excel in the NFTE curriculum aren't traditional high achievers: They might have 2.0 GPAs or lower.
"It taught them, 'Just because I have a 2.1 GPA doesn't mean I can't do something, because all these professionals are impressed with what I said'," Stahura said about the impact of the pitching competitions. "It's very easy to say they should get a good GPA, but you have to get the students to understand why education is important and how it applies to their life."
Startup Summer also familiarizes students with being on a university campus, when they might not have pictured themselves in higher education.
Students live down the street and are like, 'I'll never go to USC.' When they come here they're like, 'Maybe I could.' The mindset changes.

Bracy Fuentes
"It makes it an accessible idea," said Bracy Fuentes, a USC alumna who oversees NFTE's L.A. programs. "Students live down the street and are like, 'I'll never go to USC.' When they come here they're like, 'Maybe I could.' The mindset changes."
For Salas, being at USC is familiar. She's been at the university every weekend for the past five years as part of USC's Neighborhood Academic Initiative. If students stay with the program for the full seven years and accepted to USC, USC will pay for their education.
Her plan is to be a Trojan — she'd be the first in her family to attend college — and to continue supporting her neighborhood. Mis Raíces will start as an online retailer — Salas' dream is to bring a brick-and-mortar to South L.A.
"I understand sometimes your community isn't always your target market, but bringing your target market to your community — it helps broaden their perspective and it helps my mission and what my company stands for, which is bringing awareness," she said.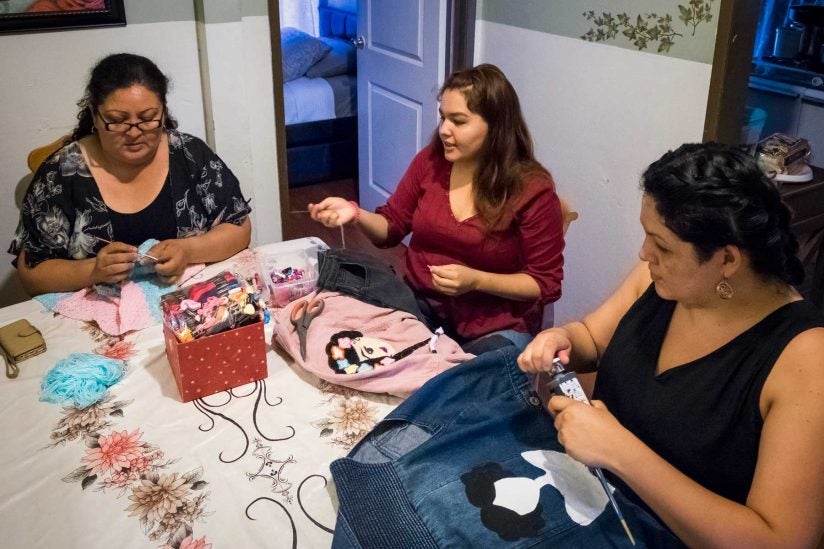 Family help
For now, her family is a big help in getting her business off the ground. Her aunt, her aunt's friends and her mom all help her put prototypes together — helping her research issues, search for clothes at thrift stores and figure out how to express her ideas artistically on the clothes.
"She's incorporating … a tradition from our country — it's a tradition to embroider, paint and sew — but she does it to communicate what she sees happening in the world," her mom, Beatriz Silva, said in Spanish.
On a recent Friday they huddled around a dining room table at her aunt's house off West 31st Street. A fan blared during the hot August morning as she, her aunt and her mom got to work — her mom painting Frida Kahlo on a jacket, Salas stitching letters on pants and her aunt knitting.
"The statement I'm trying to make with the jeans is the large percentage of illiteracy in Latinx countries," Salas said as she sewed random letters onto the pant pockets.
She said she bonds with her family and the elders in her community over these issues because they're not new — often spanning generations.
"It's still going on, but younger people want to do something about it. It's encouraging," she said."It's bringing generations together for a common goal to bring awareness to these issues."