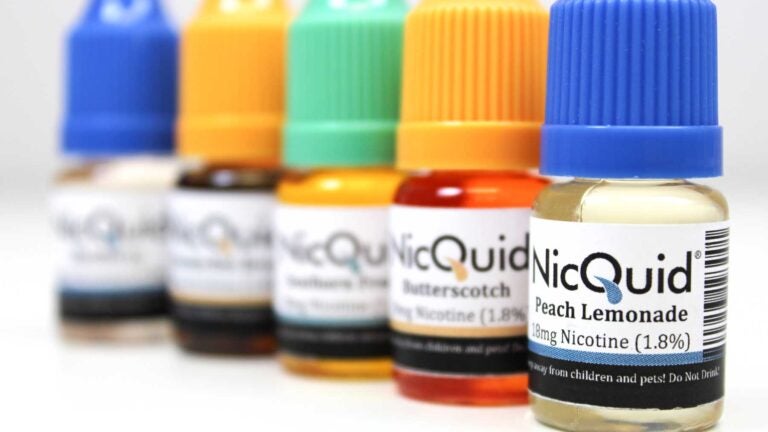 Teens who vape higher doses of nicotine are more likely to become regular smokers
Nicotine is extremely harmful to the developing adolescent brain, USC study finds
Even if it tastes like Gummi Bears and is inhaled as smoke-free aerosol, vaping a higher concentration of nicotine may increase how often teenagers use electronic cigarettes or smoke traditional cigarettes, according to a Keck School of Medicine of USC study.
This is the first study to evaluate the association of e-cigarette nicotine concentration with future smoking and vaping behavior in youth, researchers said.
"We know that smoking is one of the most dangerous things that you can do for your health, especially if you begin during adolescence," said Adam Leventhal, corresponding author of the study and director of the USC Health, Emotion and Addiction Laboratory at the Keck School of Medicine. "Because nicotine has mood-elevating and addictive effects, teens who use e-cigarettes with stronger nicotine concentrations may be less willing to stop vaping and be more inclined to use other nicotine products, like conventional cigarettes."
The study, published in JAMA Pediatrics on Oct. 23, found that 43 percent of high school students who used high-nicotine e-cigarettes (18 milligrams per milliliter or more) at the start of the study were "frequent smokers" at the follow-up six months later, meaning they smoked traditional cigarettes at least three times in the past month. Only 10 percent of those who used low-strength e-cigarettes (1-5mg/mL of nicotine) and 6 percent of those who used nicotine-free e-cigarettes were frequent smokers at the follow-up.
In comparison to teens who vaped nicotine-free e-cigarettes, those who vaped high-nicotine e-cigarettes smoked 14 times as many cigarettes per day, which translates to multiple cigarettes per day on average.
"We know that teens who vape e-cigarettes are much more likely to become conventional cigarette smokers," Leventhal said. "Our study suggests that the nicotine in e-cigarettes may be a key reason why teens who vape progress to more frequent smoking."
Tobacco use is the main cause of preventable disease, disability and death in the United States, according to the Centers for Disease Control and Prevention. Nearly 40 million adults in America smoke conventional cigarettes, and about 4.7 million middle and high school students use at least one tobacco product, including e-cigarettes. Every day, more than 3,800 people under 18 years old smoke their first cigarette.
Nicotine is highly addictive and may harm the developing teenage brain by increasing the risk of attention problems and depression, Leventhal said.
"While previous research reported that most adolescents were using nicotine-free e-cigarettes, results from our survey and other soon-to-be published studies show that many more teens are vaping e-cigarettes with nicotine than we originally thought," said Leventhal, associate professor of preventive medicine and psychology at the Keck School of Medicine. "Our study indicates that teens who vape more nicotine may be at greater risk for critical adverse health effects like becoming a regular smoker of conventional cigarettes and becoming a regular user of e-cigarettes."
Students from 10 Los Angeles high schools
The study included surveyed answers from 181 students at 10 high schools in Los Angeles. Initial data was collected in the spring of 10th grade. Follow-up survey data was collected six months later in the fall of 11th grade. The use of e-cigarette liquid with high concentrations of nicotine was associated with increased and more frequent use of both e-cigarettes and regular cigarettes.
E-cigarette liquids are sold in nicotine concentrations ranging from 0 mg/mL to more than 25 mg/mL, the study reported. In the student survey, nicotine concentration was categorized as none, low (1-5 mg/mL), medium (6-17mg/mL) and high (18 or more mg/mL).
For each level up in nicotine strength, participants were two times more at risk of smoking three days or more in the month preceding the follow-up.
USC is devoted to promoting health across the life span. Previous e-cigarette research led by Keck School of Medicine researchers found that teens who are unlikely to have smoked cigarettes if e-cigarettes didn't exist are now vaping and that teens who vape are at increased risk of becoming conventional cigarette smokers. These studies raise concern whether e-cigarettes may slow the nationwide nosedive in tobacco use, possibly as a result of increased e-cigarette use among teens, Leventhal said.
"It's feasible that youths who vape go on to smoke conventional cigarettes because they get used to the act of inhaling something and the sensation they get in their lungs even if they vape nicotine-free e-cigarettes," Leventhal said. "This study suggests that nicotine may be integral to transitioning from vaping to smoking in teens."
Further research with a larger sample size is needed to clarify whether nicotine concentration causes smoking, increased vaping and subsequent nicotine dependence among youth.
Nicholas Goldenson, Matthew Stone, Rob McConnell and Jessica Barrington-Trimis from the USC Tobacco Center of Regulatory Science for Vulnerable Populations at the Keck School of Medicine also contributed to this study.
The study was entirely supported by federal grants from the National Institute on Drug Abuse, the National Cancer Institute and the U.S. Food and Drug Administration in grants amounting to $14.4 million (R01-DA033296 and P50-CA180905).