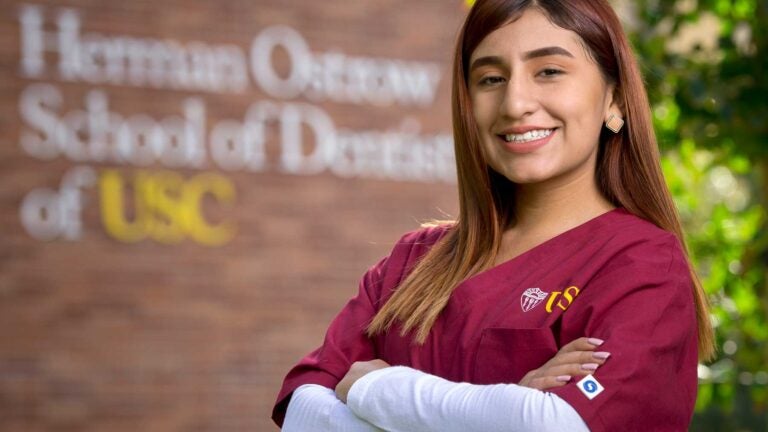 Los Angeles teen dreams of dentistry and USC
Former TRiO student Rosalinda Larios faces intense competition, but she's determined to beat the odds
At 16, Rosalinda Larios could identify a mandibular bicuspid from a maxillary lateral incisor. By her senior year at Washington Prep High School, she had assisted dentists on dozens of complicated dental procedures.
She's is currently taking general education courses at Los Angeles Southwest Community College, but she'll enroll at USC for the spring semester in January. She'll take anatomy, molecular biology, calculus, nutrition and 3-D graphic imaging — prerequisites she needs to enter the Herman Ostrow School of Dentistry of USC's Dental Hygiene program.
She dreams of being admitted to the school's elite Doctor of Dental Surgery (DDS) program, something few can achieve. Nearly 3,000 candidates applied for just 144 spots in the current first-year DDS class. But in her quest to become a dentist, Larios has enjoyed an early advantage.
The path to becoming a dentist
Growing up in South Los Angeles, the daughter of Mexican immigrants enrolled in TRiO Upward Bound, a program now in its fourth decade at USC.
It meant three years of weekly Saturday academies and residential summer institutes at USC. She also worked year round.
One day, USC TRiO adviser Christopher Washington told her about a new dental assistant training program designed to expand the high school experience to include relevant job-ready skills in a pipeline dentistry program for underserved high school students. At first Larios wasn't interested, because she wanted to be a veterinarian, but she gave it a try. She soon developed a passion for dentistry.
The USC Concurrent Enrollment Dental Assistant Certificate Program brought Larios and some 40 other teens — all students from 13 TRiO-affiliated area schools and the USC Family of Schools — to USC every Monday and Wednesday night for college-level courses in radiography, infection control and practice management. In Saturday lab classes at partner community colleges, the students practiced X-raying the mouths of mannequins and sterilizing drills, probes and scalers.
It was a serious time commitment, and only half of the participants made it to graduation. Larios was among them.
She's an outstanding young woman.

Theda Douglas
"She's an outstanding young woman," said Theda Douglas, associate senior vice president for government partnerships and programs, who oversees USC TRiO and many other school-based community outreach programs. "The dental assistant certificate program is unique. It has augmented self-esteem in many youth in the program and has given them career options that have created a new world of experiences for their future."
Taking care of the community's teeth
The final requirement to earn the certificate called for Larios to log four hours in a working dental practice. Her family dentist, Miriam Romero, agreed to supervise Larios. Impressed with the teenager's skills, she invited Larios to come back as a volunteer intern. By February 2016, she was working as many as 20 hours a week in Romero's office as a paid dental assistant.
After sterilizing tools and exposing X-rays, Larios quickly advanced to passing instruments and mixing amalgam during procedures. She even got trained in making dental impressions.
"I really like learning new techniques," said Larios, who assisted on about 40 procedures, including complicated root canals. "Those take a very long time. Sometimes my back would start hurting."
The best part of the job was the satisfaction of helping people in distress.
I felt like I was there for the patients. I helped them get better.

Rosalinda Larios
"Sometimes patients would come in crying, 'Oh, this tooth hurts.' But they left with a smile. And that made me feel good," she said. "I felt like I was there for the patients. I helped them get better."
Larios worked as a dental assistant for more than a year. Her afternoons were hectic. She'd dash home when school let out, quickly change into her scrubs and head over to Romero's office. On Saturdays, when her TRiO academy schedule permitted, she'd put in an eight-hour shift, assisting on as many as five procedures a day.
Welcome to the Trojan Family
Along the way, the USC TRiO team provided support and encouragement.
During her senior year, the team coached Larios, a first-generation student, through the college application process. She couldn't believe her good fortune when she was admitted to her dream school. All her friends had already received USC rejection letters when a big yellow carton showed up in the family's mailbox.
"I opened it and it said: 'Welcome to the Trojan Family.' I started crying and jumping on my mother and my brothers."
The euphoria faded when Larios' financial aid package arrived. "It said I had to pay $16,000 per semester. That might not be a lot to other students, but it is to me and my family," she said.
Larios' dad supports the family of six on a trucker's salary. Rosy Larios was contemplating an offer from the University of California, Davis when Douglas and TRiO program assistant Pablo Escobar stepped in. They helped her identify, apply for and receive several scholarships. But it still wasn't enough.
So they helped her appeal her financial aid package.
"Everyone got together from TRiO Upward Bound to help me," Larios said. "They went with me to the USC financial aid office. We showed them my dad's bills, mortgage payments and tax returns."
A revised financial aid package had Larios owing just $1,000 a semester.
"That is something I can definitely work with," she said. "I'm really grateful."