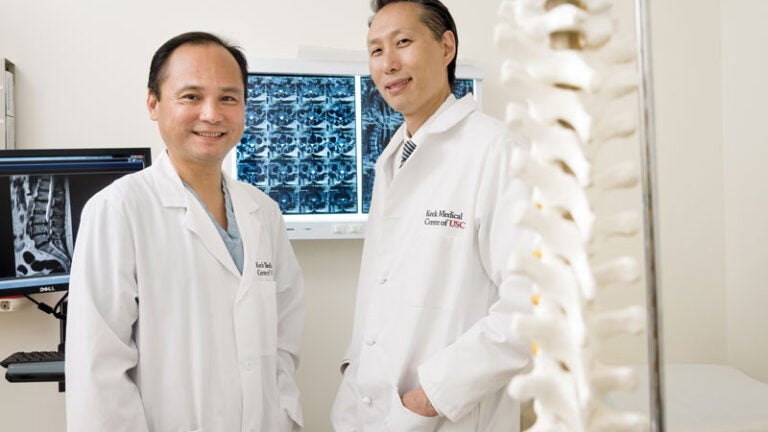 For Back Pain, These Doctors Start by Staying Away from Surgery
Neurosurgeons, orthopaedists, physical therapists and other experts at USC team up to ease spinal pain.
The pain and numbness in Elena Blankevoort's legs got so bad she stopped doing the everyday tasks others seem to take for granted. Bending at the waist became excruciating, so gardening was out of the question. Lifting and pushing things became so difficult that she avoided going to the supermarket and cleaning the house.
As she underwent tests ordered by six different specialists, the pain in her legs grew more intense, but a diagnosis evaded her doctors. Then she was referred to Frank Acosta, a neurosurgeon at the USC Spine Center of Keck Medicine of USC. He spotted her problem right away.
A series of incorrectly performed spinal fusions, done about 10 years ago, was causing gradual and debilitating pain and numbness in her legs, Acosta told her. "I could not believe that he figured it out so fast," says Blankevoort, of Monrovia, Calif., who had reconstructive spine surgery.
At the USC Spine Center, she found a group of doctors both with uncommon experience and a unique approach to spinal care: The physicians want to do less, rather than more, when it comes to invasive procedures. Orthopaedic surgeons and neurosurgeons at the USC Spine Center work alongside physical therapists, occupational therapists, rehabilitation physicians, radiologists, psychologists and physician assistants as a team to seamlessly offer a host of possible solutions—not just surgical ones—for patients.
USC orthopaedic surgeon Jeffrey Wang understands that even when spine surgery is appropriate, no one wants to undergo a procedure. "I let patients know I'd never want someone to operate on my spine unless they have exhausted all conservative treatments. But when conservative treatment fails, surgery may be the best option," says Wang, who left UCLA and joined Keck Medicine of USC in September as a professor of orthopaedic surgery and neurosurgery and co-director of the USC Spine Center.
John Liu, co-director of the center and professor of neurosurgery and orthopaedic surgery at the Keck School, agrees that surgery should be the last resort. "We don't operate on the majority of the patients that we see," Liu says.
A TEAM APPROACH
Back problems, which range in severity from lower back pain to severe spinal deformities or spinal cord injuries, can sideline people from life. People with back pain often miss days at work or stop seeing their family and friends. These hits to work, financial and social life can lead to other long-term problems, such as depression. So the Keck team strives to get to the bottom of the pain, even when others haven't.
Sometimes the most effective healing happens away from an operating room, says Wang. For some patients with chronic pain, Wang offers tough love mixed with encouragement: Quit smoking and get of the couch, for starters. He relishes each patient who gets better by committing to a more healthful lifestyle.
Liu says having a multidisciplinary group of medical professionals at their disposal creates an uncommon opportunity for both the surgeons and their patients. "When we think there is a chance a person could improve through medications or exercise, we have people right here for them to see," Liu says. The Keck team starts with the gentlest of possible solutions and gradually works up to surgery only if simpler treatments fail.
The group comes together to discuss relevant research or a program for a particular patient, explains Jeremy Smith, one of the orthopaedic surgeons at the USC Spine Center. "A collaborative effort is good for the patients, and the type of collaboration we have built is proving to be the optimal arena for both research and patient care," Smith says.
KINDLER, GENTLER SURGERY
Liu knows a little something about taking the gentlest approach to surgery possible. He began performing what are called minimally invasive spinal surgeries—in which surgeons operate through small incisions in the skin and disrupt as little healthy tissue as possible—more than 10 years ago at Northwestern Memorial Hospital in Chicago, where he first worked with Acosta. The two surgeons, both originally from the Los Angeles area, embraced the techniques while much of the profession was still skeptical that they were anything more than a fad.
"A lot of people called it gimmicky in the beginning, but it is here to stay because the techniques are getting better and better," Liu says.
The results speak for themselves. Minimally invasive spinal surgeries pose less risk of complications, and patients recover more quickly than those who undergo traditional surgery. "The surgeons at the Spine Center prefer to use less invasive techniques whenever possible to decrease pain and facilitate a faster recovery," says Wang.
Unfortunately, some procedures can only be performed through traditional, open surgery, and some patients have such severe problems that open surgery is their only option. But even for the toughest cases, surgeons at the USC Spine Center are finding ways to improve outcomes.
PUSHING TREATMENT FORWARD
Both Liu and Acosta joined Keck Medicine of USC from Cedars-Sinai in Los Angeles in February. Part of the draw, says Liu, was the opportunity to collaborate with other researchers at USC. Another attraction was working alongside the team of surgical veterans at the USC Spine Center, which includes neurosurgeons Tomas Chen and Patrick Hsieh and orthopaedic surgeon Mark Spoonamore.
For Wang, the decision to leave UCLA after 23 happy years was difficult, but USC's energy and aspirations drew him across the city. "At USC, they're supporting initiatives to improve patient care, and they help us as physicians accomplish what we want for patients," Wang says. "I'm getting to understand this whole 'Trojan Family' thing."
The research potential at USC also excites the physicians. Science will be critical to improving treatments for spinal problems, according to both Liu and Wang. Both see promise in stem cell research and in collaborating with the staff at the Eli and Edythe Broad Center for Regenerative Medicine and Stem Cell Research at USC. Already, scientists around the world are studying the potential of stem cells to regrow cells damaged in spinal cord injuries.
"I do not expect us to be doing things in the same way five years from now," Liu says. "I expect things to advance, and I believe we are going to be part of that."
Says Wang: "You're going to see good cutting-edge research coming from USC."
A LAST, BEST HOPE
The surgeons and staff at the USC Spine Center are often the last stop for people with failed surgeries. And many patients come to USC after other doctors turned them away.
"When we operate, they leave here thankful that someone was finally able to do something for them," says Smith. "That's why we do this job."
And that is why Acosta smiled so broadly when Blankevoort walked into his office a few weeks after her surgery, standing taller than she had in years. The numbness in her legs that nobody else could diagnose is receding more quickly than Blankevoort expected. She's eager to go into physical therapy—and anxious to get back into her garden.
The USC Spine Center has appointments at Keck Medical Center of USC as well as at Keck Medicine of USC sites in Beverly Hills, La Cañada Flintridge and Pasadena. Call 1-800-USC-CARE for an appointment.