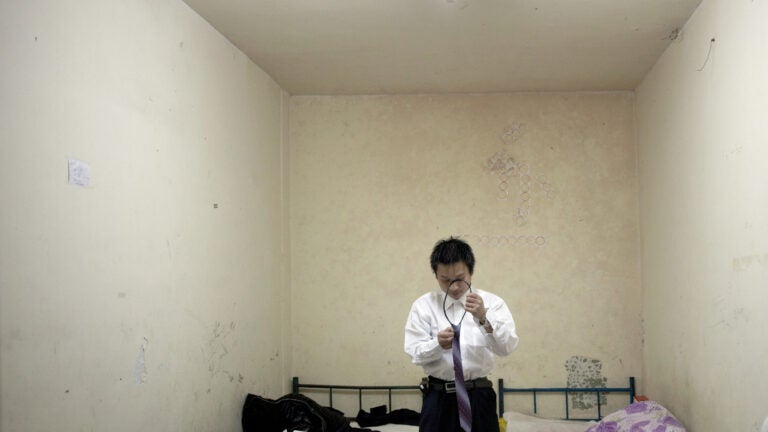 The city of the future could lie below your feet
USC Price professor Annette Kim studies Beijing's underground housing market — a possible sign of things to come
[new_royalslider id="28″]
Think affordable apartments are hard to find in LA? Try searching in Beijing.
And then try searching under it.
Urbanization researcher Annette Kim spent last year in China's capital, where she studied an overlooked side effect of the country's rapid growth: Hundreds of thousands of people are living in makeshift, underground housing. Some are in basements; many are one or two floors below street level, in windowless rooms honeycombing the bomb shelters that every building is required to have.
There are no precise figures on the number of people living in those underground spaces. Estimates have ranged from 200,000 to 2 million, said Kim, an associate professor at the USC Sol Price School of Public Policy. She said 1 million is probably a good guess.
With underground space required for every new building, the number of such rentals has grown during China's vast construction boom. In an article recently published in the Lincoln Institute of Land Policy's magazine Land Lines, Kim reported some complexes have as many as 600 units below street level.
No one has done a really systematic look at this underground housing.

Annette Kim
"No one has done a really systematic look at this underground housing," Kim said. "People know it's there, but it was eye-opening because no one has gone down and looked. They're everywhere — they're under universities."
Mapping rentals
Kim and a team of Chinese researchers turned to online apartment listings to map out the number and variety of rentals available under Beijing. They collected more than 7,000 online ads between 2012 and 2013, analyzing some 3,677 underground housing spaces among them. They parsed the data by size, cost and amenities. The median size was 9.75 square meters (about 105 square feet), just under Beijing's 10-square-meter minimum. That's bigger than the average worker dormitory housing of only 6.2 square meters (about 67 square feet).
Because landlords who advertise online are typically more educated and have better resources, the rentals Kim studied were believed to be on the higher end of underground options. The mean monthly rent was 436 renminbi (U.S. $70), while a 2012 government study found 48 percent of Beijing's migrant population pays less than 300 renminbi per month (U.S. $48).
It's tempting to think of these living conditions as substandard — and, to be sure, many of them were. But Kim noted that there was a wide range in quality, with her team finding some rentals that were relatively desirable. More than half of the advertised units had internet access, and about a quarter mentioned security cameras. Most were near public transportation. The tenants included waiters, store clerks and even interior designers.
"It's sort of middle-quality, migrant housing is what I found," Kim said. "We have this image of rat holes, but some are brightly lit and clean. The main thing is that being in the city center is so valuable to people. You have less commute time, and can even hold two jobs because of it."
Life cycle housing
Kim plans to publish more data from her research in future journal articles, and hopes to further explore the use of this kind of housing. One possibility, she said, is that these units represent life cycle housing, with tenants made up predominantly of younger people just getting their start in the big city.
She also hopes to present her data at a Chinese planning conference to drive discussion around housing policy. Currently, the vast majority of underground tenants are living there illegally. Policy officials are just beginning to talk about how to cope with that.
Beijing's underground housing exists in large part due to policies falling behind reality. The requirement to provide air raid shelter space is a holdover from the 1950s; so is hukou, a household registration permit assigned to citizens by a central planning authority. Having Beijing hukou entitles citizens to the city's educational and health services as well as housing programs.
In the '80s, the Chinese government encouraged the development of subterranean apartments as a solution to scarce housing. But as the economy boomed, so did the number of migrants drawn to Beijing's jobs and educational opportunities. Roughly 23 million people live in the wider city area now, about 40 percent of whom are estimated to be migrants without hukou.
"With the opening of the economy, people have rushed to live in the big city," Kim said. "Migrants have provided low-cost labor because they have no entitlements. That's helped to fuel China's economic growth."
That situation isn't sustainable. As people's income grows, they will begin to demand entitlements along with better living and working conditions, Kim said.
Similar problems elsewhere
Beijing's situation mirrors that of other megacities struggling to adapt to growing populations. Singapore, a small island nation with less land area than New York City, has begun to look below ground for undeveloped space. In Mexico City, an architectural firm has proposed building a subterranean "earth-scraper" as opposed to skyscrapers. A conversation is starting about what underground city planning looks like, Kim said.
Maybe this is a part of urbanization we just haven't been recognizing. Where's the space for immigrants?

Annette Kim
And what's true for them is true in a metropolis like Los Angeles. With limited space, people are building in-fill housing in backyards and garages. A key concern around the world is immigration: when cities are planned, the living space for immigrant populations is often overlooked.
"Maybe this is a part of urbanization we just haven't been recognizing. Where's the space for immigrants?" Kim said. "I think we need to wake up to the reality that people are here, and our planning needs to be inclusive of that reality."