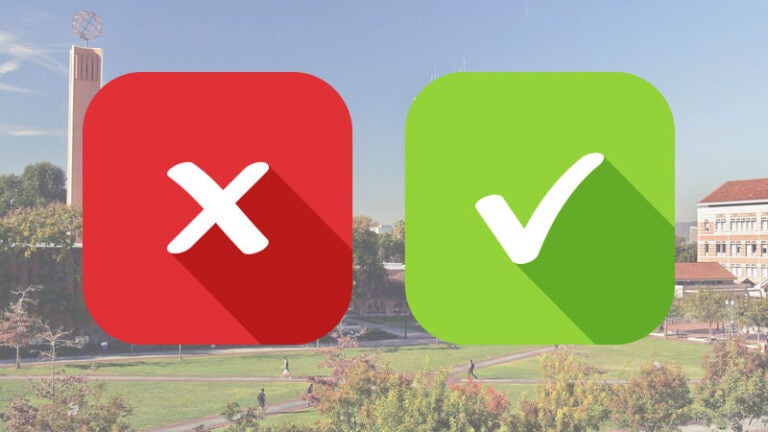 The Do's and Don'ts of Applying to College
USC Admission staffers share tips to help your college application stand out — for the right reasons.
We get it: Applying to college can be nerve-wracking. What's the secret to showcasing your strengths? What's the best way to write a personal statement? How do you impress recruiters without inflating your accomplishments?
To get insider advice about college applications, we went straight to the pros: USC's admissions counselors and reviewers who receive thousands of student applications every fall. These real-life recruiters have seen it all and they have a few tips to help you showcase your best on your college application.
This story was updated on Nov. 3, 2020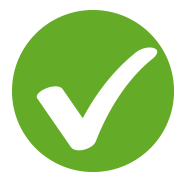 DO'S
Be authentic and show your personality.
"I want to hear your voice," says Joe Beltran '07, MEd '13, associate director at the USC Admission Center. Your essay doesn't have to be about a dramatic tragedy or life-changing triumph to impress reviewers. "Don't linger on what you think college admission officers want to read. This can cause unnecessary stress," he says. Instead, spend more time reflecting on the application questions that feel the most meaningful to you.
Know your USC program.
Admissions officers would rather see thoughtful statements than generic answers that could be copied and pasted on any college application. Explain why you chose your major and why you want to attend USC. "It's not a test of how well you can regurgitate our marketing material," says Kirk Brennan, dean of undergraduate admissions. "Instead, help us understand your hopes, dreams and motivations and how we can support those."
Make your essays easy to read.
Avoid writing in one single-block paragraph whenever possible. Real people — not robots – will be looking at your application, so consider writing answers in a way that's easy on the eyes. Remember also to spell out acronyms and abbreviations for school clubs and programs so there's no confusion as to what you've done in high school.
Highlight different aspects of your personality and interests.
With a combination of essay and short-answer questions, the application gives you plenty of opportunity to write about yourself in different contexts. Let reviewers get a fuller picture of you and your passions by trying to pick different topics, activities and interests for your answers.
Make sure you're reviewing colleges, too.
"The college application process is a two-way street," says Tim Brunold, dean of admission. "We invite students to put us through the paces and also evaluate us just as closely." Do your research and make sure the colleges you're applying to have programs and a campus culture worth your consideration.
Be skeptical of claims from friends and social media about the application process.
If you have a question about your application, go straight to the source. While well-meaning friends and family may think they have the right information, times change and everyone's situation is different. Lean on friends and family for support and encouragement, but rely on university representatives and messages for accurate and up-to-date information about the admissions process.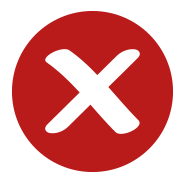 DON'TS
Don't misspell words or use sloppy grammar.
An application with an easily fixable mistake (or even worse, multiple ones) shows reviewers that you didn't put in the time required. Proofread every part of your application and consider getting another set of eyes to double-check it before you submit.
Don't pick a major because it will be "easy" to get into.
When students see that their dream program has more specific requirements than others, some figure they'll just apply to any USC program and then transfer to their dream major later. Here's the problem: You still might not get into that program when you're at the university. Portfolio and audition submissions are still required, and you risk having to stick to a major that you're not as passionate about for four years.
Don't assume academic disruptions due to COVID-19 will make you less competitive.
Admission officers know that many classes and activities are online or delayed indefinitely. Instead of docking students for things out of their control, recruiters will look at how students have coped with the impact of COVID-19 and how they've adapted to school policies. Take the opportunity to explain how the pandemic may have affected your transcript and activities in personal statements or in the special COVID-19 essay section.
Don't bother scrubbing your Instagram or Facebook trail.
Although students should always be thoughtful about how they represent themselves online, don't waste time cleaning up your online posts. Public information could be considered in the admissions process, but most staffers are far too busy to look at your pictures and posts on social media.
Don't add in extra essays.
The Common Application has an "additional information" section for students to mention items that haven't been included elsewhere in the application but are still relevant. Explain why you transferred high schools or had a temporary drop in grades, but this is not the place to put in another personal essay.
Don't rush your application.
Give it the time and care it deserves. Instead of tackling 20 applications, advises Beltran, "put your energy into five preferred schools."