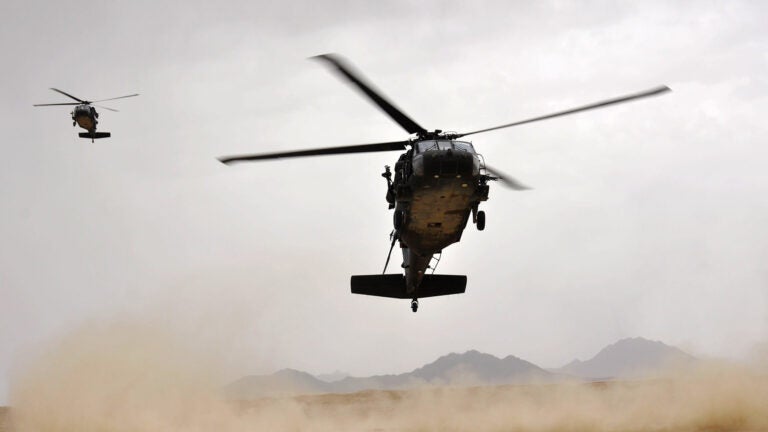 The military after 9/11: How wars impacted veterans' mental health and care
USC experts reflect on the reverberations of 9/11 and the end of the war in Afghanistan, including the impact on veterans and their mental health care.
Since America was shaken by terrorist attacks of 9/11, the U.S. military has fought in the longest conflict in the nation's history. That has left multiple generations of veterans suffering from PTSD and other health issues.
In prior wars, PTSD was not well understood, nor were treatments as widely available. USC researchers say they anticipate that the nation's military withdrawal from Afghanistan will not end the trauma, and they are continuing to look for new and better ways to help returning soldiers.
With Afghanistan, "we've never had something happen like this before," Carl Castro of the USC Suzanne Dworak-Peck School of Social Work says of the 20-year war. "There were fathers and sons, mothers and daughters serving in the same war. It's multigenerational.
"It connects back to what many experienced in Vietnam as well. Our nation is not used to losing war, and this is going to be a hard loss to take in many areas, many worlds."
Experts are still trying to help veterans impacted by the 1991 Gulf War and the 2003 invasion of Iraq.
Multiple deployments and veterans' mental health
According to a Pew Research Center survey in spring 2019, 75% of the post-9/11 veterans (about 800,000) were deployed at least once – significantly more than in prior years, when 58% were deployed or in combat. Deployment raises the likelihood that veterans experienced trauma and carry visible and invisible scars, physical and mental.
About 36% of the 1,284 veterans who participated in that survey said they believed they suffered post-traumatic stress; 6 in 10 said they saw someone killed — either someone in their unit or in an ally unit.
Castro directs the social work school's Center for Innovation and Research on Veterans and Military Families, which aims to strengthen the support network for veterans and their families. He anticipates that veterans returning from Afghanistan will suffer a host of confusing emotions.
Some are going to feel a sense of futility, asking, 'What was this all for?'

Carl Castro
"It ranges from anger, frustration, grief and in some ways happiness that we're out," he said. "Some are going to feel a sense of futility, asking, 'What was this all for?' Winning the battle doesn't always translate to winning the war."
USC researchers want to help. In fact, some have made new tools to draw out the veterans and help them process the trauma that they likely will bear for life.
Reports by the Congressional Budget Office indicate the Veterans Health Administration spends about $8,300 per veteran each year for a five-year treatment plan. The cost is higher for veterans who have a combination of traumatic brain injury and PTSD: $13,800. That adds up to more than $2 billion per year spent on veterans with PTSD.
Veterans' mental health and virtual reality projects
Albert "Skip" Rizzo is a psychiatrist and who directs the medical virtual reality projects at the USC Institute for Creative Technologies at the USC Viterbi School of Engineering. The virtual reality tools he and his team design include games that are tools for clinical assessment, treatment rehabilitation — such as helping seniors improve their range of motion — and resilience.
For veterans, he and his colleagues have developed SimCoach, a virtual reality counselor that can help assess the severity of a veteran's trauma and depression so that health professionals can determine the best therapy and treatment plan.
Research indicates that the veterans are more honest with a virtual agent than with a human counselor.
The military now actively promotes the idea that asking for help is sign of strength, not of weakness.

Albert "Skip" Rizzo
Rizzo and his team also developed Bravemind, a virtual reality simulation that enables clinicians and researchers to safely walk a veteran through simulations of traumatizing events that can give health professionals new insight and a chance to provide deeper therapy.
These therapies are in use now in part because cultural and social attitudes in the military have shifted. Service members are now more likely to seek out and accept mental health support.
"The military now actively promotes the idea that asking for help is sign of strength, not of weakness," Rizzo said. "Thus, as we have seen throughout history, innovations that emerge in military health care, driven by the urgency of war, typically have a lasting influence on civilian health care long after the last shot is fired."
Virtual reality is only one of the many technologies that engineers and scientists are turning to; they're also making new devices.
Who's driving the increased investment in veterans' mental health?
This surge in innovation is due to increased investment from a key source: the government – including the military itself.
"One of the clinical game-changing outcomes from the conflicts in Iraq and Afghanistan derives from the military's support for research and development to advance clinical systems that leverage new technologies," Rizzo said. "These include telerobotic surgical tools, computerized prosthetic limbs with advanced sensors that improve usability and comfort, and the use of virtual reality in treating PTSD. Veterans with brain and body injuries can engage with game-based physical and occupational therapy."
Recently, the Pentagon announced plans to provide mental health support for the military members traumatized by leaving Afghanistan.
The troop withdrawal is an opportunity for the nation's experts to provide help, Castro says.
"Our veterans still need us," Castro says. "Many still need support and services. Just because the war has ended, it doesn't mean it's over.?Some veterans will continue to struggle for decades."